Open-Face Shrimp And Egg Sandwich
We may earn money or products from the companies mentioned in this post.
Open-Face Shrimp and Egg Sandwich
Are you left with an over abundance of dyed hard boiled Easter eggs! This week we are going to share a few of our favorite recipes that use hard-boiled eggs. All of the recipes are super delicious and are great ways to use hard-boiled eggs. An Open-Face Shrimp and Egg Sandwich is one such recipe.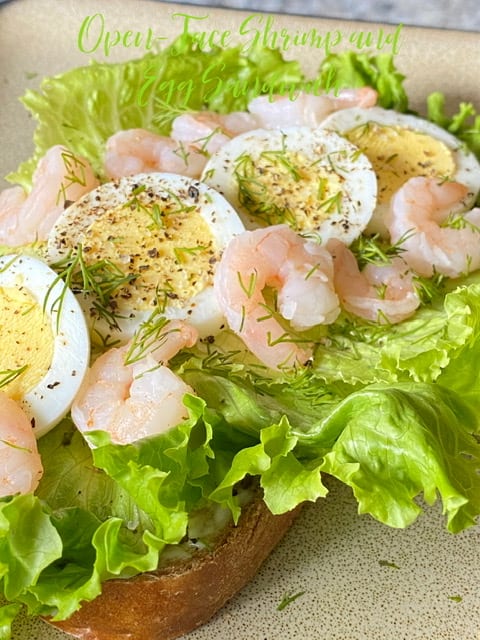 More Than Deviled
Even though we are fans of deviled eggs, there are many different ways to use up hard-boiled eggs. This is one such recipe. It's my take on a recipe a friend of mine gave me years ago. Lis was born and raised in Denmark. She lived there until she was 20 yrs old. Lis married her husband Kaj, and the two of them moved to the US. Many years later I had the privilege of working with Lis at a specialty gift shop called the Mole Hole. We became fast friends and I loved to hear about her life in Denmark and their many trips back to their homeland. Through Lis, I learned among other things, what an open-face sandwich was.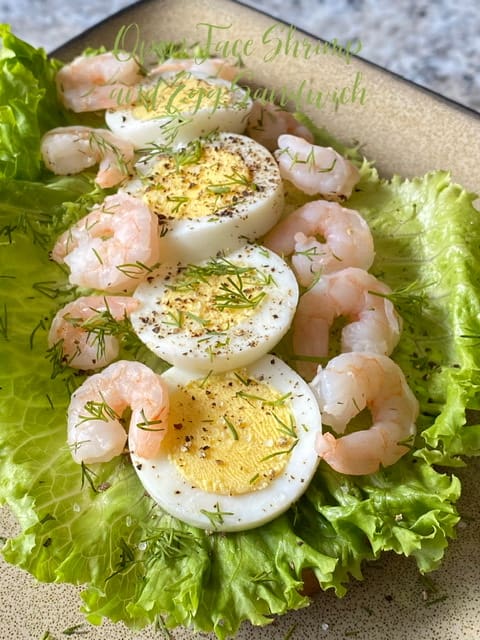 The Danish and Open-Face
Leave it to the Danes to elevate the open-face sandwich to an art form. In a country where understatement and simplicity reign, it makes sense that this simple sandwich is embraced as a national dish. The open-face sandwich has been around for centuries. Back when thick slices of stale bread, or trenchers, served as plates. The trenchers absorbed the juice and flavor of the toppings and then were discarded. Over time, the bread was incorporated into the meal because the food-soaked "plate" was often the best part.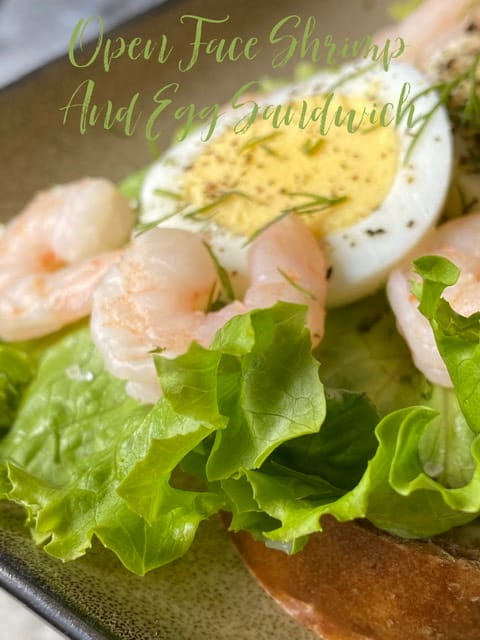 Simple Ingredients 
Denmark's open-face sandwiches are super simple. Made from slices of rugbrod (dense, dark rye bread) smeared with butter or animal fat topped with cold meats, smoked fish or leftovers from dinner the night before. This tradition took hold over time. Families cultivated hand-me-down recipes, restaurants served more elaborate, creative variations, and the open-face sandwich secured its place at the holiday table.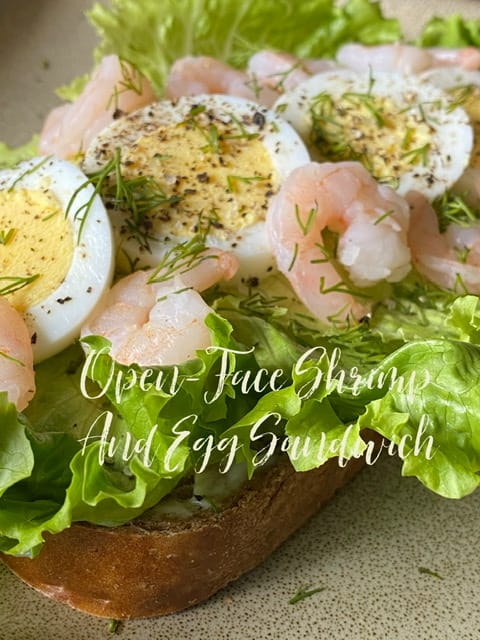 Few Rules to Follow
Smorrebrod is eaten in only one order: Herring first, followed by other fish, then meat, then cheese. Before adding a topping, smear the bread with butter or duck fat. Use only rye bread with herring and white bread with smoked salmon. Do not eat with your hands; only a knife and fork will do. Bread is usually but not always toasted. Do not use the same plate when switching from fish to meat course. Toast frequently, but remember to first raise your glass, while looking everyone in the eye and saying Skol!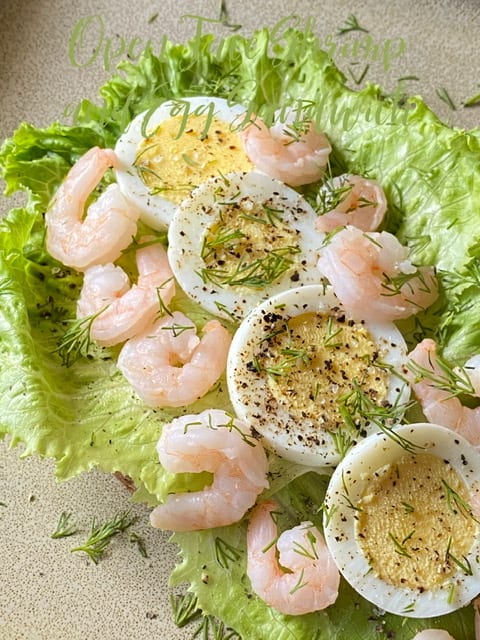 Information from: North Country Radio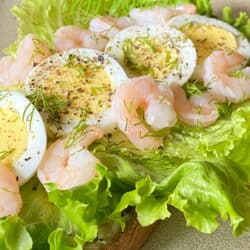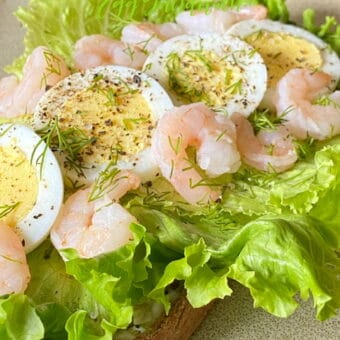 Open Face Shrimp and Egg Sandwich
Super easy and delicious.
Ingredients
4

slices

rye bread

4

tablespoons

mayonnaise

4

large

leaf butter lettuce

4

hard boiled eggs, sliced

1 1/2

cups

cooked baby shrimp

3

sprigs

chopped, fresh dill

salt and pepper, to taste
Instructions
Spread each slice of rye bread with mayonnaise. Top with each slice with butter lettuce. Add one sliced hard-boiled egg on lettuce, top each egg with about 1/3 cup of baby shrimp. Sprinkle with salt and pepper.