Old Fashioned Swiss Steak
We may earn money or products from the companies mentioned in this post.
Old Fashioned Swiss Steak
Today I decided to go back in time and make a recipe I haven't made in a long time. In fact, I don't think I've made Swiss Steak in over 30 years! This 50's and 60's classic was popular when I was a child but not so much anymore. You could possibly still find it on a roadside diner menu or at a church potluck but other than that, I don't think it's popular anymore. Which is really a shame. After making Old Fashioned Swiss Steak recently, I couldn't believe how good it was! (and easy) This wasn't always the case….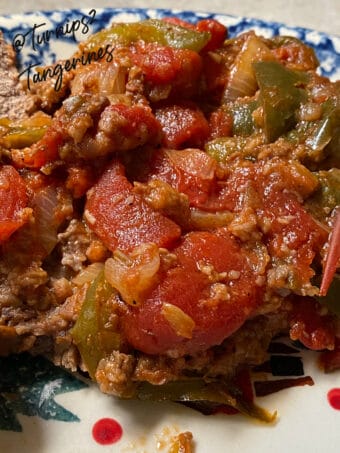 Not Always a Favorite
I have to admit, Swiss Steak wasn't always a favorite of mine. In fact, when I was growing up Swiss Steak was sure to bring many moans and groans for us kids. I mean think about it? As a kid, the last thing you wanted to eat was mushy tomatoes, onions and green peppers. I'm also positive that Aggie would have fried the hell out of the round steak and it wouldn't have been tender no matter how many times she pounded it. The meat was chewy to say the least and then covered in tomatoes green peppers and onions…nope not a kid friendly meal. I do remember though, that I liked the rice or mashed potatoes that Aggie served with the Swiss Steak.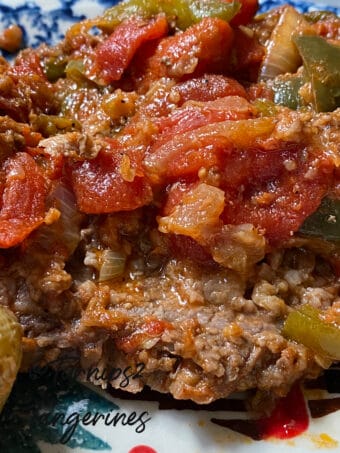 Swiss Steak or Salisbury Steak?
My "I'm trying to be funny" hubby asked me, "I didn't know they had tomatoes in Switzerland?" Hahaha. (He thought it was funny, me, not so much.) I've seen many recipes online that say Swiss steak can be made with tomatoes, onions and green peppers or without. If made without the tomatoes, onions and green pepper mixture, it's then made with a mushroom creamed-based mixture.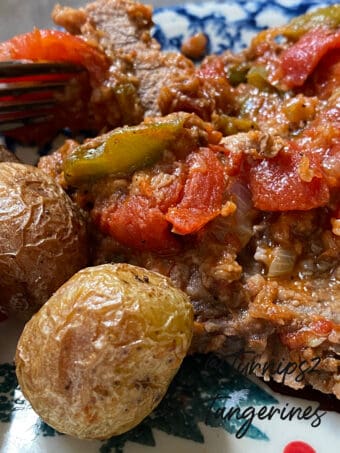 Here in my neck of the woods, Swiss Steak is always made with round steak, canned stewed tomatoes, sliced onions and green peppers. If it's made with cube steak and has a creamy  sauce made with mushrooms, it's called Salisbury Steak. When made with cubes of beef tenderloin or beef stew meat, fresh mushrooms, cream of whatever soup, wine and sour cream, you have Beef Stroganoff. At least this was the rule in my family and one I still adhere too.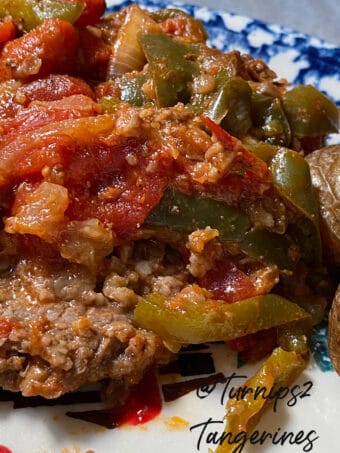 UP NEXT: Beefy Noodle Soup
Here are a few of our favorite Round Steak recipes.
Old Fashioned Swiss Steak is best served with mashed potatoes or long grain white rice. Steamed carrots also go well with this down-home, old fashioned dinner. You could also serve Old Fashioned Swiss Steak with cornbread and large slices of apple pie!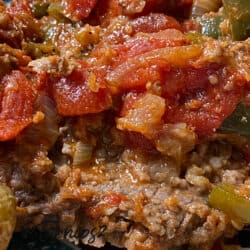 Old Fashioned Swiss Steak
Ingredients
1/3

cup

all-purpose flour

salt & pepper, to taste

1 1/2 to 2

pounds

beef round steak, 1 inch thick

2

tablespoons

vegetable oil

1

onion, thinly sliced

1

14.5 ounce can

stewed tomatoes

1 or 2

sliced

green bell peppers

2

cloves

garlic, minced
Instructions
Preheat the oven to 350.

Place flour on a large plate and set aside. Cut round steak into serving pieces. Salt & pepper as desired. Dredge steak in flour (really press in well), use a meat mallet to pound the meat. Repeat this pounding process on both sides until the meat is about 1/2 inch thick and noticeably more tender. Add a bit more flour if it becomes sticky.

Heat vegetable oil in a large ovenproof skillet over medium heat; cook the onions, green peppers and garlic for 5 minutes. Add the floured beef to the pan, pushing vegetables to one side. Brown until the meat is golden brown, turning once. This will likely have to be done in batches.

Place meat in the bottom of a 3 quart baking dish. Cover the meat with the onion mixture, then the tomatoes. Add a little water if needed.

Cover tightly and place in oven until done, about 1 to 1 1/2 hours. Remove meat, stir sauce and vegetables together and serve with meat.
For this recipe we used Del Monte