Old Fashioned Pork Spare Ribs and Kraut
We may earn money or products from the companies mentioned in this post.
Old Fashioned Pork Spare Ribs and Kraut
Old Fashioned Pork Spare Ribs and Kraut is something that I have been making for as long as I can remember. The recipe calls for making this dish in the oven but I have made this dish in my slow cooker with the same great results. I usually serve mashed potatoes alongside this dish of ribs n' kraut with a simple vegetable such as fresh corn or green beans. Another thing I always serve with this dish is a dill pickle spear. The crispy, crunch and slightly sour taste from the pickle pairs great with the pork ribs n' kraut.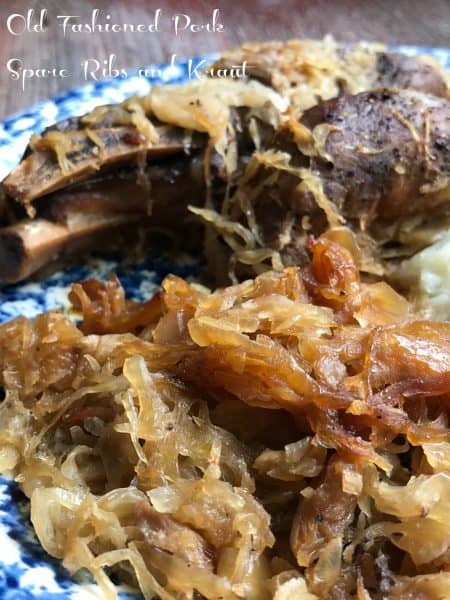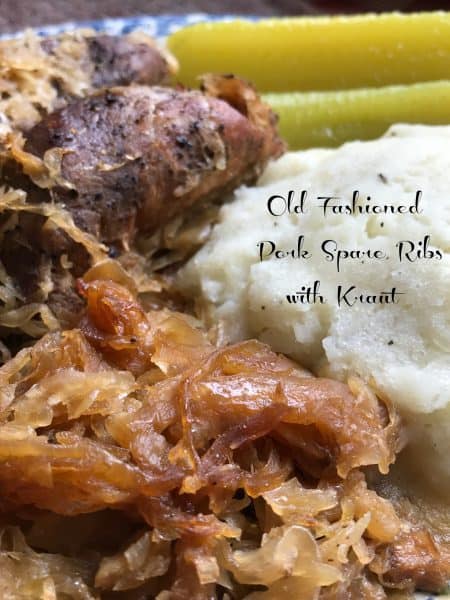 German Heritage
Old Fashioned Pork Spare Ribs and Kraut celebrates my German Heritage. My German heritage comes from my dad's side of the family. I can remember when I was a young girl, my dad making sauerkraut in our basement. He made the sauerkraut in these huge crocks that I think had wooden covers. I'm not sure how he managed to get those crocks down the basement steps because they must have weighted a ton. (I wish I still had those crocks)  I can also remember canning jars filled with sauerkraut lined up on our lime green painted shelves in the "fruit cellar."
In a Different Era
For some reason I don't recall ever eating the sauerkraut, even though I'm sure that we did. My dad always seemed to get these food "ideas," my mom on the other hand, not so much. Back then, if things were different or if my dad had been born in a different era, he might have been the chef in our family. Aggie would have no doubt been thrilled with that arrangement since she didn't like to cook and certainly couldn't. In fact, if Aggie would have been born in this day and age she would have been the "Queen of the Fast-Food Restaurant."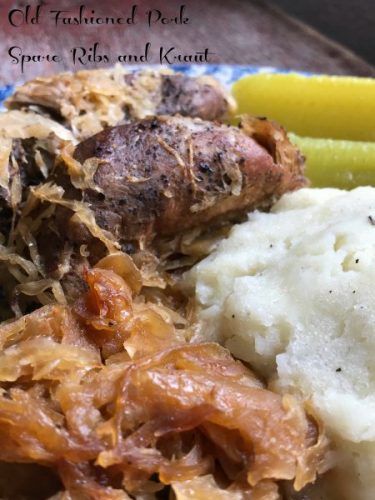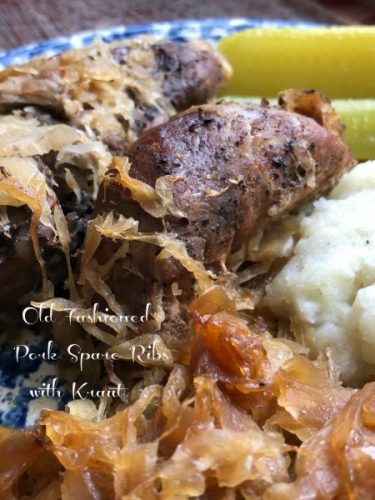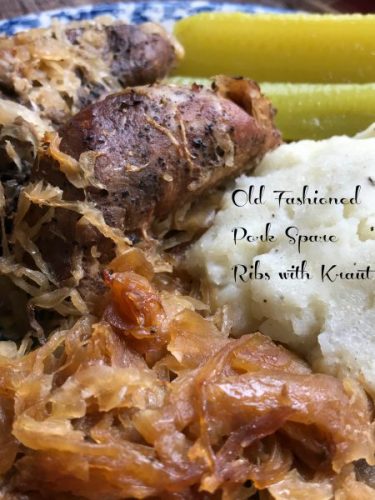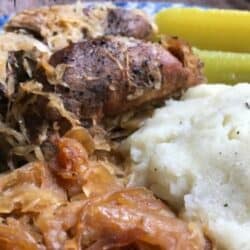 Old Fashioned Spare Ribs and Kraut
A Classic German-Style Dinner
Ingredients
4

medium

onions, sliced and separated into rings

4

cloves

garlic, peeled and left whole

1

16 oz jar

sauerkraut, Lowell

8

large

meaty pork spare ribs

1

teaspoon each

each salt, pepper, garlic powder

4

bay leaves

1 

pear or apple, chopped

1

cup

chicken broth
Instructions
Bake at 300 for 4 hours

In a large roasting pan layer; 2 sliced onions, 2 cloves garlic, and 1/2 the jar of sauerkraut. Place pork spare ribs on top of sauerkraut, sprinkle pork spare ribs with salt, pepper, and garlic powder. Top with bay leaves and chopped pear or apple.

Layer on the top of pork spare ribs; remaining onions, garlic and sauerkraut. Pour chicken broth. Cover roasting pan with heavy duty foil.
Recipe Note:
Smashed Multicolored Little Potatoes  would be the perfect accompaniment to old fashioned spare ribs and kraut. Give both recipes a try and don't forget the pickles! For this recipe we used Frank's Sauerkraut.  Franks Sauerkraut has been a Midwest favorite for generations.