Old Fashioned Pork Roast
We may earn money or products from the companies mentioned in this post.
Old Fashioned Pork Roast with Vegetables
It's Comfort Food Time. Our Favorite Time of Year. Fall brings cooler weather which means cooler temperatures. Fall brings hearty, traditional and satisfying meals like soups, stews and crock-pot meals. Pot Roast's are slowed cooked in the oven. Roasted chicken and turkey are back on the menu. Pumpkin, pears, apples and cranberries are turned into delicious desserts. Slow Cookers are brought to the front of the cupboard again for easy access.
Old Fashioned Pork Roast with Vegetables is one such recipe. This recipe has been made so many times in my house I couldn't even begin to count them. When I was young, my grandma made pork roast often and we loved going there for dinner. My grandma made the best pork roast gravy. Flavorful, thick and deep chocolate brown. My only regret is my grandma never showed me her secret to making her gravy.
Autumn Days
Quick Breads are made with zucchini and cranberries. Potato salad, grilled hamburgers & hot dogs are replaced with old fashioned pork roasts with vegetables, that are cooked in the oven all day with until fork tender. Beef stew is back on the menu too. Festivals abound, from apple festivals to cranberry festivals to pumpkin festivals, this is the the time of year to get outside and enjoy the bounties that nature has to offer.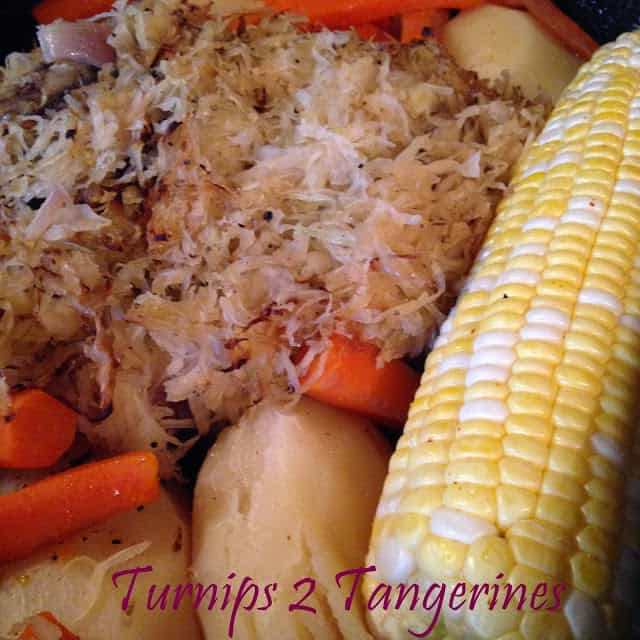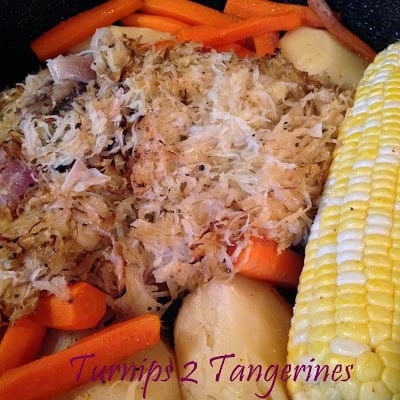 Vegetables Galore
Old Fashioned Pork Roast with Vegetables is made in the oven. Place pork roast in a fairly large, deep roasting pan. The deeper the pan, the more vegetables you can add. Slice an onion, yellow or purple, and lay on top of pork roast. Top with drained sauerkraut and season with salt and pepper. Peel carrots and potatoes, place around the pork roast. Next add any of your favorite farm fresh vegetables, sweet corn, acorn squash, cabbage, Brussels sprouts. The sky's the limit!! Pour in the apple cider, bake and enjoy.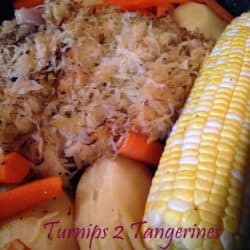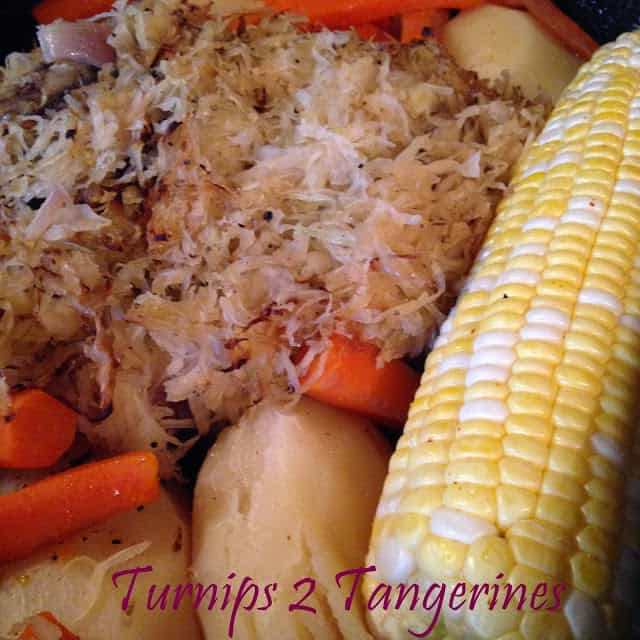 Old Fashioned Pork Roast
Comfort food at its best!
Ingredients
3

pound

pork roast, (pork shoulder, pork loin, pork butt)

4

cloves

garlic, peeled and left whole

1

small

onion, quartered

1

16 oz can

sauerkraut

salt and pepper, to taste

2

bay leaves

6

large

potatoes, peeled and left whole

6

carrots, peeled and cut in half

1

large

apple, peeled, cored and quartered

2

cups

apple cider, apple juice or vegetable broth
Instructions
Preheat oven to 325º

In large roasting pan or Dutch oven place pork roast. Cut four slits into top of roast. Place one garlic clove and one quartered onion into each slit, push down. Cover roast with sauerkraut. Sprinkle with salt and pepper. Add bay leaves, potatoes,carrots and apple to pan. Add cider, juice or vegetable broth. Cover pan tightly with foil.

Bake for 2 hours. Remove from oven, remove foil. Add corn on the cob, cover pan with foil. Bake an additional hour to hour and a half.

Remove bay leaves before serving.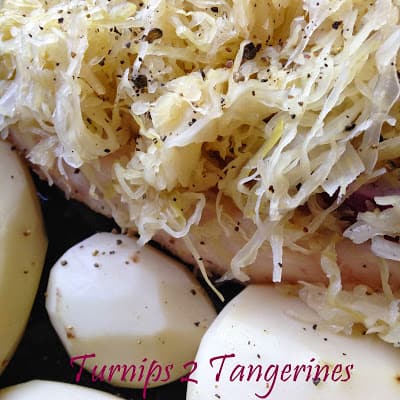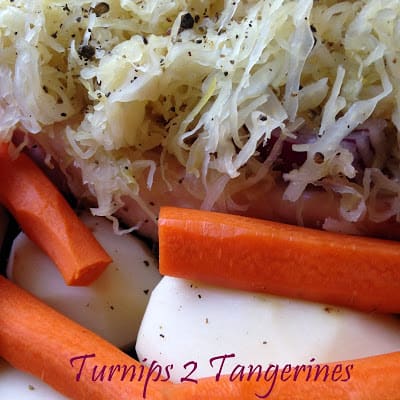 In this recipe we used vegetables we picked up at our local farm stand and we used Frank's Kraut another Midwest favorite. Another favorite recipe we love to love when the temperatures turn cold, Old Fashioned Pork Spare Ribs and Kraut.
Recent Recipe: Roasted Russian Banana Fingerling Potatoes