Old Fashioned Chicken and Dumplings
We may earn money or products from the companies mentioned in this post.
Old Fashioned Chicken and Dumplings
Now that the weather is turning chilly and the days are getting shorter and the nights getting longer, I can't think of a more comforting meal than Old Fashioned Chicken and Dumplings. Chicken n' Dumplings can be made in so many different ways. The variations and list of ingredients are endless.
It seems every family has their favorite recipe, one that has been handed down through the years.
Dumplings
The secret to making the perfect dumplings is…drum roll please…using a 2 oz stainless steel, trigger scoop to drop the dumpling dough into the broth mixture. There are many different brands of trigger scoops to chose from. Mine is an Oneida Flatware and most are under $10.00. I find that doing this makes for more uniform size dumplings. You can also use a small teaspoon, which also works.
Choosing to use a trigger scoop is really just a personal preference. Another secret, drop the dough into the boiling broth mixture. Reduce heat to medium after all dumplings have been added, simmer and cook covered, about 30 to 45 minutes. No matter how tempted you are to lift the lid, don't. That's the #1 secret, Do Not Lift The Lid. The steam is what makes the dumpling rise and become light and fluffy. If the recipe calls for not lifting the lid for 20 minutes, Don't!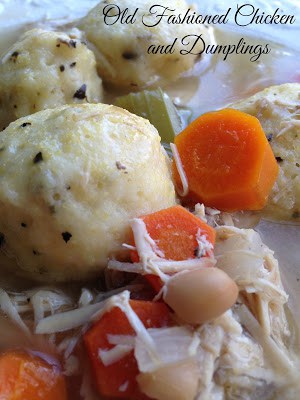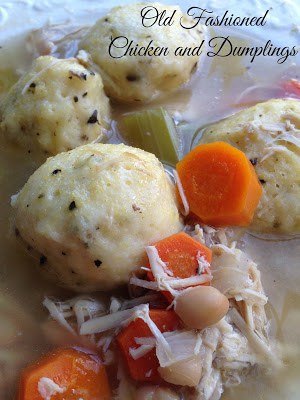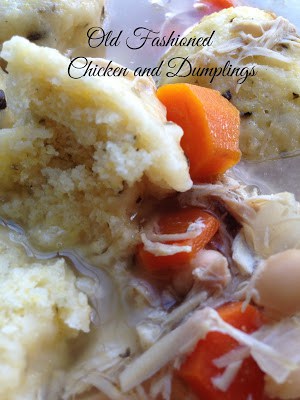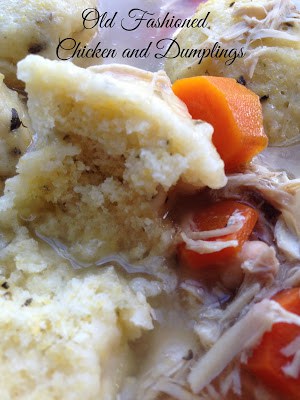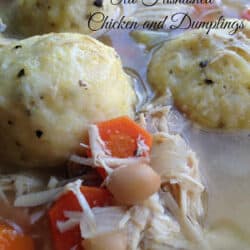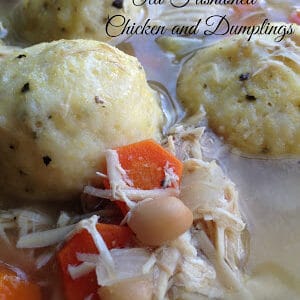 Old Fashioned Chicken and Dumplings
Comfort food at its Best!
Ingredients
1

4 to 5 pound

whole chicken

1

32 oz container

chicken broth

5

stalks

celery, sliced and divided

5 

carrots, peeled and sliced, divided

1

medium

yellow onion, chopped, divided

5

bay leaves

1 1/2

tablespoons

salt. plus more to taste

1/2

teaspoon

freshly ground black pepper, plus more to taste

1

15 oz can

cannellini beans, drained

For Dumplings:

1 1/2

cups

flour

1/2

cup

cornmeal

1

heaping tablespoon

baking powder

1

teaspoon

salt

1/2

teaspoon

dried basil

1 1/2

cups

whole milk

minced fresh parsley, for garnish
Instructions
Put the chicken into a large soup pot. Add container of chicken broth, cover chicken with water, to at least 1/2-inch above chicken. Add 3 stalks sliced celery, 2 peeled and sliced carrots, 1/2 of chopped yellow onion, bay leaves, salt and pepper. Cover, set over high heat and bring to a boil. Reduce heat to low, cover pan and simmer until the chicken is tender, about 1 1/2 to 2 hours.

When chicken is tender, transfer to a cutting board, leaving the broth and bay leaves in the pot. Turn heat off. When chicken is cool enough to handle, remove the meat from the bone and cut into bite size pieces, set aside. Strain broth to remove any leftover bones and skin, discard.

Remove bay leaves from broth. Bring broth back to a boil, add chicken pieces, 2 stalks sliced celery, 3 peeled and sliced carrots and remaining chopped yellow onion. Turn heat to medium and simmer for 45 minutes. Turn broth mixture to a low boil, add cannellini beans and make dumplings.

Make dumplings: In a medium bowl, stir together flour, cornmeal, baking powder, salt and dried basil. Stir in milk until combined. Using a 2 oz. stainless steel, trigger scoop, drop dough into boiling broth mixture. Reduce heat to medium, simmer and cook covered, about 30 to 45 minutes. (Don't lift the lid)
Recipe On Tap