Old Fashioned Bread Stuffing
We may earn money or products from the companies mentioned in this post.
Old Fashioned Bread Stuffing
Happy Thanksgiving!! Today I'll be sharing with you all the wonderful Thanksgiving dishes that we will be feasting on today. Old-Fashioned Bread Stuffing is a recipe that I have been making this recipe for as long as I can remember. It's a very basic recipe and it's delicious every time. This recipe will easily stuff a 14-18 pound turkey. This recipe is meant to be "stuffed" inside the bird. If you have any left-over stuffing you can cook that in a lightly greased oven proof bowl alongside the turkey.
Start Early
This recipe needs to be started at least 2 days before you need to stuff the bird. The bread needs to dry out and depending on how much and what kind of bread you are using to make the stuffing with. Some bread takes a little longer to dry out than others. Since the "bread" is the star of this recipe, I like to choose at least three different types of bread, white, wheat, sourdough are all good choices. You can use whole loaves of bread, such as French bread and slice it yourself.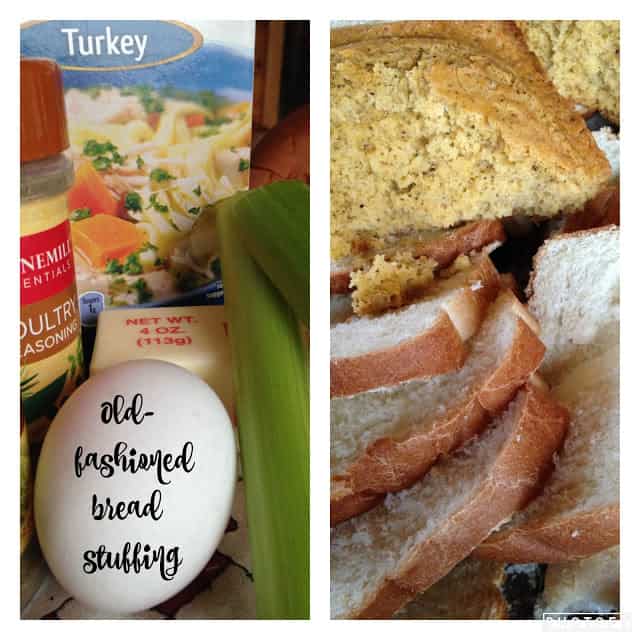 Recipe Note:
Sometimes I like to make a batch of cornbread, boxed or homemade, and add it to my dressing recipe. I have also added fresh mushrooms to this recipe. Just remember to saute' the fresh mushrooms along with the onions and celery before adding the to the bread cubes. Mushrooms contain a large amount of liquid.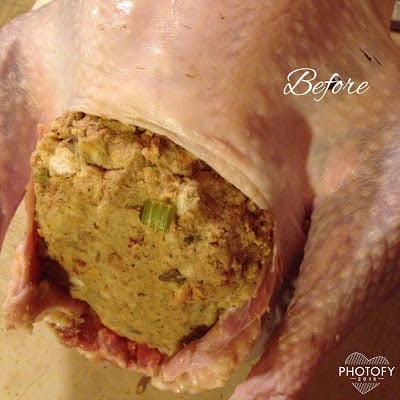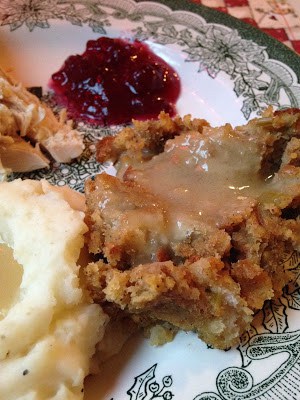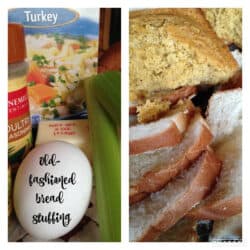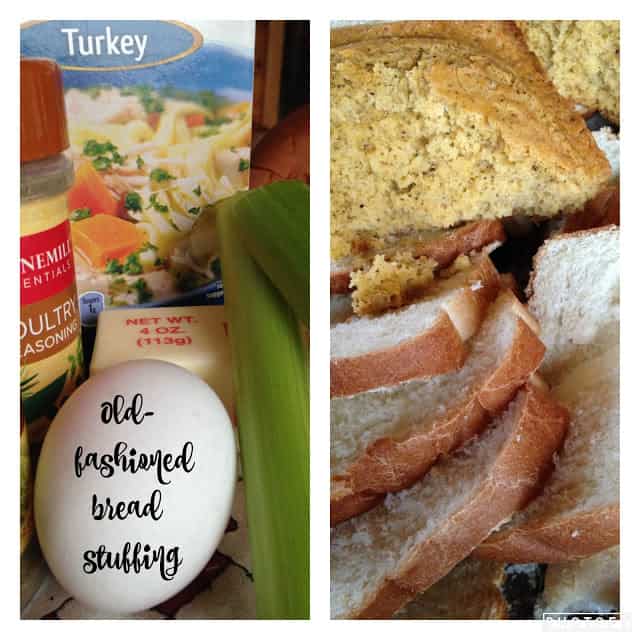 Old Fashioned Bread Stuffing
An old fashioned recipe that I have been making for 50 years.
Ingredients
3 to 4

loaves

sliced bread

1

15 oz box

honey cornbread and muffin mix

1

cup

milk

1

egg

1

stick

butter

1

small

onion, chopped

3

stalks

celery, diced

turkey liver and heart from inside of turkey chopped, optional

1 1/2

teaspoons

poultry seasoning

1

teaspoon

ground sage

1/4

teaspoon

each salt and pepper

1

egg, beaten

1

cup

turkey broth or stock

14 to 16

pound

turkey oven bag

3

tablespoons

each

,

flour and oil
Instructions
Lay bread slices on two or three large baking sheets lined with parchment paper, set aside.

Allow bread to air dry 24 to 48 hours.

Turn bread slices over, frequently. Continue to allow the bread to dry out.

Butter a 8 x 8 x 2 inch baking dish.

In a medium bowl, mix together the cornbread muffin mix, milk and egg.

Mix just until moistened. Spoon into buttered dish.

Bake according to directions an box. Remove form oven and cool on wire rack for 10 minutes.

Remove cornbread from pan and break in half.

Place cornbread on another baking sheet lined with parchment paper. Allow to dry out overnight.

Remove thawed turkey from outer package. Rinse under running cold water.

Remove neck, liver, heart and gizzards from inside of turkey.

Set aside heart and liver for the stuffing.

Save neck and gizzards for another recipe or freeze for stock.

Set turkey aside. Remove oven bag from package.

Place flour inside oven bag, shake flour around in oven bag, discard excess flour, set aside.

Make stuffing: In a large skillet melt butter over medium low heat.

Add chopped onion, celery, liver and heart. Cook 10 minutes or until celery is tender.

Add poultry seasoning, sage, salt and pepper. Cook 3 minutes. Remove from heat, set aside.

With a serrated knife, cut bread and cornbread into 2 inch cubes.

Place bread cubes into a large bowl. Add beaten egg and onion mixture.

Mix together well, using your hands for the best results.

Add a small amount of turkey broth or stock at a time,

mixing well after each addition, until bread mixture is moistened but not soggy.

Stuff turkey and neck cavity with dressing. Drizzle turkey with vegetable oil, lightly massage into the skin.

Place stuffed turkey into the prepared oven bag.

Use twist tie to close the oven bag.

Make 4 small slits in the top of the oven bag.

Roast turkey according to oven bag directions.
Family Traditions
Danish Christmas Kringle 
is a family tradition. Every Thanksgiving morning begins with a Racine Danish Kringle. It just wouldn't be Thanksgiving morning in my house without a cup of hot coffee, a piece of kringle while watching the Macy's Thanksgiving Day Parade. Let the Holidays Begin!!
Recipes On Tap
Hot Turkey Sandwiches and Turkey Frame Soup are two super recipes using leftover holiday turkey. Here is another recipe we love to make using leftover turkey. Warm Turkey Fiesta Dip.