Old English Caramel Puffcorn
We may earn money or products from the companies mentioned in this post.
Old English Caramel Puffcorn
Say What?!? Old English Caramel Puffcorn? What the heck is that? Old English Caramel Puffcorn is made with Old English candied fruit by Paradise Fruit Co., Old Dutch Puffcorn and a delicious caramel topping made with butter, brown sugar, light corn syrup and baking soda. Sounds good, doesn't it? And I can tell you, this stuff is GOOD! A word of caution tho, once you start eating this stuff, you can't stop. It's that good.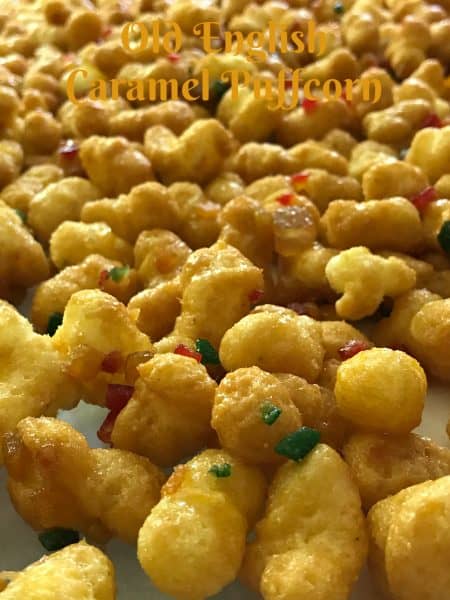 What is Old English
Old English is a fruit and peel mix that is usually used to make holiday fruit cake or fruit bread. Paradise Fruit Co. makes a variety of candied fruits to use in all of your holiday baking. Old English Holiday Fruit is sweetened real fruit that consists of orange and lemon peel, cherries, pineapple and citron. This mixture is a real taste delight and very versatile too. This simple recipe showcases just how versatile Old English holiday fruit can be.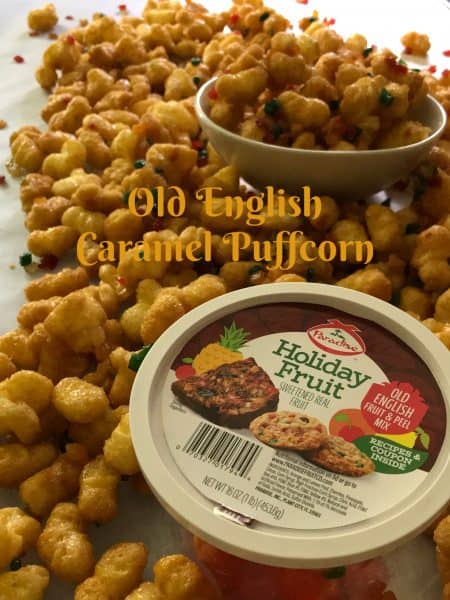 Potato Chips
Old Dutch Snacks have been a family favorite for as long as I can remember. In fact, old Dutch Snacks have been on many, if not all upper mid-west dinner tables for generations. When I was growing up, Old Dutch Potato chips were one of only a handful of brands available. Way back in the olden days (the  60's), there weren't many brands of snacks to choose from. You had your grocery store brands like Sentry, Red Owl or Super Value, and then you had Old Dutch or Jay's potato chips. Back then chips came in a box and were served with sandwiches or on sandwiches like Bologna and Potato Chip Sandwich Chips were always served during the holidays with Lipton's  onion soup dip.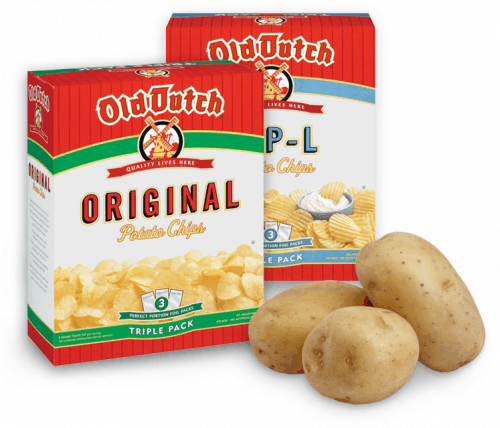 Old Dutch Products
"Since the first tin of Old Dutch Potato Chips hit store shelves over 85+ years ago it has been their daily commitment to deliver one-of-a-kind taste that can't be matched. From the beginning they've made each and every one of the many snacks with the utmost care and the highest quality ingredients."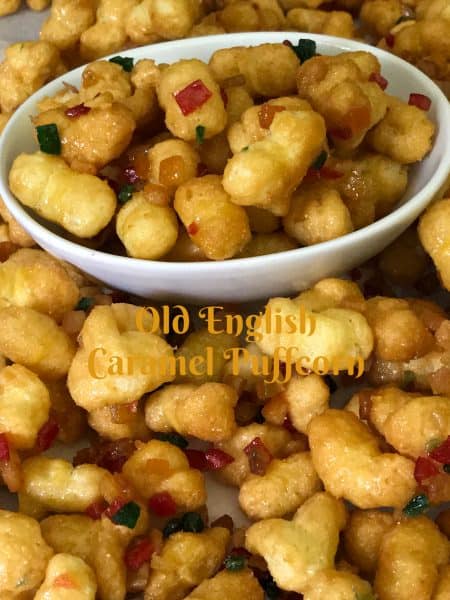 "Delivered to you Fresh from the Heart of the Upper Midwest, from their signature Old Dutch Boxes of Potato Chips to your Restaurante Style Tortilla Chips, Old Dutch has the perfect snacks to satisfy any of your cravings!"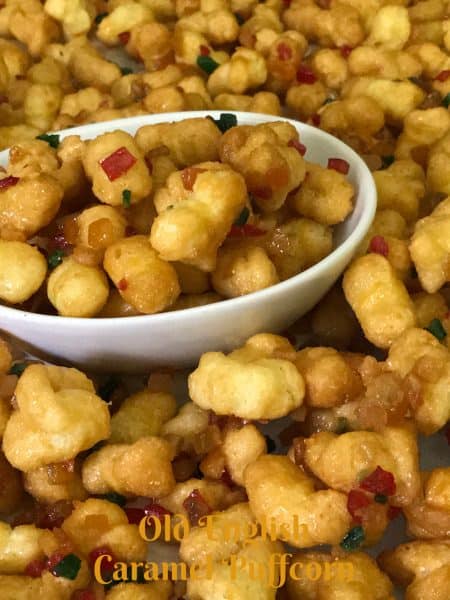 "Whether it has been one of your many family celebrations, just a family dinner at home, or your favorite annual softball game, we are both proud and honored to have been there and hope to continue to be a part of these memorable moments for many years to come." *Above excerpt from Old Dutch Snacks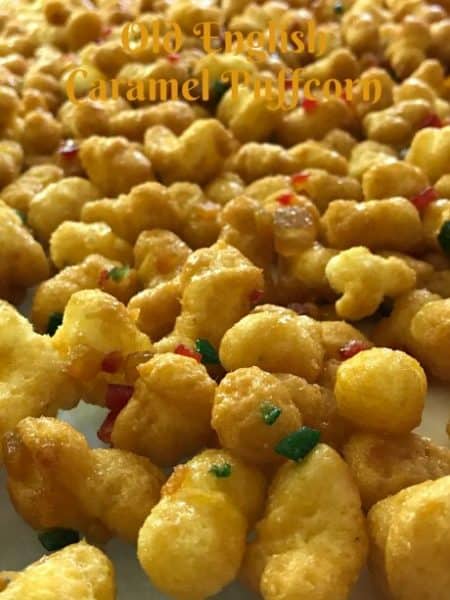 Family Favorite
The company began as Old Dutch Products Co. in 1934. They originated in St. Paul, Minnesota, but moved to Minneapolis in 1937. In 1968, they moved again, this time to Roseville, Minnesota, where they remain today. Old Dutch opened a plant in Winnipeg, Manitoba, in 1954 to manufacture chips for the Canadian market. Old Dutch Snacks have graced the tables of families for generations and will continue to do so for many generations to come.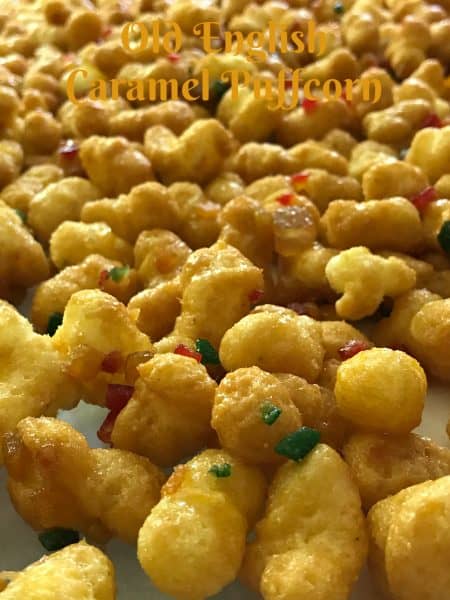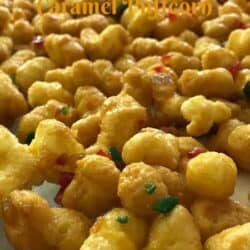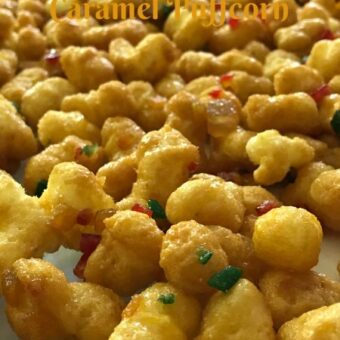 Old English Caramel Puffcorn
Sweet, Chewy, Fruity and Addictive.
Ingredients
2

9 oz bags

Old Dutch Puffcorn, divided

1

cup

butter (not margarine)

1 1/4

cups

firmly packed brown sugar

2/3

cup

light corn syrup

1

16 oz container

Paradise Old English Holiday Fruit

1

teaspoon

baking soda
Instructions
Preheat oven to 250 degrees. Pour one whole bag and half of the second bag of Old Dutch Puffcorn into large roaster pan. Set pan aside and save remaining puffcorn for another use.

Combine butter, brown sugar, and light corn syrup in a 2-quart saucepan. Cook on medium heat until mixture has melted. Stir in container of Old English fruit. Cook until mixture is bubbly, stirring constantly, for 5-6 minutes.

Vigorously stir in baking soda. This will cause the mixture to foam. Pour caramel mixture over the Puffcorn and stir until mixed.

Place in oven at 250 degrees for 45 minutes, stirring every 10-15 minutes. Please pay close attention at this time, as oven temperature variance may affect final product.

Remove from oven, pour on wax paper and break apart. Let cool and Enjoy!
Nutrition
Serving:
1
g
,
Calories:
277
kcal
,
Carbohydrates:
37
g
,
Protein:
1
g
,
Fat:
15
g
,
Saturated Fat:
10
g
,
Cholesterol:
41
mg
,
Sodium:
244
mg
,
Potassium:
35
mg
,
Sugar:
37
g
,
Vitamin A:
475
IU
,
Calcium:
26
mg
,
Iron:
0.2
mg
*Nutrition Information May Not Be Accurate*
Here at Turnips 2 Tangerines we love our puffcorn and we have the recipes to prove it!! Caramel Granola Puffcorn, Two Delicious Puffcorn Recipes and Sticky Caramel Corn