Oatmeal Rhubarb Bars
We may earn money or products from the companies mentioned in this post.
Oatmeal Rhubarb Bars
Today we will be sharing an easy recipe for Oatmeal Rhubarb Bars. Springtime for me has always screamed Rhubarb! Each spring my sister Joan and I would wait patiently for the rhubarb to peek through the dirt. Aggie would let us know when the rhubarb was ready and we run to our rhubarb patch, located in the far corner of our backyard. We'd pick the largest stalks of rhubarb we could easily pull from the ground.
Fresh Rhubarb and Sugar
Then we would run to the side of the house and wash off our stalks under running water from the green garden hose. Joan and I would sit on the front porch, dipping fresh picked rhubarb stalks into small bowls of sugar. Aggie always made this recipe for Oatmeal Rhubarb Bars during the spring months when rhubarb was plentiful. Aggie also made rhubarb sauce and for breakfast I would have rhubarb sauce over toast.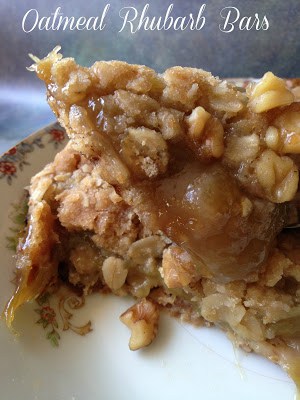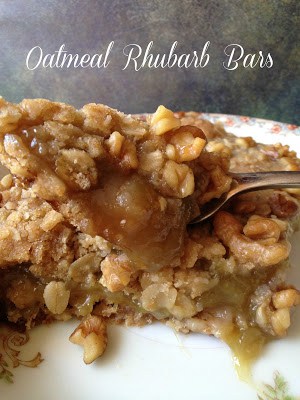 Rhubarb Facts
The thick, celery-like stalks of this buckwheat family member can reach up to 2 feet long. They're the only edible portion of the plant. The leaves contain Oxalic Acid and therefore can be highly toxic if consumed. Though rhubarb is generally eaten as a fruit, it's botanically a vegetable. The peak season for rhubarb is April to June. Choose crisp stalks that are brightly hued. The leaves should be fresh looking and blemish free.
Oatmeal-Oats
People consume whole oats after they have been cleaned, toasted, hulled and cleaned again. After which time they become oat groats, which still contain most of the original nutrients. Oat groats can be cooked and served as cereal or prepared in the same manner as rice. Then used as a side dish or in a dish such as salad or stuffing. When steamed and flattened with huge rollers, oat groats become regular rolled oats, also called old-fashioned oats.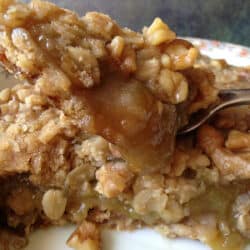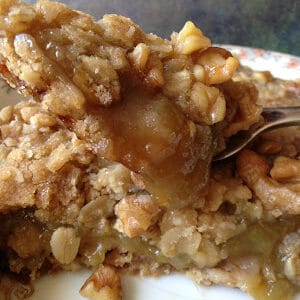 Oatmeal Rhubarb Bars
Sweet, Tart and Delicious!
Ingredients
3

cups

fresh or frozen unsweetened sliced rhubarb

1

cup

sugar

1/4

cup

water

1/2

cup

granulated sugar

2

tablespoons

all-purpose flour

1

teaspoon

vanilla extract

2

teaspoons

lemon zest

1 1/2

cups

all-purpose flour

1 1/2

cups

rolled oats

1

cup

packed brown sugar

1/4

teaspoon

baking soda

1

cup

shortening

1/2

cup

chopped pecans or walnuts
Instructions
Grease a 13 x 9 x 2-inch baking pan; set aside.

For filling: In a medium saucepan combine rhubarb, the 1 cup granulated sugar and water.

Bring to boiling; reduce heat. Cover and simmer for 5 minutes.

Meanwhile, in a small bowl combine the 1/2 cup granulated sugar and the 2 tablespoons flour. Stir into rhubarb mixture. Cook and stir about 1 minute more or until thick.

Remove from heat; stir in vanilla extract and lemon zest. Set aside.

In a medium mixing bowl, combine the 1 1/2 cups flour, oats, brown sugar and baking soda. Using a pastry blender, cut in shortening until the mixture resembles coarse crumbs.

Stir in 1/2 cup pecans or walnuts. Reserve 1 cup of the crumb mixture.

Press remaining crumb mixture into the bottom of prepared pan.

Evenly spread rhubarb mixture on top. Sprinkle with reserved crumb mixture.

Bake in a 375 degrees oven for 30 to 35 minutes or until the top is golden brown. Cool on a wire rack. Cut into bars.
Nutrition
Serving:
1
g
,
Calories:
684
kcal
,
Carbohydrates:
97
g
,
Protein:
6
g
,
Fat:
32
g
,
Saturated Fat:
7
g
,
Sodium:
47
mg
,
Potassium:
276
mg
,
Fiber:
4
g
,
Sugar:
65
g
,
Vitamin A:
47
IU
,
Vitamin C:
4
mg
,
Calcium:
78
mg
,
Iron:
2
mg