Date Oat Scones
We may earn money or products from the companies mentioned in this post.
Date Oat Scones
Make a Date with Date Oat Scones. I buy dates whenever I see them at the grocery store, usually Medjool dates. I'll eat 3 or 4 everyday and I love to add them to smoothies. My mom Aggie always ate dates. We used to make fun of her for eating dates when we were kids because we didn't like them. I think Aggie might have been on to something. Dates are naturally sweet, high in iron and insoluble fiber, which means they're good for you too.
Date Facts
With a history stretching back over 5,000 years, this fruit grows in thick clusters on the giant date palm. Native to the Middle East, the name is thought to come from the Greek 'daktulos' meaning 'finger' after the shape of the fruit. Dates require a hot, dry climate and besides Africa and the Middle East, they flourish in California and Arizona. Date Oat Scones is the perfect recipe to get you started on your date journey.
Most Varieties

Most varieties range from 1 to 2 inches long and are oval in shape. All dates have a single, long narrow seed. The skin is thin and papery, the flesh sweet. Dates are green when unripe and turn yellow, golden brown, black or mahogany red, (depending on the variety) as they ripen. They're generally picked when green and allowed to ripen off the tree before drying.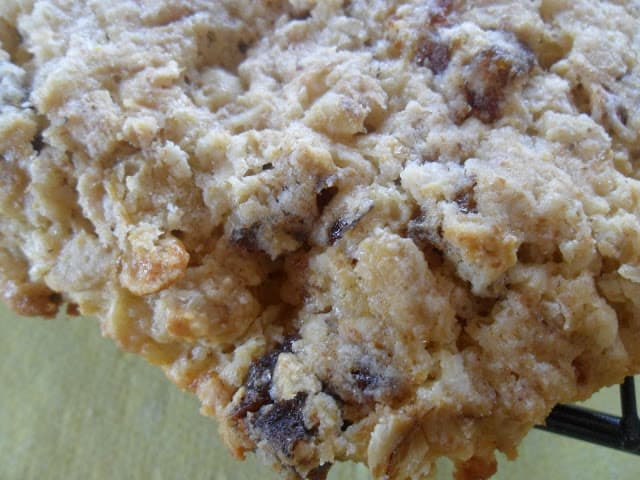 Storage
Fresh dates are available in many markets from late summer through mid-fall. Dried dates can be found year-round and are sold in packages as pitted or un-pitted. Chopped dried dates are available in packages. Choose fresh, plump, soft dates with a smooth, shiny skin. Store fresh dates, wrapped in a plastic bag, in the refrigerator up to 2 weeks. Dried dates can be stored, air-tight, at room temperature in a cool dry place for up to 6 months or up to a year in the refrigerator.
This is one of my personal all-thyme favorite 'date' recipes. Date Swirl Cookies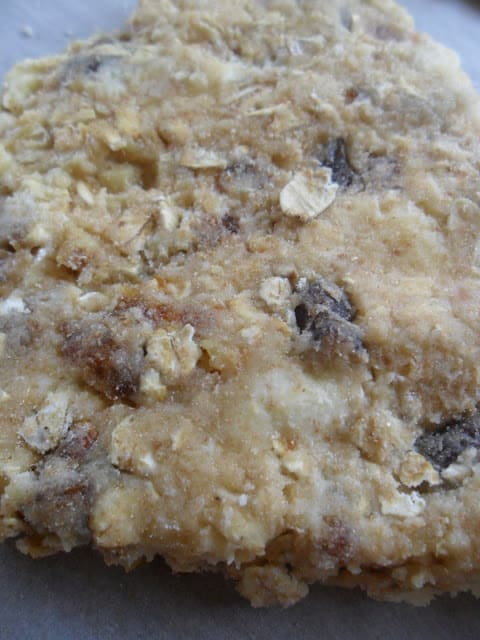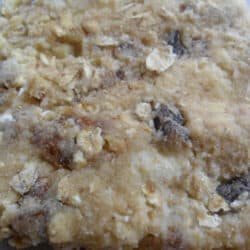 Date Oat Scones
This recipe highlights the sweetness of dates.
Ingredients
1 1/4

cups

oatmeal

1/4

cup

chopped walnuts

1/4

cup

milk

2

tablespoons

greek yogurt

1

egg

1 1/2

cups

flour

1/3

cup

sugar

2

teaspoons

baking powder

1/2

teaspoon 

salt

1

teaspoon

ground cinnamon

1

stick butter, cubed and cold

1/2

cup

chopped dates
Instructions
Line baking sheet with parchment paper Heat oven to 375º Spread oats and chopped nuts on parchment lined baking sheet. Toast oats and nuts in oven for 7 to 9 minutes, watching closely, remove from oven, cool. Increase oven temperature to 425º

Whisk together milk, yogurt and egg in a small bowl.

Mix together flour, sugar, baking powder, salt and cinnamon. Cut in cubed, cold butter until mixture resembles coarse crumbs.

Fold in cooled oats, nuts and chopped dates. Fold in milk mixture, add 2 tablespoons extra milk, if needed. Dust work surface with flour, gently pat into 7 inch circle, cut into 8 wedges.

Place wedges on parchment lined baking sheet.

Bake at 425 for 12-14 minutes.

Remove scones from pan and cool on wire rack.
Give Dates a Chance
Dates used in this recipe are from Natural Delights. Another recipe you'll want to try using Medjool Dates is this recipe for Cream Cheese Filled Dates Wrapped in Bacon. Dates are extremely good for you and are a good source of protein, iron and fiber. If it has been awhile since you have tried dates, give them a try again. You might be surprised at how deliciously sweet dates are.
More Recipes
Looking for something different to make for dinner tonight?? Here are two you are going to love. Slow Cooker Oxtail Stew and Venison Tenderloin in Puff Pastry. Featured Recipe: North Carolina Style Pulled Pork   and Fig and Pecan Cinnamon Rolls