NorthWoods Duck Gumbo
We may earn money or products from the companies mentioned in this post.
Northwoods Duck Gumbo
Hey Fella's, why not whip up a big batch of  NorthWoods Duck Gumbo to serve your buddies this deer hunting season. They'll be talking about your gumbo way into next year, possibly until the next hunting season. Serve northwoods duck gumbo with long grain white rice.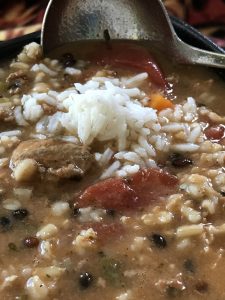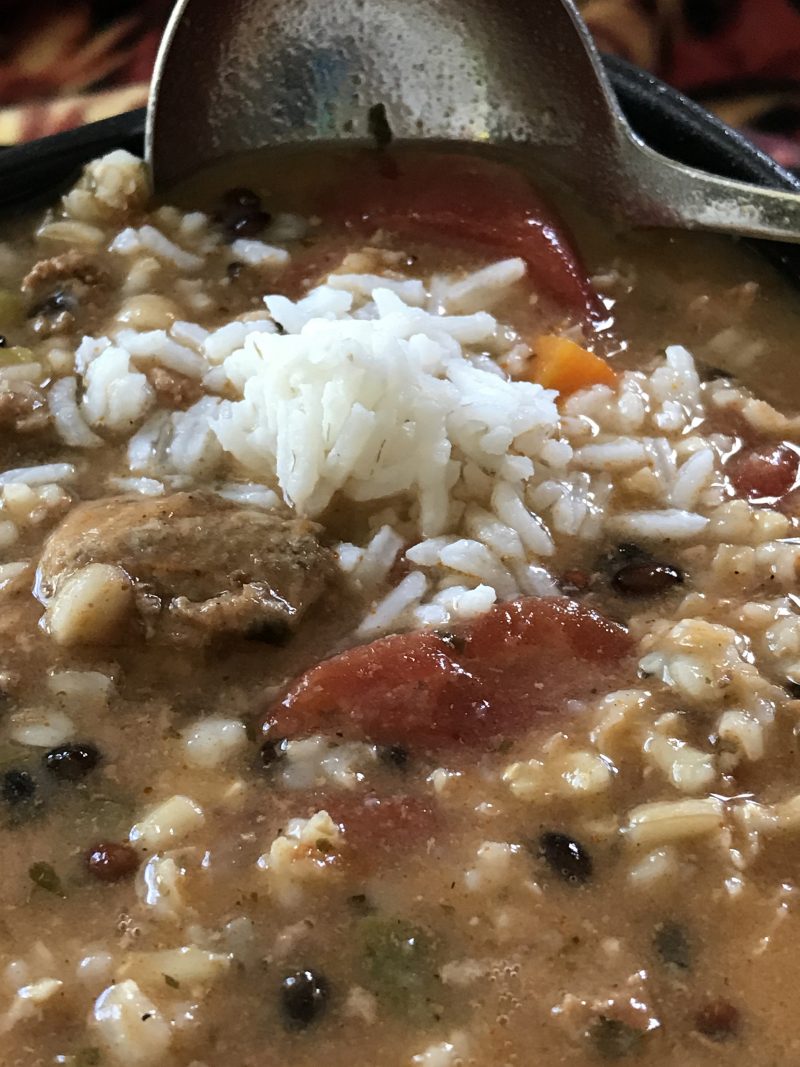 NorthWoods Duck Gumbo may not be your traditional style gumbo but duck gumbo is filled with lots of flavor and plenty of zip. The 'northwoods' part of this gumbo is the: ground duck, wild rice medley, a bottle of beer and a light sprinkling of cheddar cheese….I know, I know….cheese on gumbo! Well, guys, I'm from Wisconsin and I put cheese on everything:)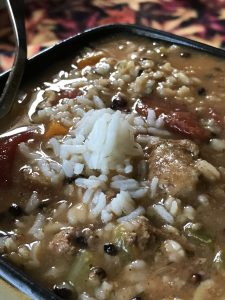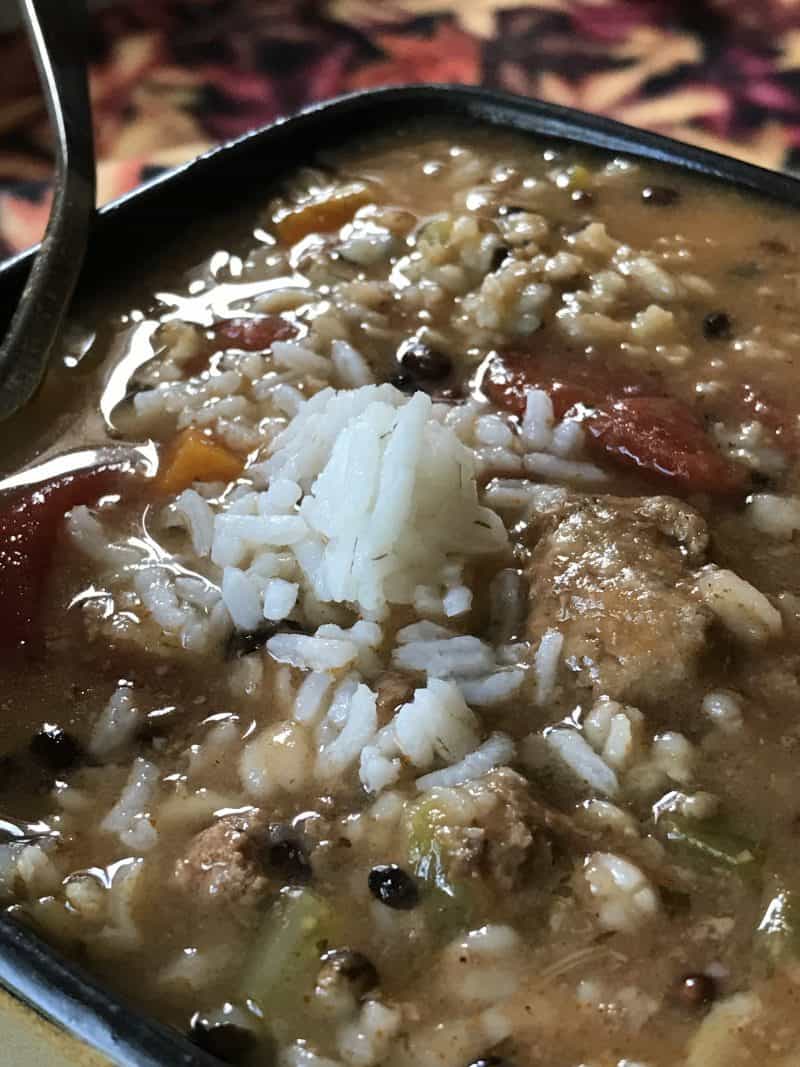 A Few Gumbo Facts:
Gumbo [GUHM-boh] This creole specialty is a mainstay of New Orleans cuisine. Gumbo is a thick, stew-like dish that can have any of many ingredients, including vegetables such as okra, tomatoes and onions and one or several meats or shellfish such as chicken, sausage,ham, shrimp,crab or oysters. The one thing all good gumbos begin with is a dark roux, which adds an unmistakable, incomparable rich flavor. Okra serves to thicken the gumbo as does file' powder, which needs to be stirred in just before serving.
The famous gumbo z'herbes ("with herbs") was once traditionally served on Good Friday and contains at least seven greens (for good luck) such as spinach, mustard greens, collard greens, and so on. The name Gumbo is a derivation of the African word "okra."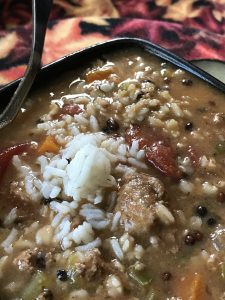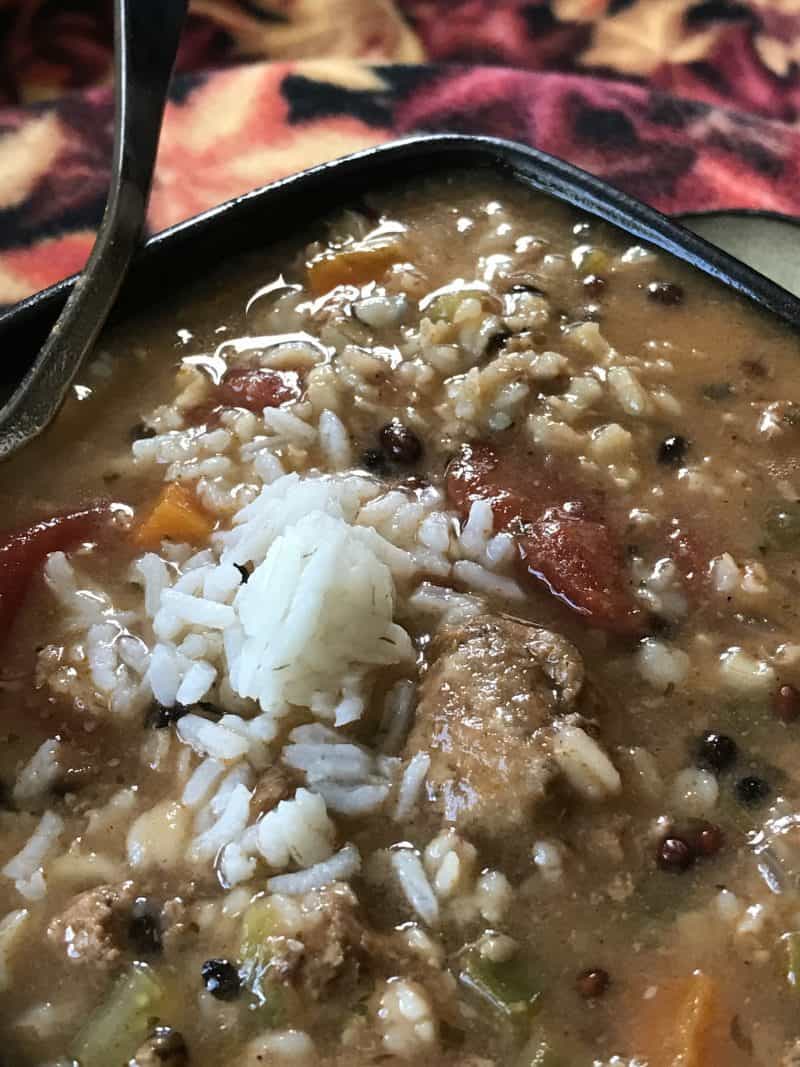 Aren't exactly sure what a roux is or how to make a roux? Learn more here: What is a Roux?
Don't Run Away
Don't let the long list of ingredients scare you away..this recipe is super, duper easy to make and way beyond delicious! Your family and friends will thank-you for serving this hearty, spicy gumbo. Don't forget the rice.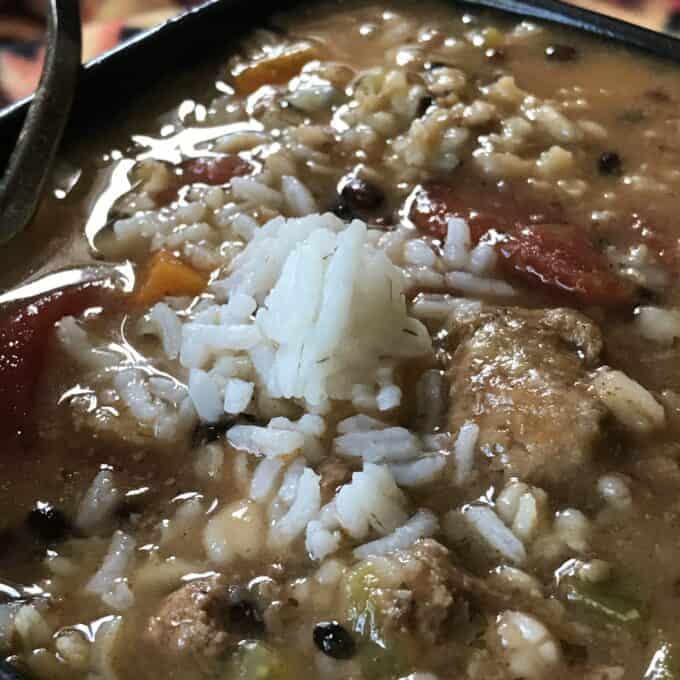 NorthWoods Duck Gumbo
Warm up this winter with a big bowl of NorthWoods Duck Gumbo
Ingredients
2

pounds

ground duck

,

Maple Leaf Farms

16

oz

chorizo sausage

,

El Popular Chorizo

1/4

cup

vegetable oil

2/3

cup

all-purpose flour

2

cups

chopped onions

1 1/2

cups

chopped green pepper

1 1/2

cups

sliced celery

4

cloves

garlic, minced

1

cup

shredded carrots

4

tablespoons

dried parsley flakes

1

can (14 1/2 oz)

stewed tomatoes

1

can (10 1/2 oz)

condensed tomato soup

2

bay leaves

2

tablespoons

Worcestershire sauce

1

teaspoon

pepper

1

teaspoon

salt

2

teaspoons

creole seasoning

1/4

teaspoon

cayenne pepper

2

tablespoons

hot sauce

3

teaspoons

chicken bouillon powder or crystals

3

quarts

water

1

12 ounce

bottle of beer

16 oz

package

wild rice medley, uncooked

16 oz

long grain white rice cooked, for serving

2

cups

sharp cheddar cheese, optional
Instructions
In a large Dutch oven or soup pot, brown ground duck and chorizo sausage in 1/4 cup vegetable oil. Remove browned duck and sausage and set aside. Discard all but 2/3 cup drippings. Add flour to drippings; cook and stir over medium heat until brown, about 12 to 14 minutes. Add duck/sausage mixture, onion, green pepper, celery, garlic, carrots and parsley flakes. Cook for 15 minutes, stirring occasionally. Add next 13 ingredients. Mix Well.

Bring to a boil, reduce heat; cover and simmer 60-75 minutes. Add more water if needed. Remove the bay leaves and serve with rice and cheese.