Nine Immune Boosting Food Tips
We may earn money or products from the companies mentioned in this post.
Nine Immune Boosting Food Tips
To Keep You Healthy Through Winter
As we prepare to enter the final quarter of 2020, it's fair to say that it hasn't been the year that we hoped for. While the world appears to be returning to some form of normality, we are still very much under the COVID-19 cloud. There has never been a more important time to get your health and physical well-being in order. 
Throughout winter, people tend to pick up colds, flu, and mild sickness. Although many of these illnesses aren't overly serious, in light of the ongoing pandemic, it's important that people try to avoid getting sick this year. Whether it's COVID related or not, nobody wants to come down with a nasty cold or flu over the coming months. 
There are many different ways to enable your body to fight off illness. Perhaps the most important factor is to maintain good hygiene habits. Staying active and taking part in regular exercise helps keep the body and mind sharp and healthy. 
One of the most powerful ways to stay healthy throughout the winter months is to give your immune system a boost. The first step in enhancing your immune system is through your diet. The nutrition that you ingest has a tremendous impact on your physical and mental health, as well as your mood, energy levels, and cognitive function. 
It's important to note that no dietary modification can prevent anyone from getting COVID-19. However, there are changes you can make that will boost your immune system, keeping you in tip-top shape. With this in mind, here are nine immune-boosting food tips to keep you healthy through winter.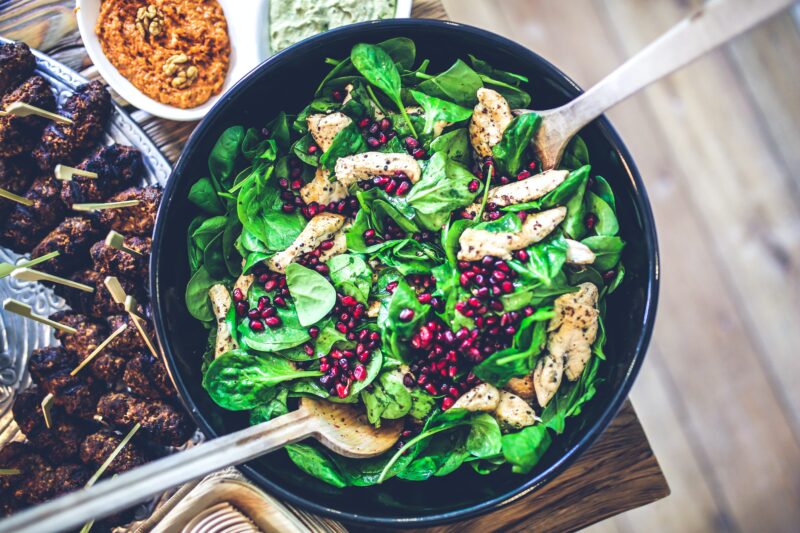 Photo by Kaboompics .com from Pexels.
1. Eat A Hearty Breakfast
Your metabolism can get a real kick start with a hearty breakfast each morning. A lot of people skip breakfast, or worse, they start their day with a sugar-fueled meal. 
If you follow an intermittent fasting style diet, delaying your first meal until mid-morning or early afternoon shouldn't be a problem. However, for most people, a well-balanced and healthy morning meal is essential for a strong immune system. 
Oats and whole grains are full of fantastic vitamins that support the immune system. Try eating oatmeal for breakfast every day to help your body to fight off viruses and bacteria. Find an overnight oatmeal easy recipe and learn to love a hearty breakfast. 
2. Omega-3 Is Your Friend
Omega-3 fish oils have a host of health benefits. A lot of you may be aware of its effectiveness in preventing and managing heart disease. Omega-3 fatty acids can be beneficial in lowering blood pressure, reducing triglycerides, slowing the development of plaque in the arteries, and reducing the chances of heart attack or stroke. 
Recent studies have shown that omega-3 fatty acids may also help to boost the immune system. With so many health benefits associated with omega-3, you should begin to add it to your diet. Omega-3 fatty acids are found naturally in fish such as mackerel, salmon, and sardines. If you're not a fan of seafood, you can take a supplement. 
3. Load Up On Vitamin C
Vitamin C is the go-to when it comes to fighting off a cold or flu. It increases the production of white blood cells in the body. These cells are extremely important when fighting off infections and viruses. Although vitamin C makes the immune system stronger, the human body doesn't produce or store it.

Therefore you need to absorb vitamin C on a daily basis to benefit from its effects. Citrus fruits are rich in vitamin C, making it easily accessible. Look to fruits such as grapefruit, oranges, lemons, and limes to get your daily dose.
4. Fermented Foods For Probiotics
Probiotics are a form of bacteria that are good for the body. They occupy your digestive tract and do amazing work for your gut health. This is crucial in protecting the body from infection and regulating your metabolism and immune system. 
Certain fermented foods are high in probiotics and can give your body a significant health boost. Add foods such as kimchi, kefir, sauerkraut, and yogurt to your diet to increase your probiotic intake. 
5. Cut Back On Added Sugars
Most people are aware that sugar contributes to a myriad of health problems. Obesity and diabetes are closely linked to the overconsumption of refined sugars. Being overweight or having underlying health conditions can put you at a higher risk of contracting an illness. 
By cutting down on your sugar intake you can reduce the inflammation on your internal organs, increasing the strength of your immune system. 
It's important to note that a lot of fruits are high in sugar too. If you're really trying to cut down on your sugar intake, be careful with how much fruit and fruit juice your having. 
6. Leafy Greens
Leafy green vegetables are fantastic immune-boosters. They are rich in vitamins C, K, folate, and contain natural antioxidants. The darkness of the leaf is a strong indicator of the number of antioxidants that it contains. The darker the leaf, the more antioxidants that it's likely to have. 
Vegetables such as kale, spinach, and swiss chard are perfect examples of immune-boosting leafy greens. 
7. Garlic and Ginger Goodness
Garlic is not only a delicious ingredient in cooking, but it also has tremendous immune-boosting characteristics. These properties come mainly from its natural make-up, giving it organic effectiveness in combating infections. 
Ginger is another tasty ingredient that has been frequently used for its health benefits. It enhances antioxidant abilities, boosting your immune system.
8. Go Nuts
Nuts contain so many beneficial properties and can positively impact your overall health. When it comes to your immune system, nuts are high in zinc, iron, and vitamin B. These are effective in supporting your entire immune system. 
Nuts also contain additional vitamins and minerals that impact other aspects of your health, indirectly boosting your immune system further. 
Add nuts such as almonds, brazil nuts, walnuts, pistachios, and cashews to your diet. They're easily accessible and go great with a range of meals. Avoid the salted varieties and beware that nuts are high in fat so you don't need to eat a large quantity.
9. Supplement
Many of the dietary tips outlined above recommend foods that are rich in a particular mineral or vitamin. It's possible to take food supplements to ensure that you ingest your desired intake every day. 
Some of the most important supplements for boosting your immune system include vitamin C, vitamin D, zinc, elderberry, echinacea, and garlic. 
What Is Eco-Gardening Read this article for more tips.