Mushroom Caps Stuffed with Shrimp
We may earn money or products from the companies mentioned in this post.
Mushroom Caps Stuffed with Shrimp
Mushroom Caps stuffed with Shrimp is a fast and easy recipe. Great served as an appetizer or as a light side dish. If shrimp isn't your thing, don't add it! Smoked salmon, lox, or lump crab. Finely shredded mozzarella cheese sometimes called 'fancy' shredded cheese can be used instead of the shredded Parmesan cheese. Really, just about anything will taste better stuffed into a mushroom cap.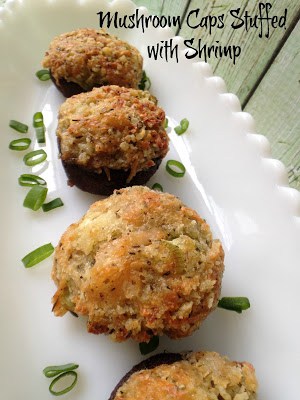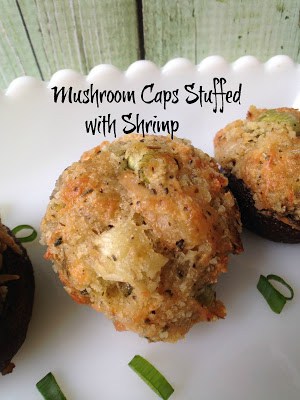 Cremini or White Button
This recipe was made using with cremini mushrooms but you can substitute white button mushrooms. Cremini have an earthy, meaty taste that is perfect for this recipe. Cremini mushrooms tend to be larger than the white button variety most often found in grocery stores. Either type will work in this recipe, its really a personal choice since both types are readily available in grocery stores. Undecided? Use both, cremini and white button.
A cremini is a dark brown, slightly firmer variation of the everyday cultivated white button variety. Cremini have a slightly fuller flavor than their paler relatives. They have a smooth, rounded cap that ranges in size from 1/2 to 2-inches in diameter. The Portabello Mushroom is the fully matured form of this mushroom. The cremino is also referred to as common brown mushroom or Roman Mushroom.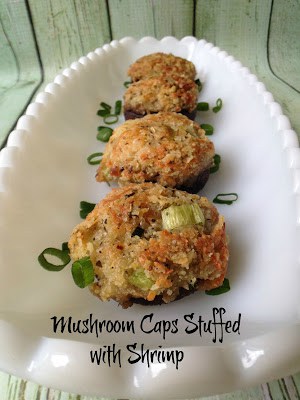 Finger Food
These little beauties are the perfect 'finger' food. Pick one up and pop it into your mouth. No plate required. Stuffed mushroom caps are really a fast, easy and affordable appetizer option. Fill them with anything you like, from chopped artichoke hearts to browned bulk sausage, the filling options are endless. Don't throw out the stems after you remove the from the caps. Dice the stems and add them to whatever filling your making.
Recipe Tip:
Here is a recipe tip you will want to try the next time you make stuffed mushroom caps. Instead of placing the filled mushroom caps on a baking sheet, and doing your best imitation of a balancing act while trying to pop these babies in the oven. Do this trick first, forget about the baking sheet and dig out your mini muffin tin. One mushroom cap will fit into each mini muffin cup.
Most mini muffin tins have 24 cups, which means you can make 24 mushroom caps in no time flat. Line the mini muffin tin with the caps. Make your  favorite filling, whatever that my be and fill the caps. Sprinkle bread crumbs or any crumb topping you like over each filled mushroom cap. Lightly drizzle olive oil over each cap, pop the pan in the oven and bake at 375 degrees for 30 minutes or until mushrooms are tender.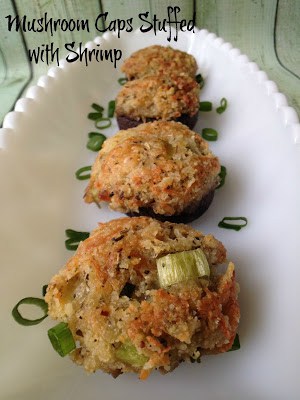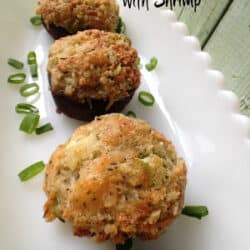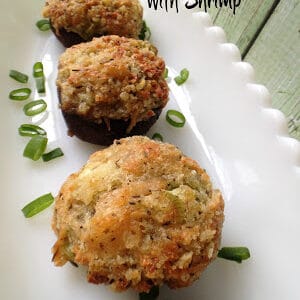 Mushroom Caps Stuffed with Shrimp
Mushroom caps can be filled with anything. In this recipe, shrimp fills in nicely.
Ingredients
16

ounces 

mushrooms, stems removed and wiped clean of any dirt

1

tablespoon

olive oil

1/3

cup 

sliced green onion (set aside 2 tablespoons for garnish)

1/4

cup

diced celery

2

garlic cloves minced

3

ounces

cream cheese, softened

1

4 oz can

tiny shrimp, drained

1/2

teaspoon

lemon zest

1/4

teaspoon

dried thyme leaves

1/4

teaspoon

smoked paprika

2

tablespoons

panko breadcrumbs

salt and pepper, to taste

1/2

cup

shredded Parmesan cheese
Instructions
Preheat oven to 350º

Heat oil in a large, heavy skillet over medium-high heat.

Add onion, celery and garlic. Saute until tender, about 5 minutes. Add cream cheese, stir until soften.

Place cream cheese mixture into a medium bowl; mix in shrimp, lemon zest, thyme, paprika, and panko breadcrumbs. Season filling to taste with salt and pepper. Arrange mushrooms, gill side up, on an oiled baking sheet. Generously mound filling in mushrooms, pressing filling down slightly. Sprinkle with Parmesan cheese.

Bake mushrooms until tender about 20 to 30 minutes.
Nutrition
Serving:
1
g
,
Calories:
105
kcal
,
Carbohydrates:
5
g
,
Protein:
5
g
,
Fat:
7
g
,
Saturated Fat:
3
g
,
Cholesterol:
18
mg
,
Sodium:
166
mg
,
Potassium:
241
mg
,
Fiber:
1
g
,
Sugar:
2
g
,
Vitamin A:
335
IU
,
Vitamin C:
3
mg
,
Calcium:
100
mg
,
Iron:
1
mg
Mushroom and Blue Cheese Gougeres