Multi Grain Sourdough Boule
We may earn money or products from the companies mentioned in this post.
Multi Grain Sourdough Boule
Multi Grain Sourdough Boule has three delicious components. Harvest Grain Blend bread topping, sourdough starter and the fact that this multi grain bread is round. This gives the bread a uniform surface, which means that the bread will bake up golden brown on the outside and soft and chewy on the inside. Multi Grain Sourdough Boule is also delicious toasted. All you need is butter and jam.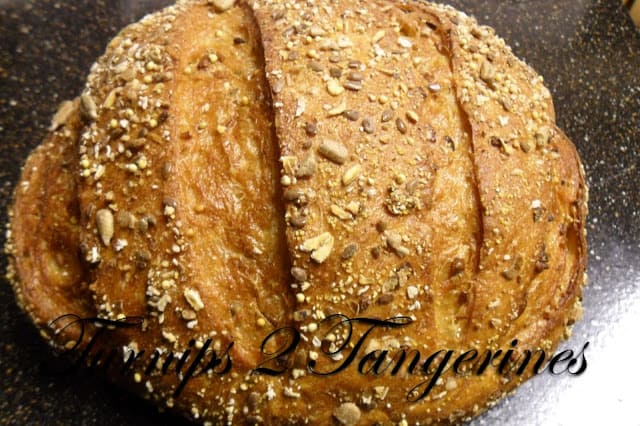 What Does Boule' Mean?
Boule [BOOL] French for "ball," in culinary terms a round loaf of white bread. Can also be called miche. A boule' is basically just a round 'loaf' of bread with a super crunchy crust and a soft and chewy center. The perfect vehicle for soft butter, honey, jam and/or jelly. Boule' is a rustic round loaf of bread that doesn't require a pan. Made free-form style, usually made in an iron-stone baking vehicle or on a baking sheet lined with parchment.
Sourdough Bread
San Francisco is known for its superior sourdough bread and many food stores in the area sell packages of dry sourdough starter for home bread bakers. Though most sourdough are made from all-purpose flour, there are many delicious variations including those made from whole-wheat or rye flour. Basically, sourdough bread has a slightly sour, tangy flavor created by using a special yeast starter as the leavener. Most if not all sourdough starters get their start from natural yeast found in the air.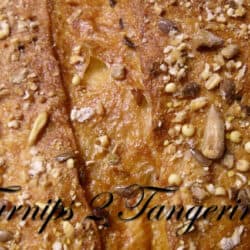 Multi-Grain Sourdough Boule'
A delicious free form style sourdough bread.
Ingredients
1

cup

boiling water

1

cup

harvest grains blend

2

cups

sourdough starter, fed and ready to use

1 3/4

cup

white whole wheat flour

1 3/4

cup

artisan bread flour

2 1/2

teaspoons

salt

1 1/2

teaspoons

instant yeast

2

tablespoons

vegetable oil

Topping: 2 tablespoons harvest grains bread topping or your favorite blend of seeds
Instructions
In a large mixing bowl, combine the harvest grains blend and boiling water. Let cool to lukewarm. Add the fed sourdough starter and the remaining dough ingredients, mix and knead by hand, mixer, bread machine, or food processor until you've made a soft dough, adding additional water or flour as needed. Cover the dough in the bowl, and let it rise until it's almost doubled, about 1 1/2 hours.

Turn the dough out onto a lightly greased work surface, and gently fold it over a few times to deflate it. Shape it into a large round. Cover the round with lightly greased plastic wrap or place in a round covered baker that has been sprayed with a non-stick baking spray and sprinkled with cornmeal. Put on the cover. Let the loaf rise until it's very puffy, about 1 to 1-1/2 hours. Towards end of the rising time, preheat oven to 425º

Just before baking, brush with water and sprinkle with harvest grains bread topping. Use a lame or a very sharp knife to make four slashes across the top of the loaf in a crosshatch pattern.

Bake the bread for 40 minutes, uncover the loaf if in a covered baker and continue to bake 10 to 15 minutes more or until the loaf is golden brown and an instant read thermometer inserted into the center registers 190. (A loaf baked on a baking sheet will need to bake for 38 to 45 minutes total) Remove bread from the oven, let sit in the baker for 5 minutes, cool on wire rack.
Recent Recipe: How to Freeze Whole Strawberries
Harvest Grains Blend King Arthur