Moravian Spice Crisp Cookies
We may earn money or products from the companies mentioned in this post.
Moravian Spice Crisp Cookies
Moravian Spice Crisp Cookies are paper-thin, crispy molasses cookies. They are usually cut into round shapes and baked until crisp. These cookies are considered a signature cookie of Winston-Salem, NC. Moravia once was part of Czechoslovakia. Persecuted for their religious beliefs, they found refuge first in Germany and then in the US. Moravian's settled in Pennsylvania and Winston-Salem, NC. in the 1700's.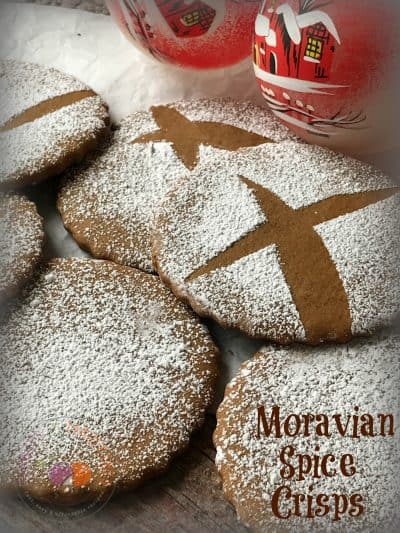 Tastes Like
To me, Moravian spice cookies taste very similar to cookies that I purchase at Al Johnson's Swedish Restaurant Butik. Al Johnson's is located in Door County WI and they serve delicious authentic Swedish cuisine. The name of the cookies are Nyåkers Peppar Kakor (Cookies). The cookies are thin, crispy, gingersnap cookies. They are super delicious! Moravian Spice Crisps are very similar to peppar kakor and equally as delicious.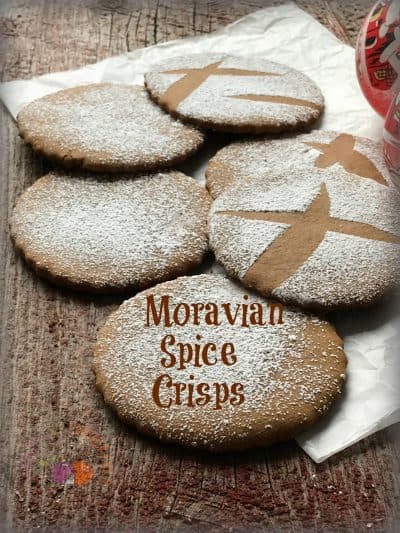 Cookies
A cookie can be any of various hand-held, flour-based sweet cakes, either crisp or soft. The word cookie comes from the Dutch koekje, meaning "little cake." The earliest cookie-style cakes are thought to date back to 7th-century Persia, one of the first countries to cultivate sugar. There are six basic cookie styles, any of which can range from tender-crisp to soft. All styles are versatile and delicious.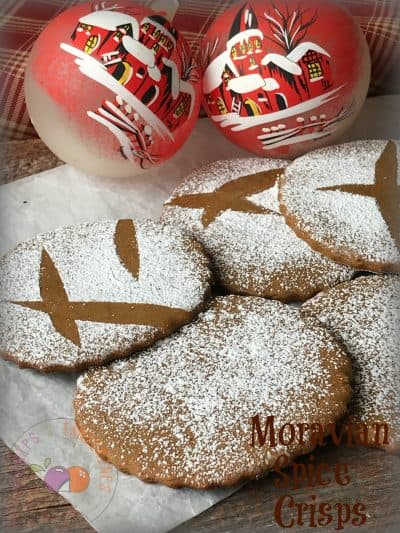 Styles of Cookies
A drop cookie is made by dropping spoonfuls of dough onto a baking sheet. Bar cookies are created when a batter or soft dough is spooned into a shallow pan, then baked, cooled and cut into bars. Hand-formed or molded cookies are made by shaping dough by hand into small balls, logs, crescents and other shapes. Pressed cookies are formed by pressing dough through a cookie press or pastry bag to form fancy shapes and designs.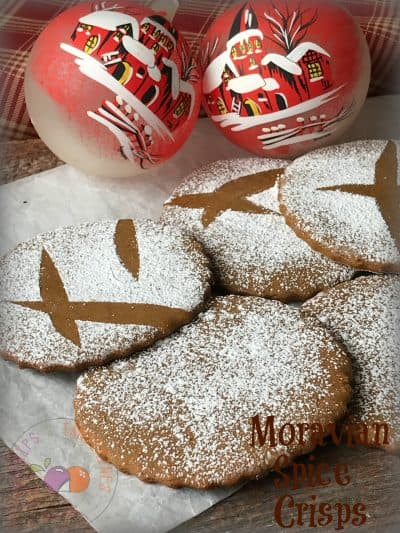 More Styles of Cookies
Refrigerator or icebox cookies are made by shaping the dough into a log, which is refrigerated until firm, then sliced and baked. Rolled cookies begin by using a rolling pin to roll the dough out flat; then it's cut into decorative shapes with cookie cutters or a pointed knife. Other cookies, such as the German Springerle, are formed by imprinting designs on the dough.
German Springerle get designs on the dough either by rolling a special decoratively carved rolling pin over the dough or by pressing the dough into a carved cookie mold. In England, cookies are called biscuits, in Spain they're called galletas, in Germany cookies are called keks and in Italy they're called biscotti.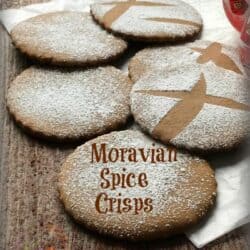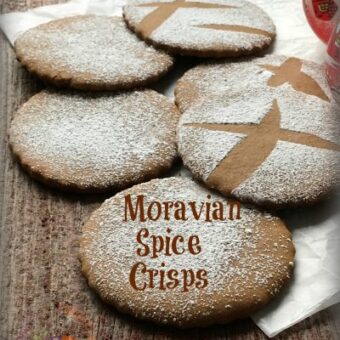 Moravian Spice Cookies
Moravian Spice Cookies should be rolled as thin as possible.
Ingredients
1/3

cup

shortening

1/3

cup

packed brown sugar

1/4

cup

unsulfured molasses

1/4

cup

dark corn syrup

1 3/4 -2

cups

flour

2

teaspoons

ground ginger

1 1/4

teaspoons

baking soda

1

teaspoon

ground cinnamon

1/2

teaspoon

ground cloves

powdered sugar
Instructions
Melt shortening in a small saucepan over low heat. Remove from heat; stir in brown sugar, molasses and corn syrup. Set aside; cool.

Place 1 1/2 cups flour, ginger, baking soda, cinnamon, and cloves in a large bowl; stir to combine. Beat in shortening mixture with electric mixer at medium speed. Scraping down side of bowl once. Gradually beat in additional flour until stiff dough forms, scraping down side of bowl once.

Knead dough on lightly floured surface, adding more flour if to sticky. Form dough into 2 discs; wrap in plastic wrap and refrigerate 30 minutes or until firm.

Preheat oven to 350 degrees. Grease cookie sheets; set aside. Working with 1 disc at a time, unwrap dough and place on lightly floured surface. Roll out dough with lightly floured rolling pin to 1/16-inch thickness.

Cut dough with floured 2 3/8-inch scalloped cookie cutter. (If dough becomes too soft, refrigerate several minutes before continuing.) Gently press dough trimmings together; reroll and cut out more cookies. (Rerolled dough will produce slightly tougher cookies than first rolling.) Place cookies 1/2-inch apart on prepared cookie sheets.

Bake 8 minutes or until form and lightly browned. Remove cookies with spatula to wire racks; cool completely.

Place small strips of cardboard or parchment paper over cookies; dust with sifted powdered sugar. Carefully remove cardboard or paper.

Store tightly covered at room temperature or freeze up to 3 months.
There are many different types and style of cookies. Each country has their own particular type of cookie that is traditionally served throughout the year and during the holiday season.  Here are just a few of our favorites; Spice Cocoa Meringue Cookies,  Danish Jam Ribbon Cookies, and Welsh Tea Cakes.