Monster Toes-Halloween Fun
We may earn money or products from the companies mentioned in this post.
Monster Toes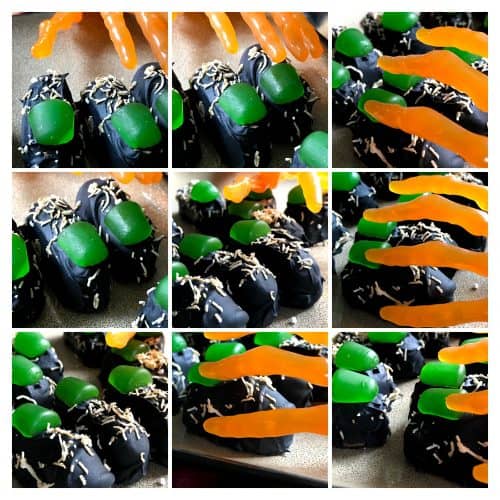 Toes
Monster Toes are the perfect sweet treat to hand out to all of the little ghosts and goblins that will be knocking on your door this Halloween. If your hosting a kids Halloween Party instead of going door-to-door trick or treating, have a plate of Monster Toes ready. The ghosts and goblins attending the festivities will enjoy taking a big bite out of these monster toes. You could easily use these monster toes as a name card holder, at each place setting also.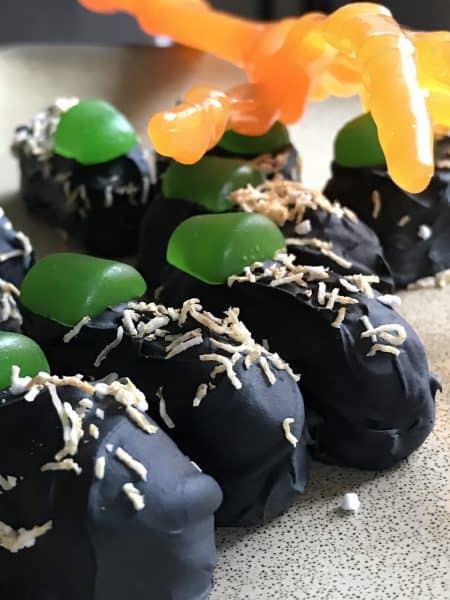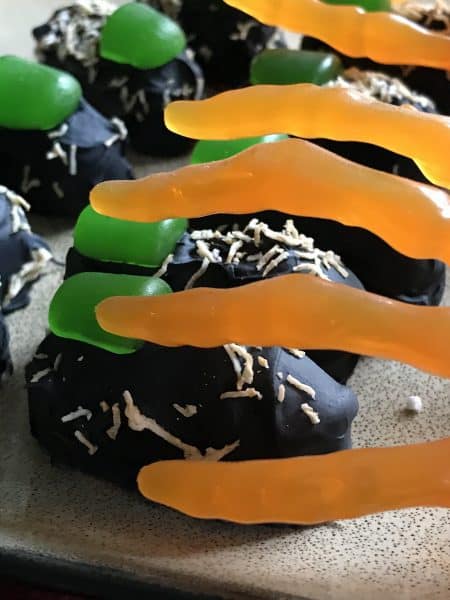 Affordable
This recipe for Monster Toes is fast, fun and very affordable. For this recipe I bought a 7 oz bag of Circus Peanuts, a 6.5 oz box of Dots, and a 10 oz container of Pillsbury Vanilla Frosting at the Dollar Store. This recipe for Monster Toes cost a whopping $3.00! (I had a tube of black gel food coloring, but you can use any color you like:) If you don't like Circus Peanuts, you can substitute Nutter Butter cookies. I originally wanted to use Black Crow candies for the 'toenails', but I couldn't find them at the $1.00 store. I'm not even sure if they make Black Crow candy anymore, so I went with green Dots instead. Black Crow candies are the same thing as Dots, only Black in color as the name suggests and I think that they are licorice flavored.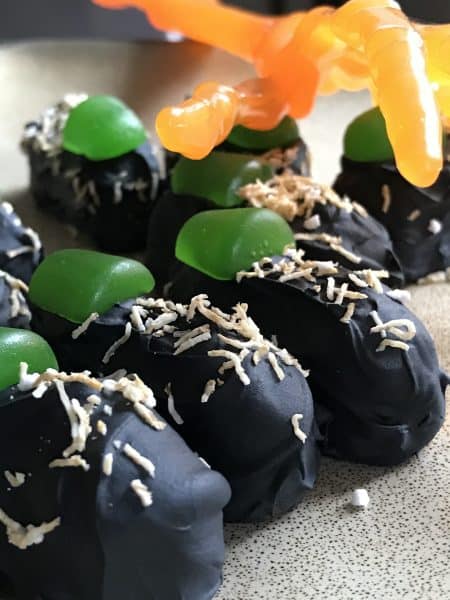 Add Some Hair
I sliced the Dots in half and was left with plenty of Dots to snack on while I was frosting my toes. Then when I took a break from frosting toes, I decided to eat a bowl of frosted mini wheat cereal, to balance out my diet after eating a box of Dots, a light bulb went off in my head.."Hey, Why not use some crushed, frosted mini wheat cereal for the 'hair' on my 'toes'. Great idea! If you want to add 'hair' to your 'toes' you could use frosted mini wheat cereal,  sweeten flaked coconut (tinted a scary color would be fun) or anything else you have on hand. Let your imagination run wild.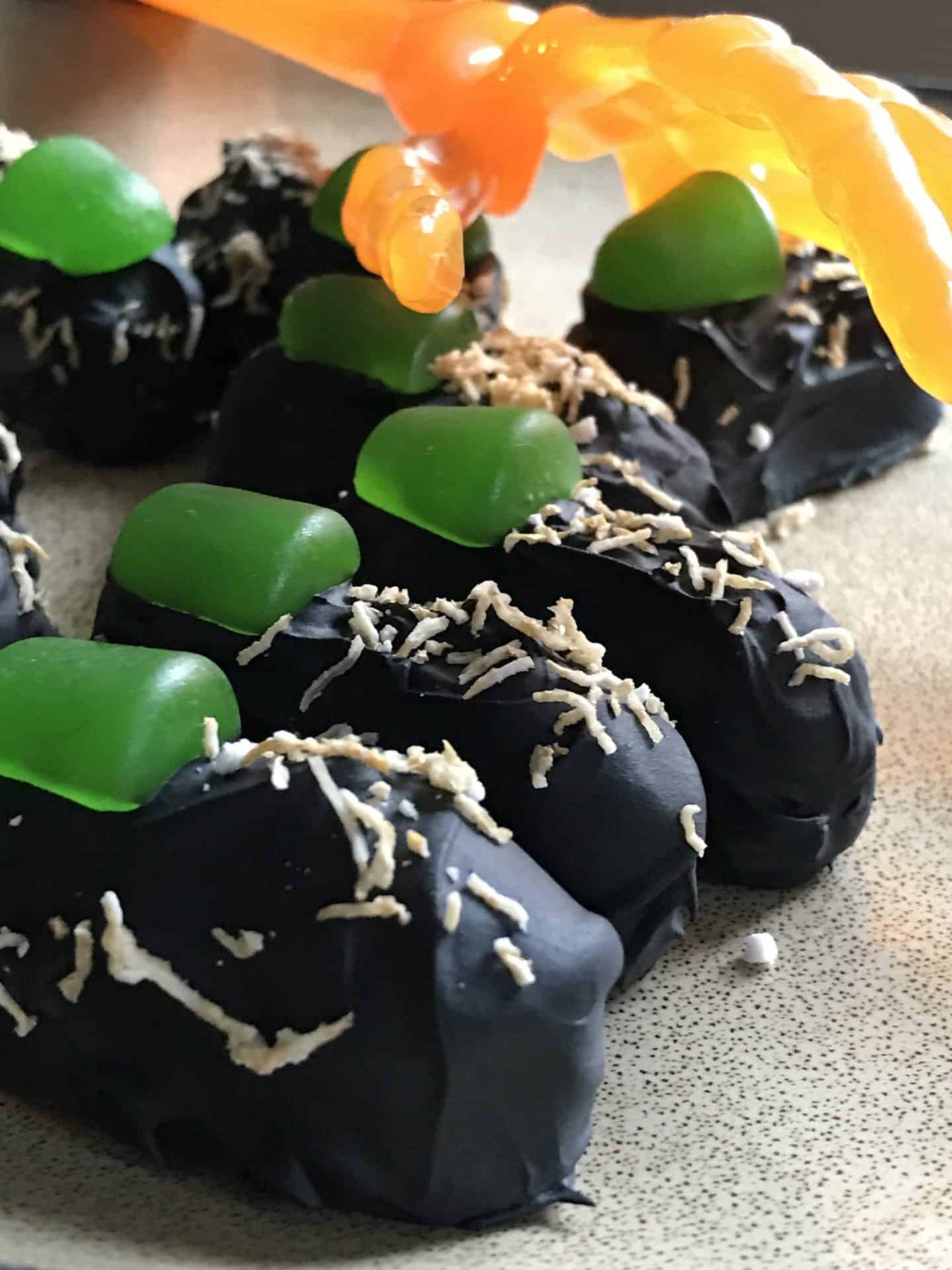 Now, on to the recipe….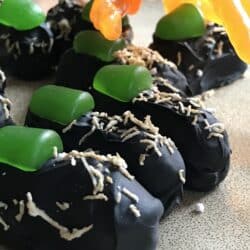 Monster Toes
A fun affordable Halloween treat!
Ingredients
1

7 oz. bag

circus peanuts

1

6.5 oz. box

Dots candy (green)

1

10 oz container

vanilla frosting

4

drops

jet black gel food coloring

3

tablespoons

crumbled shredded wheat cereal or coconut.
Instructions
Empty contents of vanilla frosting into a medium mixing bowl.

Stir 4 or more drops of jet black gel food coloring into vanilla frosting. Mix well.

Cut green Dots in half, set aside.

Carefully frost circus peanuts. Place frosted peanuts on a wire rack. Place one half slice of green Dots on top of frosted circus peanuts for toenail.

Sprinkle frosted circus peanuts with crumbled shredded wheat cereal or tinted coconut.
Notes
Substitute Nutter Butter cookies for the circus peanuts if you prefer.
Can use any color of gel food coloring you want in place of the jet black and any color of Dots candy.
Tinted coconut can replace the shredded wheat cereal.