Minted Spring Baby Peas
We may earn money or products from the companies mentioned in this post.
Minted Spring Baby Peas
Ahh, peas..you either love them or you can't stand them. At least that's the way it is in my house! Peas have gotten somewhat of a bad rap over the years. This may be due in part to the fact that horror movies have a tendency to over use canned pea soup. (heads spinning around while projectile vomiting the green stuff) If you're on the fence about peas, this recipe for Minted Spring Baby Peas is sure to sway you in the right direction.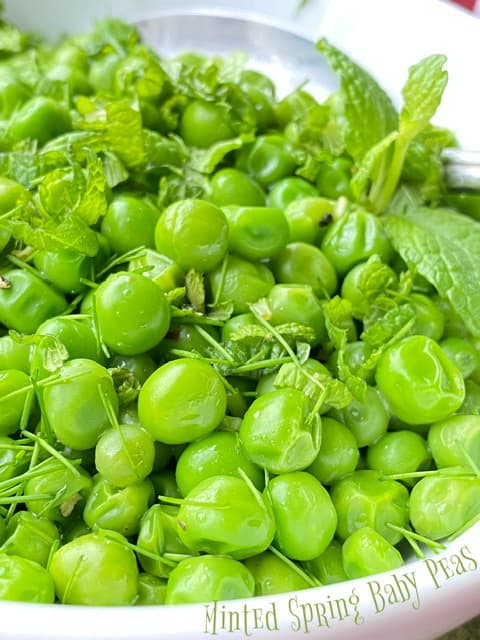 Spring Vegetable
Peas are one of the earliest vegetables to be planted in most climate "zones." Therefore peas are one of the first vegetables to arrive in Spring. That's why you will most certainly see peas served at Easter. When fresh peas are available in your area, depending on what "zone" you live in, pick some up! Fresh is always best but since I'm the only one who eats peas, I just buy frozen spring baby peas, which are slightly smaller than regular peas. Some say baby peas are sweeter than most peas. In my humble culinary opinion, I can't tell the difference. They both taste good to me and I'm definitely not a pea aficionado.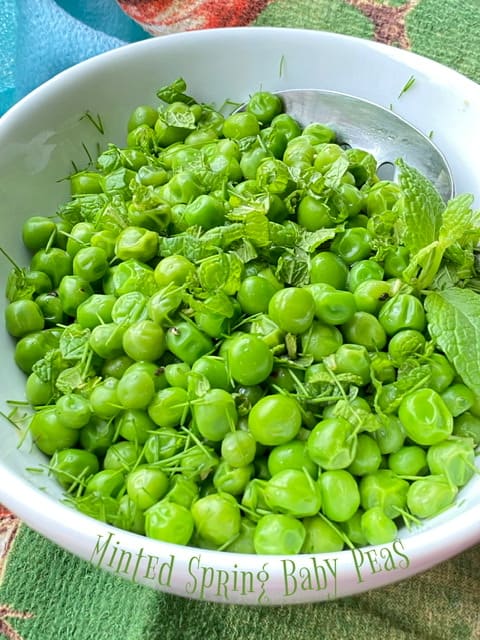 Love em' or Leave em'
I happen to love peas but on the other hand my hubby who doesn't seem to like any green vegetable, hates them. He told me that when he was a kid, he couldn't leave the table until he ate all of his peas. So what did he do? Well I'm a gonna tell ya! Back in the day, registers (see insert in photo) were usually made of some sort of metal and had a latch at the top. The latch opened and closed a solid metal plate/shield-thing. The metal plates were meant to regulate the heat flow. These overly large, old-fashioned registers were a kids dream come true! As a kid, you could sit for hours opening and closing the metal plate.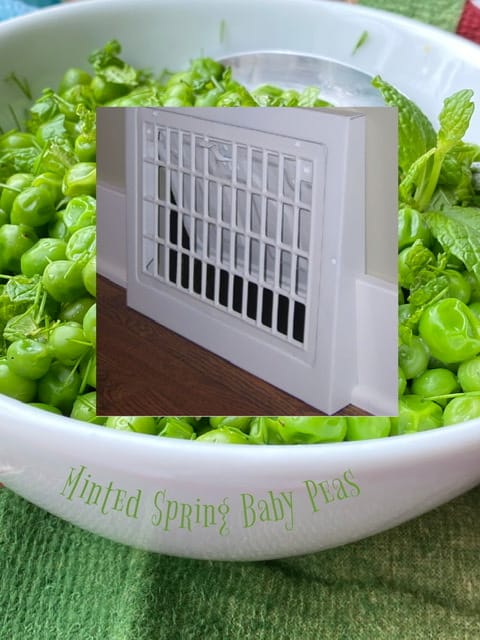 More Fun!
Another fun thing for a kid to do was to  "accidentally" drop things down the register. This is where my hubby's story comes in…My hubby said that he never wanted to eat his peas, and sometimes hot dogs. When this would happen, down the register it went. His chair was located directly in front of the register. When no one was looking, he'd lean backwards and drop the hot dog into the register. Now the peas were a little trickier. Once again when no one was looking, he'd grab a handful of peas, lean back in his chair and throw the peas into the register. Eventually his mom figured out what he was doing, as all moms will do. After all, moms do have eyes in the back of their head:) How did mom rectify this problem? She moved his chair fat away from the register!
UP NEXT: Cheesy Potatoes aka Easter Potatoes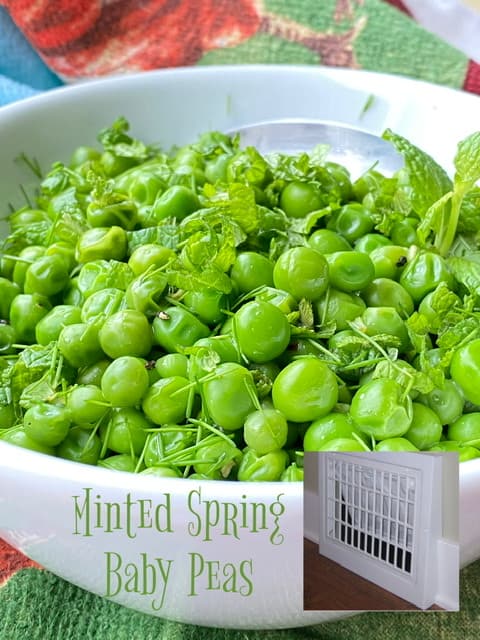 Mint and Peas
Remarkably, mint and peas go together as well as peas and carrots. Even better! The fresh cool  flavor of mint pairs beautifully with the melted butter, fresh chives and of course the star of the recipe, peas. This recipe made a believer out of me.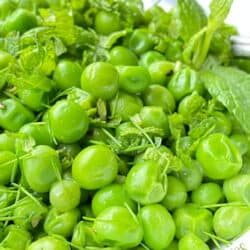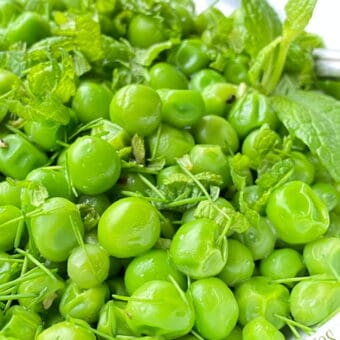 Minted Spring Baby Peas
A delicious way to serve spring peas!
Ingredients
3

cups

fresh or frozen baby peas

1

teaspoon

sugar

2

tablespoons

unsalted butter

salt and pepper

1/4

cup

mint leaves, finely chopped

2

tablespoons

sniped chives

1

lime, optional
Instructions
Place the peas in a saucepan of boiling water over high heat. Boil for 2-3 minutes, drain and immediately plunge in a bowl of iced water. Drain. Return the saucepan to medium-low heat and add the sugar, butter and peas. Cook, stirring, until the butter melts and coats the peas, about 1 minute. Season with sea salt, freshly ground black pepper, and mint. Transfer the peas to a serving bowl, season with chives and juice of one lime if using. Serve immediately.
Recipes on Tap:
This recipe was made with: