Mint Sugar Cookies Dipped in Chocolate
We may earn money or products from the companies mentioned in this post.
Mint Sugar Cookies Dipped in Melted  Chocolate
Mint Sugar Cookies Dipped in Chocolate are super delicious. Made with a basic sugar cookie recipe, they're easy and fast to whip up whenever the cookie craving strikes. The cookie dough is flavored with peppermint extract to give it a subtle peppermint taste. One side of the swirled cookies are dipped in melted chocolate and decorated with colored sugar. After all, what is the perfect pattern to mint? Chocolate of coarse!
Swirled Pattern
In this recipe, half of the cookie dough is tinted green, (or any color you like) and the other half of the cookie dough is left plain. The two cookie dough halves are then lightly kneaded together. The dough is rolled out to form a swirled pattern of sorts. A round cookie cutter, biscuit cutter or drinking glass dipped in flour is used to cut out shapes. Bake and allow cookies to cool completely before dipping into melted chocolate.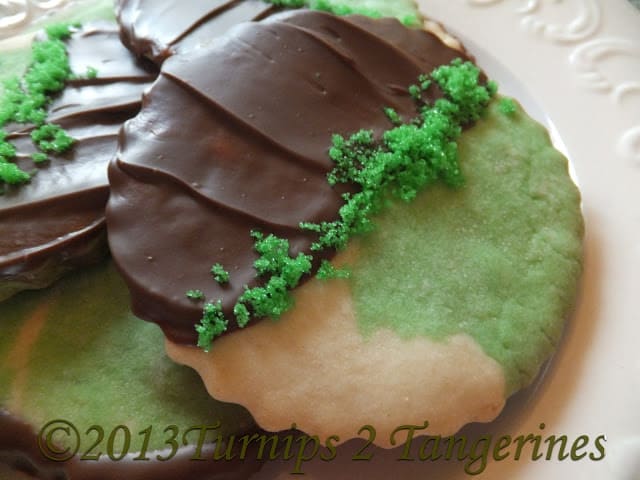 Dipped in Chocolate & Colored Sugar
Mint sugar cookies are made special by dipping half of the cookie into melted milk chocolate chips. As soon as the cookies have been dipped, colored sugar is sprinkled along the melted chocolate edge. Then they're allowed to set-up. Making these cookies not only delicious but more than pleasing to the eye. Mint Sugar Cookies Dipped in Melted Chocolate are perfect for any bake sale. Instructions for coloring sugar follows the cookie recipe.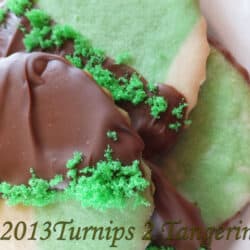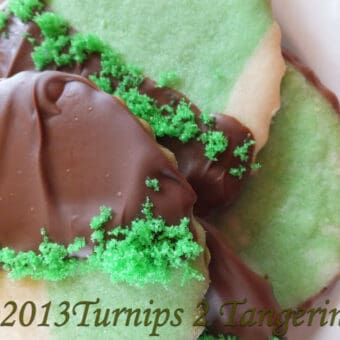 Mint Sugar Cookies Dipped in Chocolate
Sugar Cookies with a hint of mint, then dipped into melted chocolate.
Ingredients
1

cup

shortening

1

cup

confectioners' sugar

1

egg

1

teaspoon

peppermint extract

2 1/2

cups

flour

1/2

teaspoon

salt

drops

green food coloring

1

cup

Hershey's milk chocolate chips
Instructions
In a large bowl, cream the shortening and confectioners sugar until light and fluffy, beat in the egg and extract. Add flour and salt; mix well. Divide dough; place 3/4 dough in a medium bowl, place 1/4 dough in a small bowl, tint 3/4 batter with green food coloring, mix well. Cover and chill both bowls for 1 hour or until dough is easy to handle

On a lightly floured surface, mix the tinted and plain dough together to make a swirl effect when dough is rolled to 1/4 inch thickness, cut with a floured round 2 inch cookie cutter. Place 1 inch apart on ungreased baking sheets.

Bake at 375º for 10 to 12 minutes or until edges are lightly browned. Cool for 1 minute before removing to wire racks, cool cookies.

Melt chocolate chips in microwave on high for 40 seconds or until melted, stir.

Dip one side of cookie in melted chocolate, sprinkle with colored sugar.

Place on wire rack until chocolate is set.

How to make colored sugar.

1/3 cup sugar

2 or 3 drops green food coloring or color of your choice

Place sugar in a small bowl, add food coloring, one drop at a time mixing well after each addition, until you reach desired color.
Recipe Note:
Honey Mustard Spiced Ham is a super delicious recipe for ham. Another plus, it's made in your slow cooker making it perfect for entertaining. We like cookies here on Turnips 2 Tangerines and this is one of our favorites.Moravian Spice Crisp Cookies