Minion Cereal Marshmallow Treats Food Find
We may earn money or products from the companies mentioned in this post.
Minion Cereal Marshmallow Treats

made with General Mills New Minions Cereal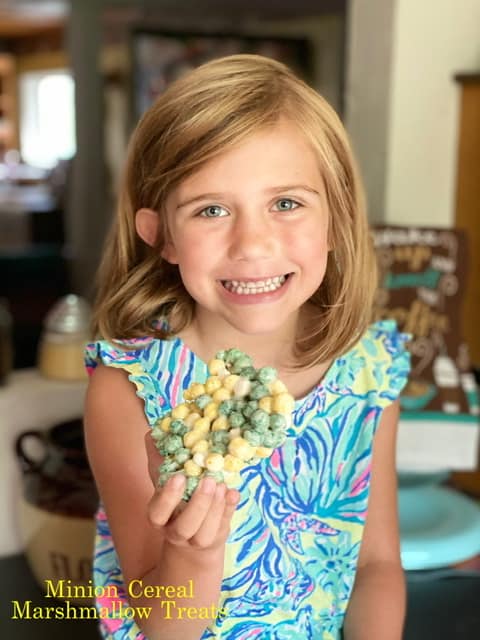 Hey guys! Today I'm back with yet another Food Find. I'm on a bit of a Food Find roll here with this being my third or fourth Food Find in a matter of a few weeks. The reason for this is a simple one really, in a word "Granddaughters." It's a pleasure to photograph my two beautiful granddaughters instead of food for a change. Don't get me wrong, I love to photograph food but I'm certainly no food stylist, so my food photos lack a certain 'panache,' but when you have two gorgeous grand-daughters who love to get their pictures taken, you can't go wrong.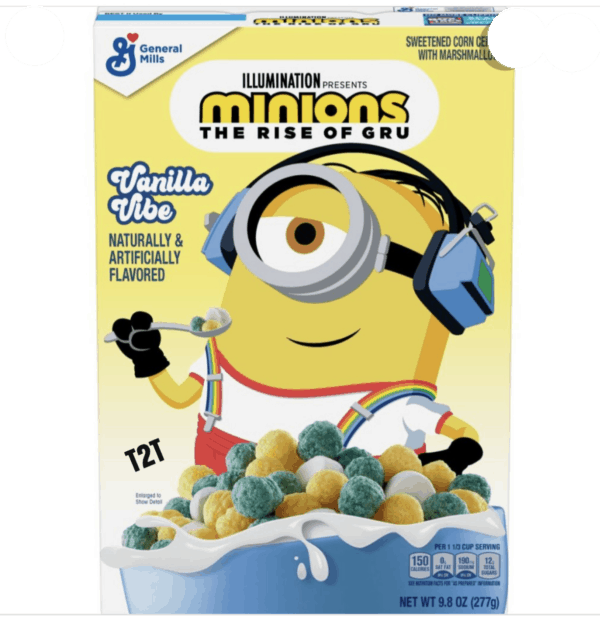 New Minion Cereal
The New Minions Cereal by General Mills was to be released this summer to coincide with the new movie; Minions: The Rise of Gru. The film was expected to premiere this summer but was rescheduled for July 2021 due to the current pandemic. Thankfully, General Mills decided to release the cereal anyway, which makes Minion lovers happy every where. After all, who doesn't like a minion. According to my granddaughters Willow and Iris, this new sweetened yellow and blue corn cereal, made in the signature Minion colors, and also has white marshmallows bits, tastes like vanilla ice cream. Nothing wrong with that!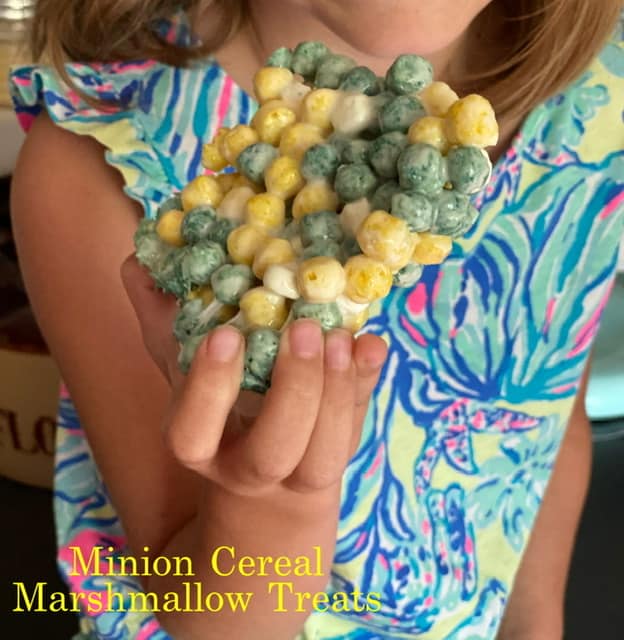 What You'll Need
Let's face it, everyone has made Rice Krispie treats in some form or another at least once in their life. In my family, the only one who isn't a huge fan of the basic marshmallow treat recipe, would be me. Now on the other hand, throw some mini m & m's and peanut butter into the mix and I'm all in! One of my favorites is Peanut Butter Crispy Treats We have quite a few selections for marshmallow treats in our recipe 'repertoire' for you to choose from. The basic recipe is easy and the ingredients in any marshmallow treat recipe are:
6 cups cereal (New Minion Cereal)
10 oz package marshmallows (about 40) or 4 cups miniature marshmallows
4 tablespoons butter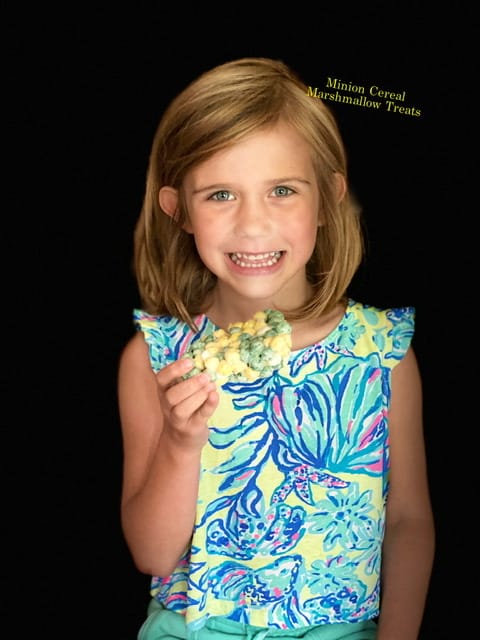 Change up the flavor by using Captain Crunch Touchdown Marshmallow Treats, Cocoa Puffs, Kix, or Cookies n' Creme Cereal Treats. With all of the new cereal flavors that are out on the grocery store shelves now-a-days, any cereal would work. Don't believe me? Go to your local grocery store or super center and stand in the cereal aisle. (If you have kids you know what I'm talking about.) You will be totally in shock and surprised at all the different kinds of cereal.
UP NEXT: Sugar Cookie French Fries Food Find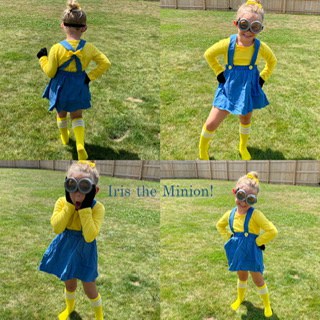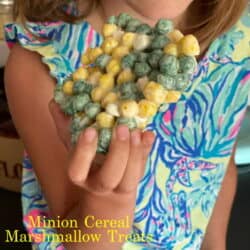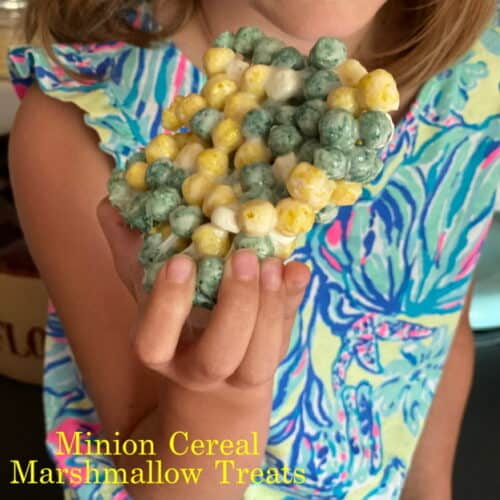 Minion Cereal Crispy Treats
Ingredients
6

cups

New Minion cereal

1

10 oz package

marshmallows (about 40)

4

tablespoons

butter
Instructions
Lightly butter a 13 x 9- inch baking dish. Set aside.

In a Dutch oven melt butter over medium low heat until melted. Add marshmallows, turn heat to medium and stir marshmallows and butter together until marshmallows are melted. Stir until creamy.

Remove from heat; stir in cereal. Stir until cereal is well coated. Dump contents into prepared dish. With a buttered spatula press cereal mixture down.