Mini M & M Blonde Blondies
We may earn money or products from the companies mentioned in this post.
Mini M & M Blond Blondies
Mini M & M Blondies are made with just a few ingredients. The two main ingredients found in blondies, that make them special and distinguish them from their famous chocolate brownie relatives, is the butter and brown sugar. Whereas brownies rely on chocolate to make them so delicious, blondies are made with butter and brown sugar which give them their butterscotch undertones, that make them delicious.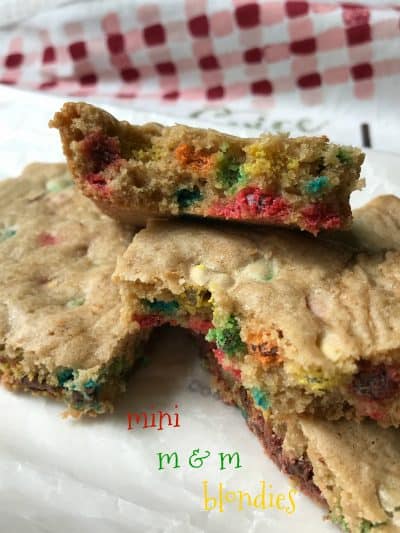 "Add In"
Blondies can have as many "add in" ingredients as brownies can. Candy such as m & m's, shredded coconut, dried or candied fruit, nuts, white chocolate chips, and toffee bits are just a few. This is a short "add in" ingredient list, since just about anything can be added. One of my favorite combinations to " add to" blondies is white chocolate chips and chopped macadamia nuts. Another favorite is coconut and hazelnuts. Delicious!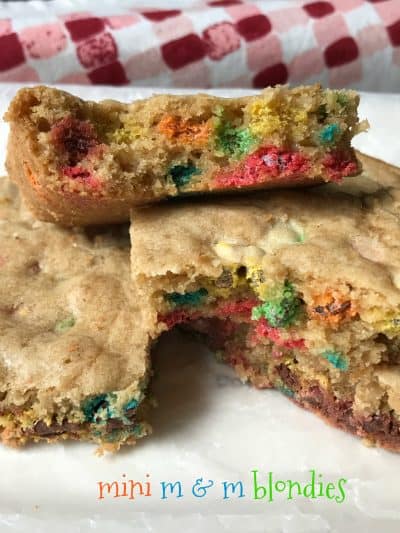 Change Colors
You can easily make these blondies festive just by changing the color of the  m & m's. M & M's can be found in all colors that correspond with just about every holiday. Not only do m & m's come in any color that you would find in a box of 64 crayons, they also come in new and delicious flavors. Coffee, cherry, white chocolate, pumpkin spice, mint, you name it and you can pretty much find an m & m in that flavor.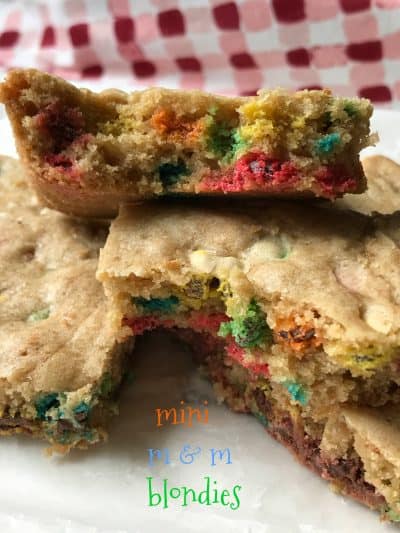 Few Staples
If you have butter and brown sugar in the house, along with a few other kitchen "staples," you are well on your way to making a pan of blond blondies!! And what could possibly be better than a pan of buttery blondies. Like their chocolaty cousins, blondies are super delicious plain or with any number of ingredients mixed in. If you have never made a pan of blondies before, stop wondering what they taste like and make a batch. You'll be so glad you did.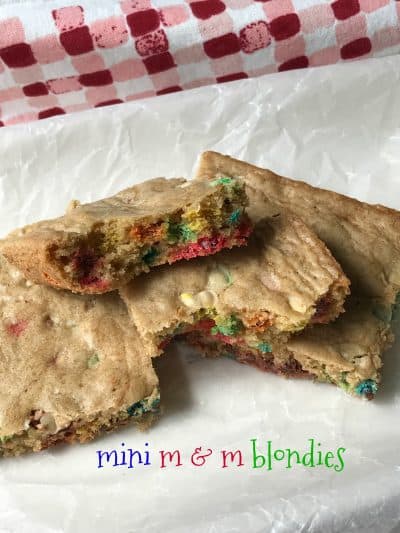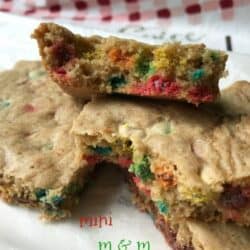 Mini M & M Blondies
Mini M & M Blondies are a buttery, delicious bar. Blondies are the cousin of the brownie, but instead of relying on chocolate to make them irresistible, they rely on butter and brown sugar.
Ingredients
1 1/2

cups

all-purpose flour

1

teaspoon

baking powder

1/2

teaspoon

salt

1 1/2

cups

packed light brown sugar

12

tablespoons

butter, melted and cooled

2

large eggs

2

teaspoons

vanilla extract

3/4

cup

mini M&Ms
Instructions
Preheat oven to 350 degrees. Line a 9x13-inch pan with aluminum foil and spray it with baking spray (or use butter to grease it).

In a medium bowl, whisk flour, baking powder, and salt together.

In a large bowl, whisk sugar and melted butter together and then whisk in eggs and vanilla.

Use a wooden spoon or rubber spatula to stir the flour mixture in until just combined.

Stir in M&Ms.

Pour batter into prepared pan and use a spatula to spread it evenly.

Bake for 22 to 25 minutes. Let blondies cool completely before slicing.
Looking for more recipes to satisfy your sweet tooth? We have several that you will love! White Chocolate Cherry Walnut Fudge, White Chocolate Candy Corn Fudge, and Candy Cane Fudge will certainly satisfy any sweet tooth.
This recipe is made with mini M & M Candy
Golden Gate Bars made with Ghirardelli are a super layered bar that are simply irresistible.