Mini Elvis Banana Bread
We may earn money or products from the companies mentioned in this post.
The King of Rock n' Roll was on to something when he brought this flavor combination to our attention. What once seemed like a strange duo, peanut butter and bananas, is now commonplace in the culinary world. In fact, peanut butter banana sandwiches are totally acceptable. Personally, I like a little chocolate with my sandwich, so for me it's a peanut butter, banana, and mini chocolate chip sandwich. Mini Elvis Banana Bread loaves are easy and delicious.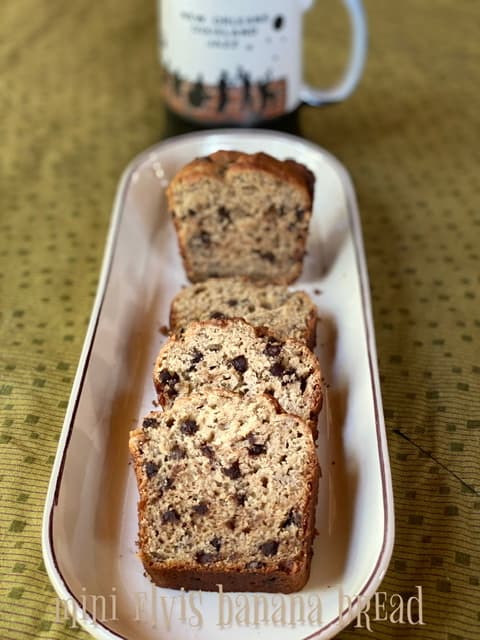 Banana Bread
Fat Elvis Bread is basically just a glorified banana bread recipe that has peanut butter and mini chocolate chips added to the batter. I've used peanut butter to make cookies,   peanut butter balls, and even to make peanut butter pie. But I've only used peanut butter one other time to make bread. A few years back we tried Peanut Butter and Chocolate Bread.
It was the first time using peanut butter in a bread recipe and it turned out fantastic. Why we waited so long to use peanut butter in another bread recipe, well your guess is as good as mine.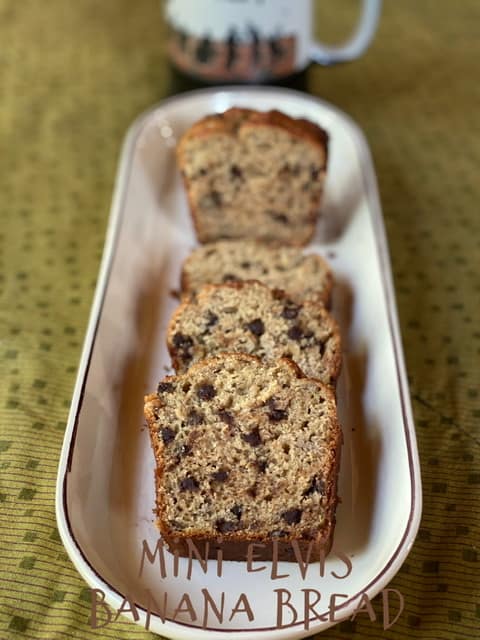 When making this recipe, actually when making most bread recipes, we like to use our Wilton mini loaf pan that makes four mini loaves at one time.
Each cavity is 5.75 in. x 3 in. x 2.125 in
You can certainly make one-9 x 5 inch loaf pan that the original recipe suggests. Maybe it's a subconscious kinda thing, but for some reason I don't feel quite as bad if I eat one mini loaf vs one big loaf. Mini loaves are great to give as gifts or to sell at bake sales as well. With Covid-19, bake sales, cookie exchanges, even work potlucks may soon become a thing of the past.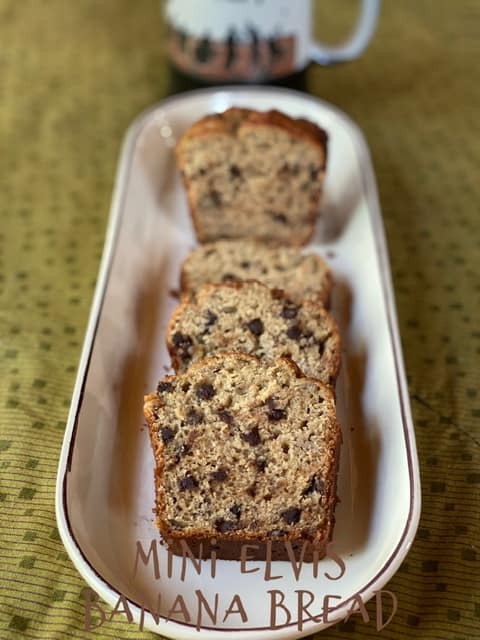 More Peanut Butter Recipes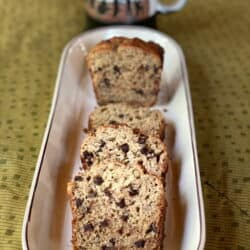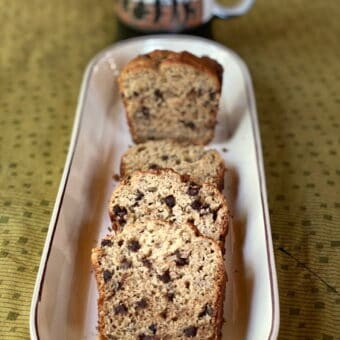 Mini Elvis Banana Bread
Ingredients
2

cups

all purpose flour

1

cup

sugar

1

teaspoon

baking powder

1

teaspoon

baking soda

1

teaspoon

salt

1

teaspoon

pumpkin pie spice

4

medium

ripe bananas, mashed

2

eggs

1/2

cup

creamy peanut butter

1/4

cup

unsweetened applesauce

1/4

cup

canola oil

2

teaspoons

vanilla extract

2/3

cup

mini chocolate chips
Instructions
Preheat oven to 350° In a large bowl, whisk the first six ingredients. In a second bowl, whisk bananas, eggs, peanut butter, applesauce, oil and vanilla until blended. Add to flour mixture; stir just until moistened. Fold in mini chocolate chips.

Transfer to four loaf pans coated with cooking spray. Bake for 45-50 minutes or until a toothpick inserted into center comes out clean. Cool in pans 10 minutes before removing. Transfer to a wire rack to cool.