Midnight Mint Nanaimo Bars
We may earn money or products from the companies mentioned in this post.
Midnight Mint Nanaimo Bars
Midnight Mint Nanaimo Bars are perfect to share at Midnight or Anytime!! The first time I looked through the cookbook, "Treasury of Home Cooking" by Jean Paré Volume 3, "Delicious Desserts," I have wanted to make these delicious sounding bars. Not only did I want to make these delicious bars, I wanted to make something "minty" for St Patrick's Day and I was very curious about the author of the recipe book, Jean Paré.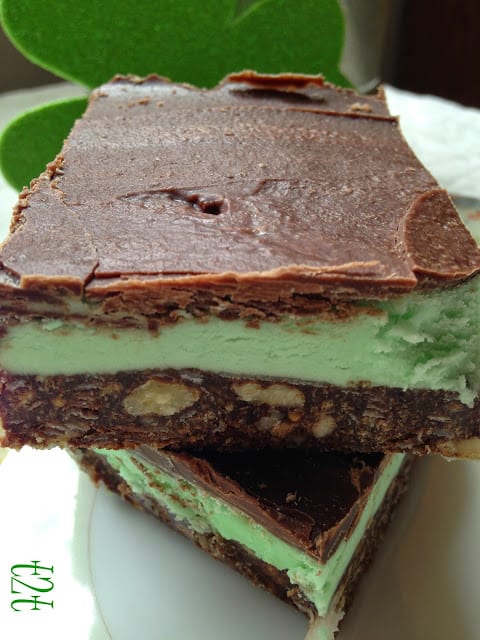 Who is Jean Paré?
Jean Paré is from the small town of Vermilion, Alberta where Jean was a caterer from 1963 until her first cookbook was published in 1981. She operated her catering business from her home kitchen and became known as the caterer "Who Can handle it." Jean Paré created the Company's Coming Series because of the outpouring of requests for her recipes. April of 1981 marked the debut of "150 Delicious Squares," first in the Company's Coming Cookbook Series.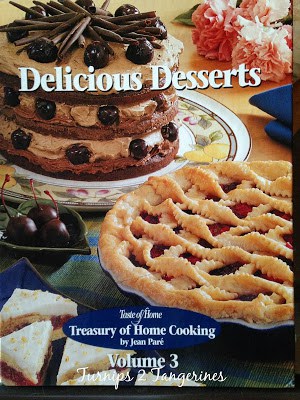 Company's Company Series
The
Company's Coming
Series
would soon become Canada's most popular Cookbook Series. Jean Paré has since retired after 30 years and 30 million books. Learn more about Jean Paré and to find out how she left an abusive relationship, pitched a tent and called it home for her and her children. Truly a remarkable and brave woman.
Jean Paré: An Appetite for Life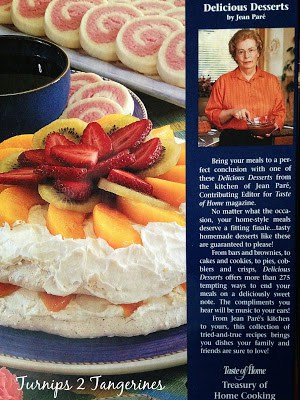 Nanaimo Bars
Midnight Mint Bars are a mint version of the Canadian favorite Nanaimo Bars which are a no-bake, three-layer bar. Nanaimo bars are delicious and so are these Midnight Mint Bars. Nanaimo Bars are a traditional Canadian favorite. No one is sure of its origin but it's believed to be named after the city of Nanaimo,  located in the Western-most Province of British Columbia. Here is a recipe for the The Canadian Classic, Nanaimo Bars
Midnight Mint Bars
I can envision myself sneaking into the kitchen at midnight, quietly opening the refrigerator door, carefully taking out the pan of Midnight Mint Bars with one hand, grabbing the gallon of milk with the other, letting the refrigerator door quietly close shut and ever so quietly setting the pan and milk on the kitchen table. And then slowly opening up the silverware drawer, carefully and quietly taking out a knife and a fork.
Slowly opening the cupboard door, quickly taking out a glass and just as quickly shutting the door again. Ever so carefully cutting a big square of Midnight Mint Bar, grabbing the fork, lifting the big piece out of the pan, placing the big square on the table (no need for a plate) cutting a big bite with my fork, pouring a glass of milk and with my eyes closed, taking a big bite of heaven. Pure Chocolate Mint Heaven.


Midnight Mint Nanaimo Bars
Ingredients
First Layer

1/2

cup

butter

1/3

cup

cocoa

1/4

cup

sugar

1

egg, beaten

1 3/4

cups

graham cracker crumbs (about 24 squares)

3/4

cup

flaked coconut

1/2

cup

finely chopped walnuts

Second Layer

1/3

cup

butter, softened

2

cups

confectioners' sugar

3

tablespoons

milk

1

teaspoon

peppermint extract

green food coloring optional

Third Layer

2/3

cup

semisweet chocolate chips

2

tablespoons

butter
Instructions
Directions for First Layer:

In a heavy saucepan, heat the butter, cocoa and sugar over low heat until sugar is dissolved, stirring often.

Remove from the heat.

Stir a small amount of hot mixture into egg.

Return all to the pan.

Cook and stir until mixture coats the back of a metal spoon and reaches 160°

Remove from heat.

Stir in the cracker crumbs, coconut and walnuts.

Press into a buttered 9-inch square pan. Set aside.

Directions for Second Layer:

In a small mixing bowl, beat the butter, confectioners' sugar, milk and extract until smooth.

Tint with green food coloring if desired.

Spread evenly over bottom layer. Set aside.

Directions for Third Layer:

In a heavy saucepan, melt chocolate chips and butter over low heat until blended and smooth stirring often, remove from heat, cool to room temperature, about 10 minutes. Spread evenly over filling.

Cover and refrigerate until set, about 1 hour.

Cut into bars. Store in refrigerator.