Mashed Potato Ghosts
We may earn money or products from the companies mentioned in this post.
Mashed Potato Ghosts
Are you looking for something fun to serve your little ghosts and goblins? Why not make these cute and tasty but not so scary mashed potato ghosts! Just make up a regular batch of mashed potatoes, add a few extra ingredients such as crisp bacon, chopped green onions and eggs. Pipe the mashed potatoes onto a parchment lined baking sheet and bake. Mashed Potato Ghosts look super cute sitting on your plate.
Serve With
Mashed Potato Ghosts are great served as part of this fantastic Halloween Dinner which includes Meatloaf Skull  and Vampire Dip. Not only are these mashed potato ghosts cute, they're tasty too. Easy to make and a hit with kids, mashed potato ghosts are not only fun they're perfect to sere on Halloween. We love to make them for our grand-kids when they come for a visit, even when it isn't Halloween.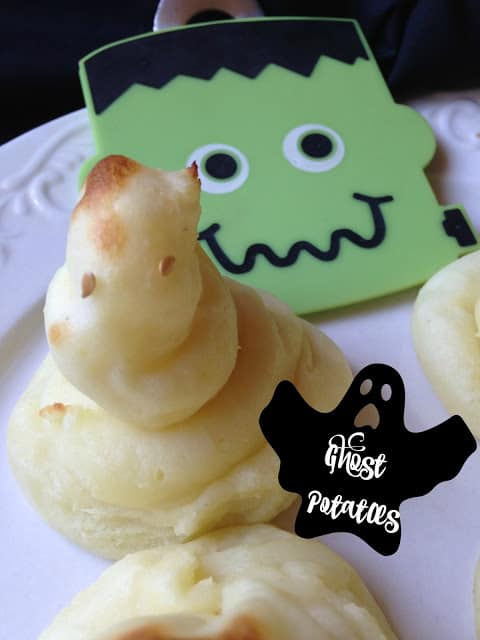 Pastry Bag
Pastry Bag woes. When making mashed potato ghosts, the easiest way to form them is with a pastry bag. Now I will admit, I have yet to master the art of the dreaded pastry bag, as you can tell by the shape of my ghosts:) I have tried and tried to no avail. I'm thinking I might need to take an online class or spend sometime watching youtube videos. To everyone out there who has mastered the pastry bag, Congratulations!!
Mashed Potatoes with Eggs
When I was growing up I remember my mom making a meal with left-over mashed potatoes. Back in the 60's when money was tight and families were large, mom's came up with inventive ways to serve left-overs. Aggie served mashed potato patties with an over-easy egg place on top. I actually loved this easy and simple meal and when I made this for my hubby many, many years later he absolutely loved it!
Easy Recipe
One day soon, I'm going to make mashed potatoes patties with an over easy egg on top and post it on my blog but until then here is a very simple 'recipe' to follow: Combine 4 cups mashed potatoes with 1 egg, 1 green onion sliced, 1 cup cheddar cheese, 1/2 cup flour, salt and pepper to taste. Shape a 1/3 cup of the mixture into balls, roll each in flour, and flatten into patties. Fry patties in melted butter, about 8 minutes per side.
Over Easy Egg
I'm not a huge fan of eggs but if I had to choose my favorite way to eat an egg, if would be an egg over easy. Over easy eggs are so easy to prepare and delicious, especially when placed on top of a crispy but tender mashed potato patty. Heat butter in a nonstick skillet over medium heat. Crack egg into the pan and cook until the whites are just beginning to firm up, 3 minutes. Gently flip egg over and allow to cook 30 seconds. Flip egg yolk side up and place on top of mashed potato patty.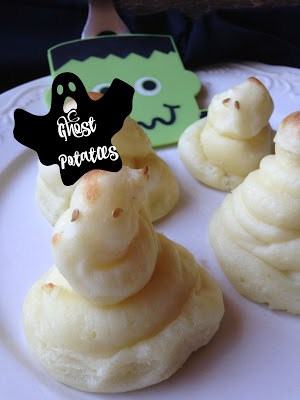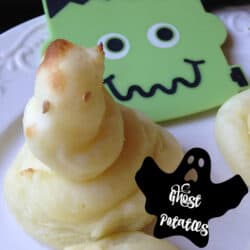 Mashed Potato Ghosts
This recipe is delicious. Make mashed potatoes or spoon into a buttered casserole dish, wither way they are wonderful.
Ingredients
4

pounds

large white potatoes

3/4

stick

unsalted butter, cut into pieces

1

14 oz can

evaporated milk, plus more if needed

2

large

egg yolks

salt and pepper, to taste

2

green onions, thinly sliced

4

tablespoons

crispy bacon crumbled

1

tablespoon

black sesame seeds, caraway seeds, or flax seeds (for eyes)

potato masher or electric mixer

pastry bag with 2/4-inch plain tip

baking sheet

large pot for boiling potatoes
Instructions
Place potatoes in a large pot.

Cover with water; bring to a boil and boil over medium high heat until potatoes are fork tender about 30 to 40 minutes. Remove pan from heat and drain well.

Add butter, milk, eggs, salt, pepper, green onions and bacon.

Whip on high with an electric mixer until potatoes are creamy or mash potatoes with a potato masher until creamy.

Set aside until cool enough to handle.

When potatoes are cool enough to handle, spoon potatoes into pastry bag and pipe potatoes onto a baking sheet sprayed with non-stick cooking spray, in the shape of ghosts.

Place two black sesame seeds, caraway seeds or flax seeds for the eyes.

Bake in oven until potatoes are light brown.
Recipes On Tap
Garlic Vampire Dip, Meatloaf Skull , Creamy Corn Casserole and White Chocolate Candy Corn Fudge will make the perfect Halloween Menu for your party.