Marinated Chicken Shish Kebobs
We may earn money or products from the companies mentioned in this post.
Marinated Chicken Shish Kebobs
Even thoughI live in a 'cold climate' state, we still like to grill out as often as possible. We don't let the elements stop us. Marinated Chicken Shish Kebobs are perfect for grilling anytime. Great way to use a small amount of vegetables, fruit and meat.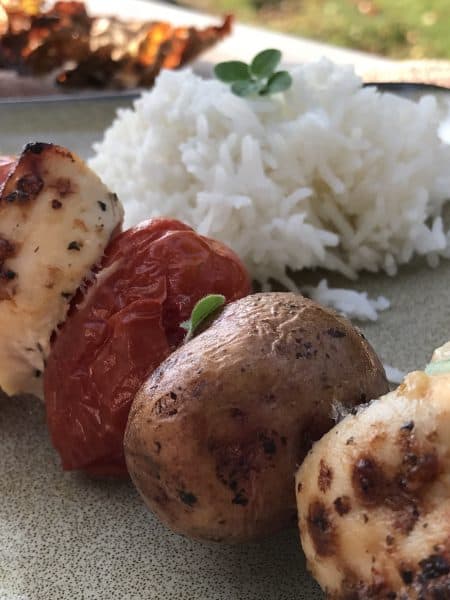 Snow or Shine
Here in Wisconsin, we grill out regardless of how cold it is outside or whether or not it's snowing outside. We put on our warm winter coats, our faux fur lined boots, warm hat, thick gloves and we brave the elements, just so we can bite into a thick juicy burger or a beer soaked bratwurst. Snow or Shine we fire up our grills.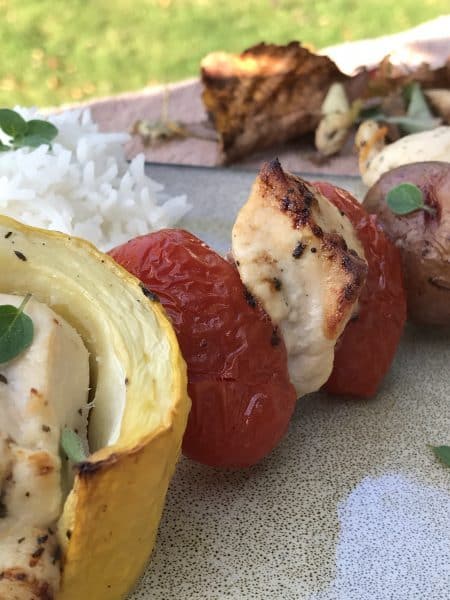 Each Autumn
Each autumn, we lift our grills off the back deck, lug our grills through the back-yard, along the side of our homes, into our front yards and proceed to make a special spot in our garage for our grills. We usually put them next to our snow blowers or shovels, so we have easy access to them both for the long, cold winter ahead. My hubby even has a special folding lawn chair (the old-fashioned webbed kind) that he affectionately calls his grillin' chair. He hangs his grillin' chair on a hook near the grill, just in case he wants to sit and take a break from snow shoveling or if he wants to sit and drink his beer while he burns the brats on the grill. Each spring, we do the same thing…but only in reverse.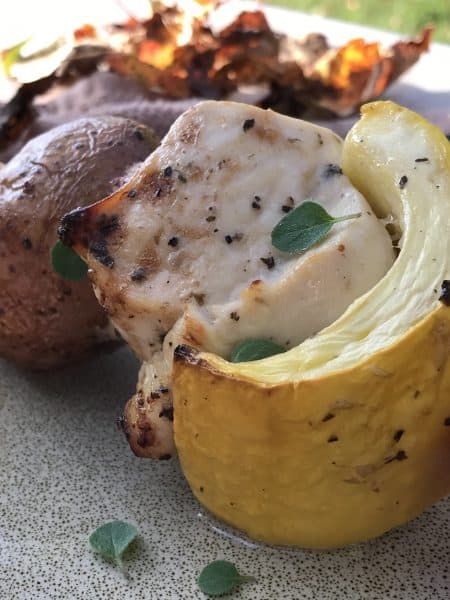 Good Way to Eat Veggies
Recently my hubby and I have taken to grilling out shish kebobs. What I like most about kebobs is you can use any type of meat or shellfish plus any kind of fruits, vegetables or both. A quick, simple marinade or one of the many wonderful bottled marinades on the market today, is all that is necessary to flavor the meat and vegetables. Two pounds of boneless meat or fish is plenty of to make 12 kebobs. A combination of whole mushrooms, small baby potatoes, cherry tomatoes, pearl onions, green pepper pieces, pineapple chunks or anything else you can think of and you have the makings of a delicious dinner, add some jasmine rice and white wine, perfecto!
Try Something New
This winter, when you're looking for something different to throw on the grill or if you have some vegetables that have been hanging around to long in your crisper and you have a few boneless, skinless chicken breasts you need to use up, give this recipe a try.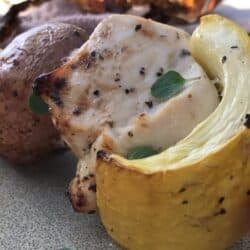 Marinated Chicken Shish Kebobs
I enjoy serving Chicken Shish Kebobs for a casual weekend dinner with friends.
Ingredients
3/4

cup

vegetable oil

1/3

cup

low-sodium soy sauce

1/4

cup

red wine vinegar

1/4

cup

fresh lemon juice

2

tablespoons

Worcestershire sauce

2

teaspoons

dry mustard

1

teaspoon

pepper

1

teaspoon

dried parsley flakes

2

pounds

boneless, skinless chicken breasts, cut into 1-inch cubes

12

ounces

small fresh mushrooms

1

medium

green pepper, cut into 1-inch pieces

8

ounces

pearl onions

12

ounces

cherry tomatoes

16

small

baby potatoes

1

medium

yellow squash, cut into 1-inch slices

1

8 ounce can

pineapple chunks drained, optional
Instructions
In a large resealable plastic bag or 13 x 9-inch glass baking dish, combine first eight ingredients. Add chicken, mushrooms, green pepper pieces, pearl onions, cherry tomatoes, baby potatoes and squash. Cover baking dish or close plastic bag and refrigerate at least 6 hours.

Drain, discarding marinade. Thread chicken, vegetables and pineapple alternately on skewers. Grill, covered, over medium-low coals/heat, turning frequently, for 16 to 20 minutes or until chicken juices run clear.
Brats n' Beer with Kraut and  Candied Bacon Little Smokies are both delicious recipes you'll want to try.