Mardi Gras King Cake
We may earn money or products from the companies mentioned in this post.
Mardi Gras King Cake
This was my first attempt at making a King Cake. King Cake has been on my Culinary "To Make" list for as long as I can remember. For someone who lives in Northern WI, King Cake has always been a mysterious sounding cake to me. When I think of King Cake, I immediately think of Mardi Gras and Mardi Gras has always been a mystery to me too. Today we're going to make a Mardi Gras King Cake we'll show you how to color sugar to decorate the top of the King Cake.
A Trip
I learned more about Mardi Gras and King Cake the first time my hubby and I vacationed in Louisiana. We stayed at a beautiful condo located in  Slidell Louisiana which is located in St.Tammany Parish. The Lake Pontchartrain Causeway is located in Slidell and takes you across Lake Pontchartrain into New Orleans. A stones throw from our condo, or so we thought.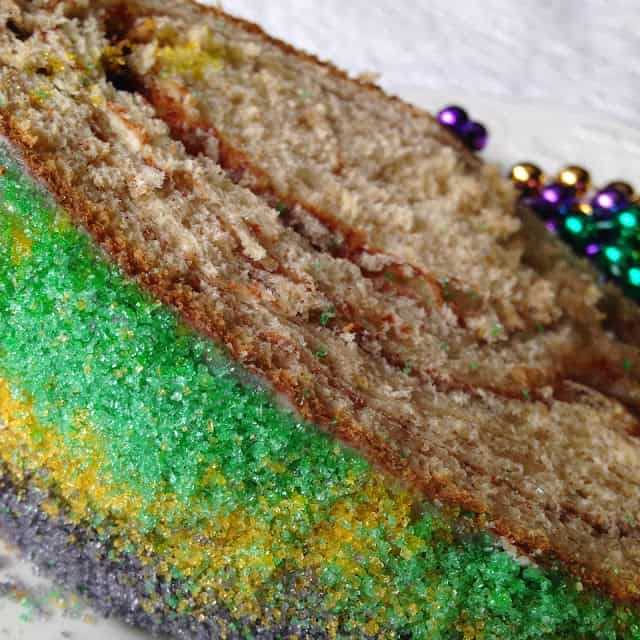 Start of Vacation
Upon arriving in Slidell, we realized within the first 30 minutes we had no idea how to pronounce anything…and that certain words had different meanings. Lake Pontchartrain? Lake What?…St. Tammany Parish?….Was that a Church?….And what the heck is a Causeway?? I wasn't even sure how to pronounce Slidell. When we went into a gas station and asked for directions to out condo.
Excuse Me?
The gas station attendants looked at us like we had spoken in a foreign language and I suppose to some degree we had! The gas station attendants were friendly and said we talked "funny" they keep telling us, "We love the way you talk." We just smiled back at them, nodded a few times and said "Thank-you." I remember getting back into the car and saying to my hubby, "I didn't understand a word they said, did you?"
Directions
We had driven to Louisiana from Wisconsin, stopping at a hotel in Mississippi the night before so we could get some sleep. We woke up early and drove the rest of the way. By the time we got to Slidell, we were hungry. We thought we'd get a bite to eat before going to our condo, a great place we rented from some friends of ours. Besides the directions to our condo, we asked the attendants where a good place was to eat.
A House
While we were at the gas station getting a quick lesson in how to speak the language of Louisiana from the gas station attendants, we decide to go to a Cafe on their advice and recommendations. Off we headed to the cafe. When we pulled up, we looked at each other. Puzzled because we thought we had the wrong address. After all, this looked like someones house, having a party, with people sitting in rocking chairs on the front porch…
A Cafe
This can't be the right place, it has to be someones house. Who lives there is having a birthday party or something..We pulled the car over and looked closer, there right next to the front door was the name of the restaurant and an "open" sign. We parked and went inside. Not only was the food delicious and the service wonderful, we asked a few questions and soon learned everything we needed to know about New Orleans.
A Causeway
The next morning we took the Lake Pontchartrain Causeway, the longest bridge in the world, across open water.  The Causeway is a 24 mile long bridge that you drive across Lake Pontchartrain. Once your on the Causeway…there is no way of getting off…unless you want to drive off the side of the bridge and into Lake Pontchartrain. The drive was scary but also quite beautiful. I thought the Mackinac Bridge was scary, but this was scary!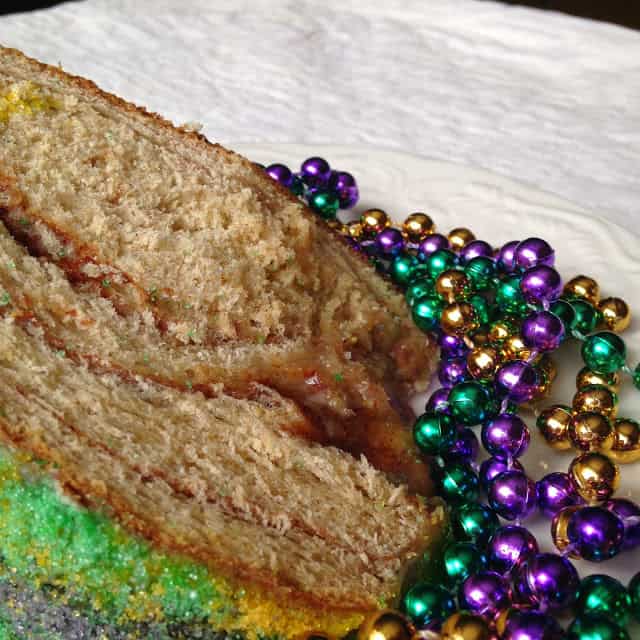 We spent 10 wonderful days in Louisiana. We learned about the culture, the people, and best of all, the food.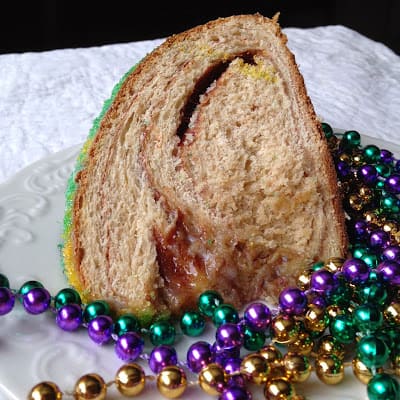 Mighty Mac
The Mackinac Bridge, known as the "Mighty Mac" is the 5th longest suspension bridge and is 5 miles long….nothing close to the Lake Pontchartrain Causeway but just as scary just the same. The "Mighty Mac" can be "mighty" scary in the winter time, when the snow is swirling around you and the bridge is swaying back and forth. The Mackinac Bridge Walk has been on my "to do" list for a long time.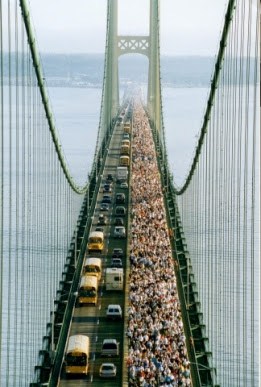 Thank-You!
I want to thank Michelle from Ms.enplace for this fantastic recipe. I had never made a Brioche, which is what a King Cake is. This recipe is really, beyond delicious.  My next King Cake will be filled with cream cheese and the one after that…..a fruit filling and so on. For more information on Mardi Gras and King Cakes or if you want information on Louisiana in general, Visit Michelle's blog Ms.enplace.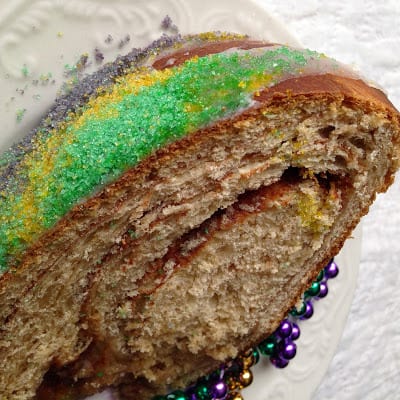 King Cake
King Cake can be filled with a number of different fillings. I went with a cinnamon-sugar mixture. Next time, I will definitely try a cream cheese filling.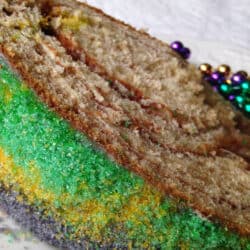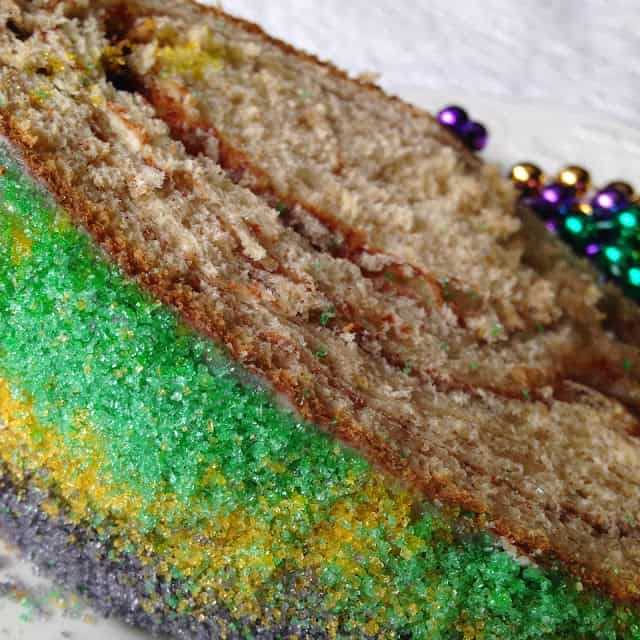 King Cake Brioche
Ingredients
1/2

cup

warm water, 110 to 115 degrees

1

tablespoon

active dry yeast

1/2

cup

plus 2 teaspoons sugar, divided

4 1/2 to 5 1/2

cups

flour

1/2

teaspoon

fresh grated nutmeg

1

tablespoon

ground cinnamon

2

teaspoons

salt

1

teaspoon

lemon zest

1/2

cup

luke room milk, 110 degrees

3

whole

eggs

4

egg yolks

1/2

cup

plus 2 tablespoons butter, softened and divided

1

king cake plastic baby

Cinnamon-Sugar:

1/2

cup

sugar

1

tablespoon

ground cinnamon

Frosting/Icing:

1/2

pound

powdered sugar

1/2

teaspoon

vanilla extract

4

tablespoons

milk or cream

1

tablespoon

lemon juice

12

tablespoons

sugar

3

zip-lock baggies

4

drops

yellow food coloring

4

drops

green food coloring

4

drops

purple food coloring
Instructions
Mix together 1/2 cup of sugar and 1 tablespoon ground cinnamon, set aside.

Add warm water to a small bowl. Sprinkle in yeast and 2 teaspoons sugar.

Stir and set the bowl in a warm place for 10 minutes or until the yeast bubbles and mixture almost doubles in volume.

Combine 4 1/2 cups flour, 1/2 cup sugar, nutmeg, cinnamon and salt in a large mixing bowl. Stir in the lemon zest.

Make a well in the center, pour in the yeast mixture and warm milk.  Add the eggs and egg yolks. Gradually combine the dry ingredients with the wet ingredients. Cut/rub in 1/2 cup butter, 1 tablespoon at a time. Continue to fold and combine until the dough can be formed into a soft ball shape, (the dough will be sticky). Place ball on a floured surface, incorporate more flour if needed, 1 tablespoon at a time. Knead until smooth and elastic. Brush the inside of a large bowl with 1 tablespoon softened butter. Set dough in bowl. Turn to coat with butter.

*At this point the dough can be refrigerated overnight. Bring dough up to room temperature when ready to continue.

Cover bowl and set aside for 1 1/2 to 2 hours or until doubled in volume. Use remaining 1 tablespoon of butter to butter a baking sheet. Punch dough down on a lightly floured surface. Using a floured rolling pin, roll the dough out to roughly 30" x 9" rectangle the dough will be thin. Sprinkle the cinnamon-sugar mixture down the length of the dough. Fold long edge half way over cinnamon-sugar mixture. Slowly roll up the dough into a cylinder, jelly-roll style.

*I found that a dough scraper helped to roll the dough, just be careful not to puncture the dough.

Place on the baking sheet. Form dough into a ring. Pinch ends together. Cover and set aside. Let rise for 45 minutes to an hour. Preheat oven to 375. Bake cake on baking sheet, placed in the middle of the oven, for 25 to 30 minutes or until golden brown. Cool cake to room temperature on a wire rack. Hide the plastic baby in the cake through the bottom.

Frosting:

Mix together powdered sugar, vanilla, milk and lemon juice if using. Whisk together until mixture reaches desired consistency. Drizzle icing over cooled King Cake.

Make Colored Sugars:

For each color; yellow-spoon 4 tablespoons sugar into baggie, drop 4 drops yellow food coloring into baggie, massage the sugar and food coloring together; green-spoon 4 tablespoons sugar into baggie, drop 4 drops green food coloring into baggie, massage the sugar and food coloring together; purple-spoon 4 tablespoons sugar into baggie, drop 4 drops purple food coloring into baggie, massage the sugar and food coloring together. Sprinkle the colored sugars over the King Cake while the icing is still wet in alternating rows. Brush off excess sugar if necessary.
For more Mardi Gras fun check out our other posts; Sourdough Beignets, Weave a Spell With Voodoo and Sourdough Naked King Cake