Marbled Brownies
We may earn money or products from the companies mentioned in this post.
Marbled Brownies
This is an old style brownie recipe with a new twist. A cream cheese twist that is. Cookies my be my first love but brownies are definitely my second. Nothing better than a pan of walnut studded brownies with a thick layer of chocolate frosting, except maybe a dozen cookies! Marbled brownies start off with a package of German sweet chocolate and end up with a yummy cream cheese layer marbled through them.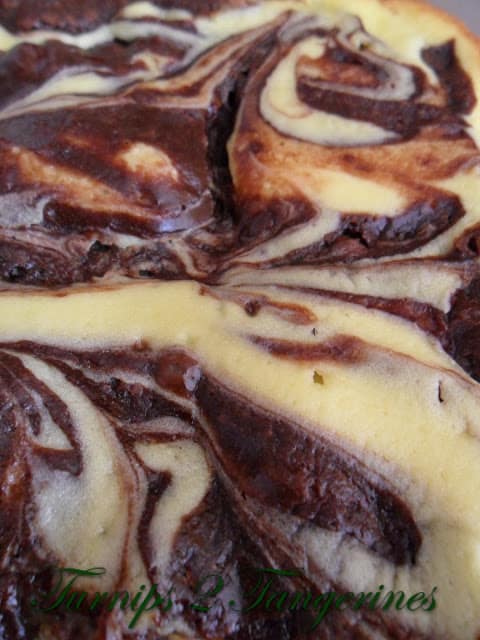 Boxed Brownies
If you don't want to go through the hassle of making brownies from scratch, I hear ya. I don't always want to go through the grief of looking for my 8-inch square baking pan that I know I have but now can't find. Make a boxed brownie mix, I won't tell anyone. And let's face it people, anything that has a cream cheese layer running through it is going to taste good. I don't care if it's a boxed mix or homemade, if it's a brownie I'll eat it.
German Sweet Chocolate
German's Sweet Chocolate is a dark baking chocolate created by a Walter Baker and Company employee. Samuel German (hence the name), developed the chocolate in 1852. He thought this type if chocolate would be convenient for bakers as the sugar is already added to it. It's sweeter than semi-sweet chocolate and contains a blend of chocolate liquor, sugar, cocoa butter, and flavorings. Baker's sells this chocolate which can be found in most grocery stores.
German Sweet Chocolate Cake
The most famous recipe containing German's Sweet Chocolate is German Chocolate Cake. This cake is very rich and consists of three layers of moist chocolate cake with a rich, sweet, gooey caramel flavored frosting. The cake layers are laced with coconut and chopped pecans. German chocolate cake isn't frosted on the sides, so you can see the frosting, layers of coconut, chopped pecans and layers of chocolate cake.
History of German Chocolate Cake
German Chocolate Cake was being made in the 1920's but became popular nationwide after after a recipe reappeared in a 1957 food column of a Dallas newspaper. While the name "German" chocolate cake seems to suggest a tie to Germany, the name refers to the type of chocolate used in the cake but is really named after Samuel German, the inventor of German's Chocolate.
Recent Recipe: Home style Chili and Cornbread Muffins
Marbled Brownies
Marbled Brownies are super delicious.
Ingredients
1

4 oz package

German sweet chocolate

3

tablespoons

butter

2

eggs

3/4

cup

sugar

1/2

cup

flour

1/2

teaspoon

baking powder

1/4

teaspoon

salt

1/4

teaspoon

ground cinnamon

1

teaspoon

vanilla extract

1/2

cup

milk chocolate chips

2

tablespoons

butter, softened

4

ounces

cream cheese, room temperature

1/4

cup

sugar

1

egg

1

tablespoon

flour

1/2

teaspoon

vanilla extract
Instructions
In a microwave or in a small saucepan, melt chocolate and butter; stir until smooth. Set aside

In a small mixing bowl, beat eggs. Gradually add the sugar, beating until thick and pale yellow.

Combine the flour, baking powder, salt and cinnamon; add the egg mixture and mix well. Stir in the vanilla extract and reserved melted chocolate. Add the chocolate chips.

Pour half of the batter into a greased 8-inch square baking dish. Set aside. In a small mixing bowl, beat the butter, cream cheese and sugar until light and fluffy. Add the egg, flour and vanilla; mix well. Pour over the batter in pan. Spoon remaining batter over filling, with a knife cut through batter to create a marbled effect.

Bake at 325º for 35 to 40 minutes or when a toothpick inserted near the center comes out clean.

Cool on a wire rack. Cut into bars. Keep brownies in the refrigerator.
Nutrition
Serving:
1
g
,
Calories:
431
kcal
,
Carbohydrates:
54
g
,
Protein:
6
g
,
Fat:
22
g
,
Saturated Fat:
13
g
,
Cholesterol:
130
mg
,
Sodium:
283
mg
,
Potassium:
101
mg
,
Fiber:
1
g
,
Sugar:
44
g
,
Vitamin A:
700
IU
,
Calcium:
64
mg
,
Iron:
1.2
mg
Almond Joy Hershey's Best Brownies is another favorite brownie recipe we really love.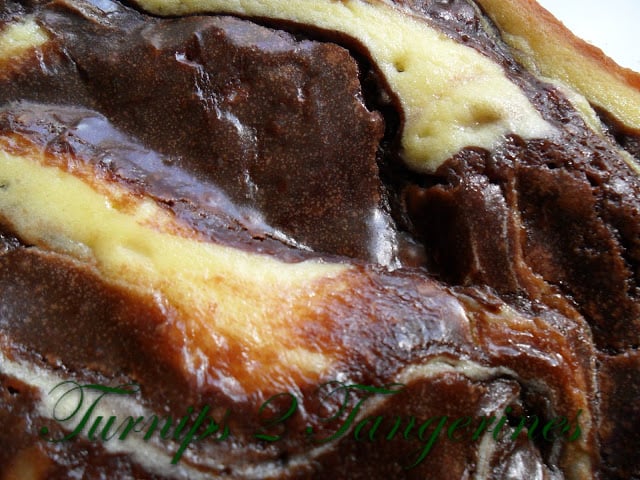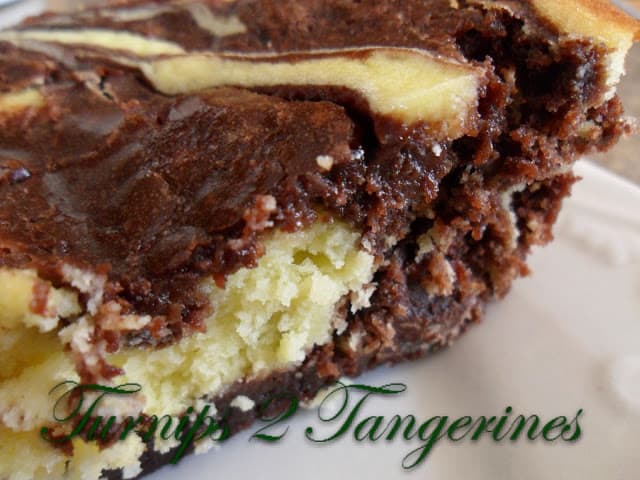 Bakers German Sweet Chocolate is used to make these delicious brownies shine.