Maple Nut Fudge
We may earn money or products from the companies mentioned in this post.
Maple Nut Fudge
Maple Nut Fudge is creamy and nutty with a subtle maple flavor. This recipe calls for using maple extract but you can substitute real maple syrup if you don't have maple extract. This is my go-to recipe for making fudge and it turns out every single time. I have used this basic 'formula' recipe to make many different kinds or flavors of fudge. Each variation of fudge has turned out delicious and creamy. You certainly can't ask for more.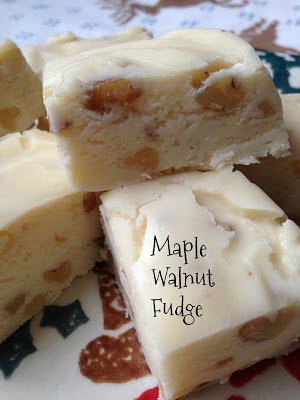 Fast and Easy
This recipe is super easy and fast. In under an hour, you will have an 8 x 8-inch pan of fudge. I usually like to let fudge sit in the refrigerator overnight. The next day I remove the fudge from the pan, carefully remove the aluminum foil and then wrap it well in plastic wrap. I like to store fudge in the refrigerator and then let it come to room temperature before serving. Fudge is always a welcomed sight at any occasion. Sweet. Creamy. Maple. Delicious.🍁
Maple Syrup
Maple Nut Fudge can be made with 100% pure maple syrup, if you don't have maple extract. We are lucky because our dog groomer supplies us with their fantastic 'homemade' maple syrup and honey. They also sell eggs, rabbit, and fish. Taking our dogs to the groomer is a one stop shopping experience! Living up north in Wisconsin, we have the pleasure of meeting all sorts of wonderful self-sustaining people, who love to share their wares.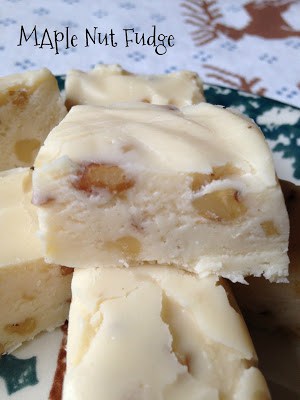 Purchase Local Maple Syrup
For any recipe that calls for using 'real' maple syrup, please use the 'real' stuff. Splurge on a bottle of maple syrup because the can't be compared to anything else. If at all possible, buy local. Here in Wisconsin, the highways are peppered with 'Local Maple Syrup Sold Here' signs, therefore a great resource for finding local maple syrup. Maple syrup can be ordered online, which is super convenient for people don't have access otherwise.
For this recipe we used one of our favorite Wisconsin Maple Syrup; Anderson's Maple Syrup. Real, 100% maple syrup does not and never will contain sugar, corn syrup, sucrose, caramel color or any other artificial ingredients. Read your label! The only ingredient on the label should be maple syrup. If the label has any other ingredient listed, it's pancake syrup which is basically white corn syrup with caramel color added.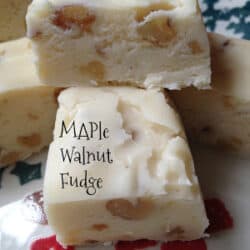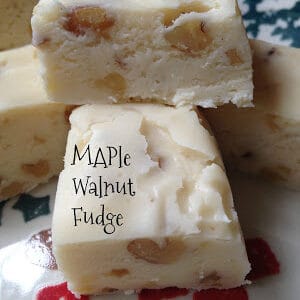 Maple Nut Fudge
Ingredients
1 1/2

cups

granulated sugar

2/3

cup

evaporated milk

2

tablespoons

butter

1/8

teaspoon

salt

2 1/2

cups

miniature marshmallows

2

cups

white chocolate chips

1/2

cup

chopped walnuts

2

teaspoons

maple syrup
Instructions
Line 8-inch square baking pan with heavy duty foil. Lightly butter foil.

Combine sugar, evaporated milk, butter and salt in medium, heavy-duty saucepan. Bring to a full rolling boil over medium heat, stirring constantly. Boil, stirring constantly for 4 1/2 to 5 minutes. Remove from heat.

Stir in marshmallows, white chocolate chips, nuts and maple syrup or maple extract. Stir vigorously for 1 minute or until marshmallows are melted. Pour into prepared baking pan. Refrigerate until firm. Lift from pan; remove foil. Cut into squares.
For more Maple goodness…Canadian Maple Syrup Pie and Maple Facts