Maple Lime Chicken Thighs (Air Fryer)
We may earn money or products from the companies mentioned in this post.
Maple Lime Chicken Thighs
Maple Lime Chicken Thighs are a tasty, slightly sweet, slightly tart recipe for chicken thighs. Allowed to marinate for several hours, the chicken thighs absorb the flavors of the marinade thus tenderizing the meat. Serve maple lime chicken thighs with steamed cauliflower and jasmine rice.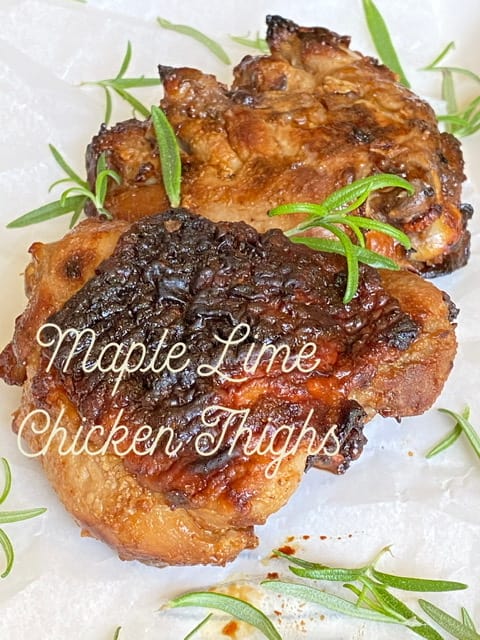 Chicken Breast
The grocery store located near my home recently had 5 lb. packages of chicken breast or chicken thighs or drumsticks on sale for .99¢ a pound. Whenever this happens, which isn't very often I might add, I'll take a trip to the store and pick up at least one package of each. We eat far more chicken breast than thighs or drumsticks but at that price you can't go wrong. Over the years though, that trend has changed somewhat in my house. Chicken thighs and drumsticks have appeared on the menu more often than they once did.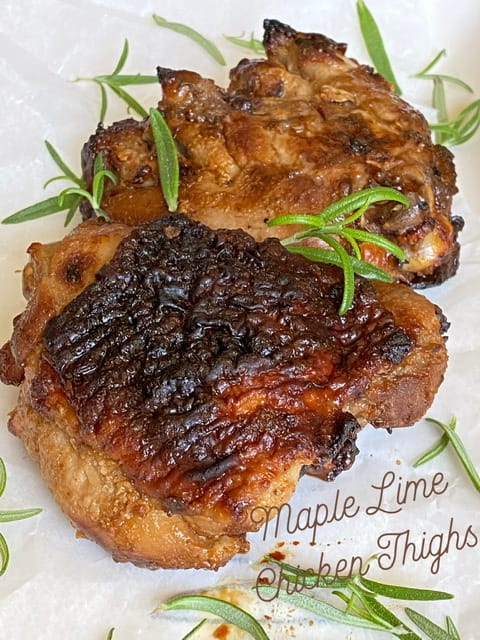 Stock-Up
Chicken breasts are a favorite of mine because there are so many different ways to prepare them. I'm not talking about those packages of scrawny, crystallized looking, icy boneless, skinless chicken breast either! Buy the packages of fresh, plump chicken breast whenever possible. When they go on sale, stock up! In my humble culinary opinion, Aldi has the best chicken breast by far. Large, plumb, juicy and very tender. They are usually $1.99 a pound but sometimes they'll go on sale for $1.69 a pound and sometimes even $.99¢ a pound.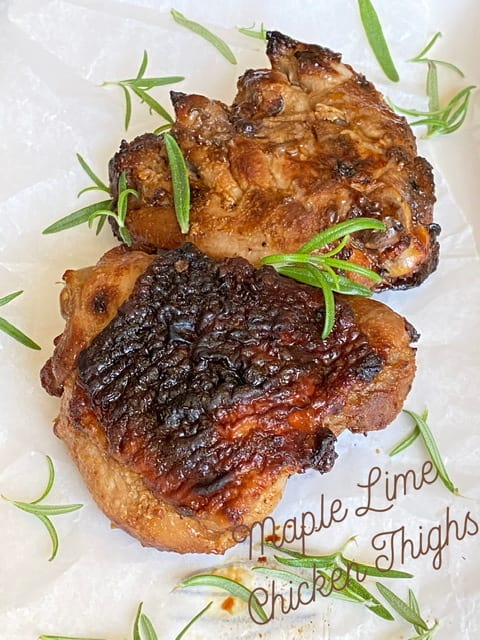 Chicken Thighs and Drumsticks
Now on to the thighs and drumsticks. More and more, we've been making recipes that call for chicken thighs and drumsticks. I will confess that I am not a fan of wings. They're messy and lack substance. Give me a meaty chicken leg any day. Recipes that call for chicken wings can be substituted with legs, I think anyway. Chicken thighs are really more flavorful than chicken breasts and tend to be juicier too. Thighs work fantastic in the air-fryer. I've never tried drumsticks but I certainly plan too very soon. I have a package if drumsticks in my freezer as we speak:)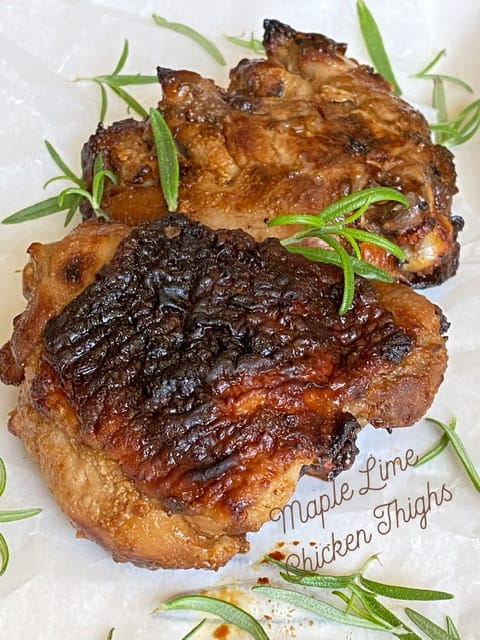 Favorite Chicken Recipes
Recipe Note:
This recipe calls for using maple syrup. Make sure to use 100% pure maple syrup, not pancake syrup which is basically white corn syrup and contains 0 % maple syrup. If you don't have maple syrup substitute honey, real honey.  Also, use fresh squeezed lime juice and zest. The flavor can't be beat.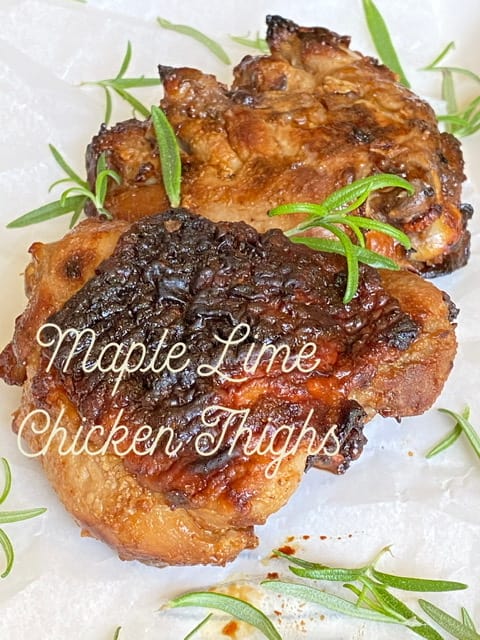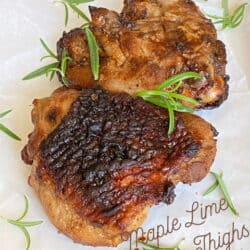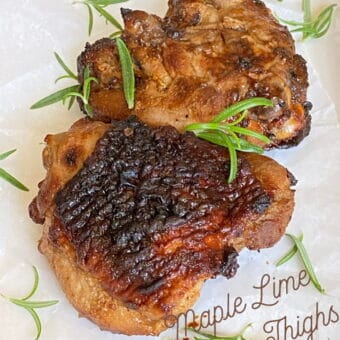 Maple Lime Chicken Thighs (air-fryer)
Delicious, Juicy and Flavorful
Ingredients
6

chicken thighs

1/2

teaspoon

kosher salt

2

tablespoons

olive oil

1

tablespoon

sesame oil

4

tablespoons

soy sauce

1

tablespoon

Worcestershire sauce

2

tablespoons

lime juice

3

tablespoons

maple syrup

1

tablespoon

garlic powder

1

tablespoon

onion powder

1

tablespoon

lime zest
Instructions
Combine chicken thighs with the remaining ingredients in a medium mixing bowl.

Cover bowl and refrigerate for up to two hours.

Preheat air-fryer at 400 for 10 mins. Place the thighs on the air fryer rack, leaving some space in between. Depending on the size of your air fryer, you may need to do the frying in two batches.

Fry chicken at 400 for 12 mins. skin side up. Turn the chicken over and fry for 12 mins. more, again at 400. If needed, turn chicken over again and fry for an additional 4 mins. Different air fryers cook differently.