Maple Honey Snack Mix
We may earn money or products from the companies mentioned in this post.
Maple Honey Snack Mix
Maple Honey Snack Mix is a yummy and delicious snack mix to set out at your next party. Bring a container of maple honey snack mix with you to your kids next baseball game. You'll love snacking on this snack mix during the game. This yummy mix is made with maple syrup, cinnamon and honey-nut Cherrios. You can store this snack mix in individual snack bags or one large resealable baggie. Just remember to make enough for everyone because it won't last long!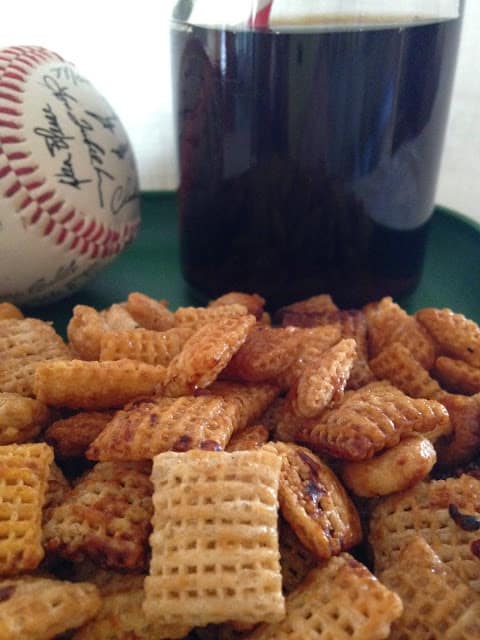 Sweet and Delicious
Maple Honey Snack Mix is made with all of your kids favorites. Honey-nut Cherrios, Rice Chex and Corn Chex cereal, brown sugar, maple syrup, butter, a pinch of cinnamon and pecan halves. Maple Hollow Syrup  is one of many wonderful places in Wisconsin that sells Pure Wisconsin Maple Syrup. Nothing can compare to pure 100% real maple syrup. The taste can't be compared to anything else. I love maple syrup!
Maple Syrup
Wisconsin is a large producer of pure maple syrup. Very little has changed in the procedure since the days when pioneers relied on maple syrup as a basic sweetener. Maple syrup can often replace brown sugar in cooking, enhancing even the most common of recipes with its distinctive flavor and nutritional merits. In the the pearly days, maple syrup and maple sugar were often the only sweeteners available to the pioneers.
Looking For More Maple Recipes?
Looking for more recipes containing that sweet, maple syrup? Here are two you might like Maple Shortbread with Maple Glaze and Maple Walnut Cheesecake Tarts.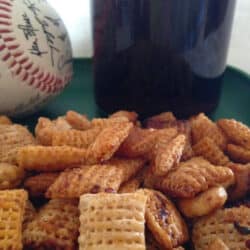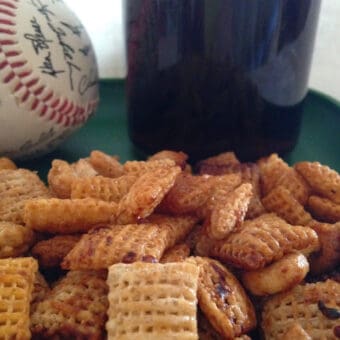 Maple Honey Snack Mix
Sweet with a Hint of Maple
Ingredients
1

cup

packed brown sugar

1/4

cup

maple syrup

1/2

cup

butter

1/4

cup

white corn syrup

1

teaspoon

vanilla extract

1/2

teaspoon

baking soda

1/2

teaspoon

ground cinnamon

pinch

of salt

2

cups

honey-nut cherrios

6

cups

rice chex

6

cups

corn chex

1

cup

pecan halves, optional
Instructions
In a microwave safe bowl, combine brown sugar, maple syrup, butter, and corn syrup. Microwave uncovered on high for 3 1/2 minutes or until sugar is dissolved and corn syrup is bubbly. Stir in vanilla, baking soda, cinnamon, and salt. Microwave on high 30 seconds longer or until the mixture begins to foam.

In a large bowl, combine cereals and pecans, if using. Add syrup mixture and toss to coat. Transfer to two greased 15 x 10 x 1 inch baking pans.

Bake at 275º uncovered, for 45 minutes, stirring every 10 minutes. Watch carefully, mixture burns easily. Remove from oven and cool on waxed paper. Store in an airtight container.
Nutrition
Serving:
1
g
,
Calories:
355
kcal
,
Carbohydrates:
56
g
,
Protein:
3
g
,
Fat:
14
g
,
Saturated Fat:
6
g
,
Cholesterol:
20
mg
,
Sodium:
383
mg
,
Potassium:
148
mg
,
Fiber:
3
g
,
Sugar:
31
g
,
Vitamin A:
1105
IU
,
Vitamin C:
8.3
mg
,
Calcium:
146
mg
,
Iron:
10.5
mg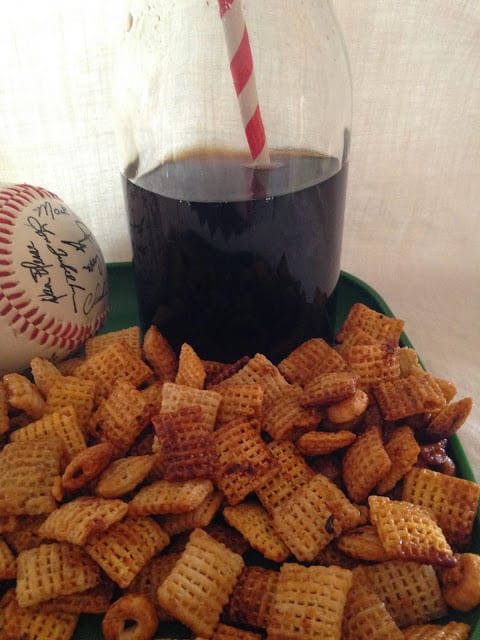 Kitchen Tip: Using a medium spring-handled ice cream scoop when forming meatballs ensures they're the same size for even cooking.