Maple Glazed Snack Mix
We may earn money or products from the companies mentioned in this post.
Maple Glazed Snack Mix
Maple Glazed Snack Mix is tasty delicious, salty sweet with a hint of maple. It's the perfect blend of sweet and salty. Maple glazed snack mix is made with pretzels, chex cereal, honey-nut cereal, and honey-roasted peanuts. A mixture of maple syrup, butter and vanilla extract is combined and then drizzled over the pretzels, cereals and nuts and baked into a delicious snack.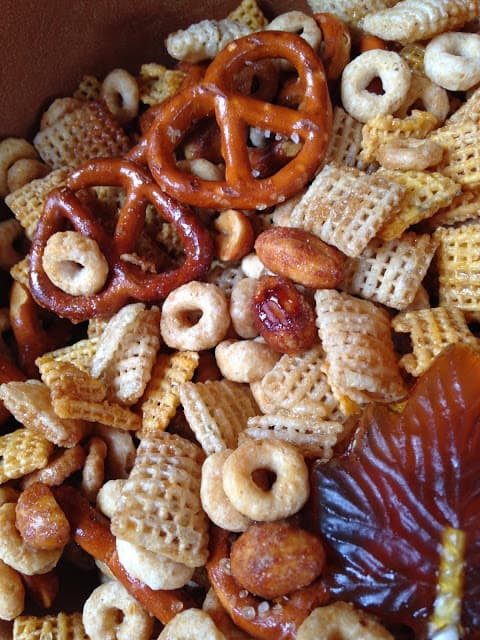 Maple Syrup
When making this recipe or any recipe that calls for using maple syrup always, always use the real thing. Maple flavored syrup and commercial pancake syrup doesn't even contain any maple syrup. Most contain only corn syrup with the added flavoring of maple. 100 % real maple syrup is made with maple syrup that is tapped from maple trees and has the maple taste you want. Another clue that is the real deal, maple syrup isn't thick.
 Favorites
Here is just one of our favorite places to purchase maple syrup in Wisconsin. We prefer to purchase only Wisconsin made maple syrup because there are so many locally owned and operated maple syrup "sugar shacks" here in Wisconsin that its difficult not to purchase syrup here. Take a drive down any back road highway and you'll see a sign that says, "Maple Syrup Sold Here" sign. Bear Paw Maple Syrup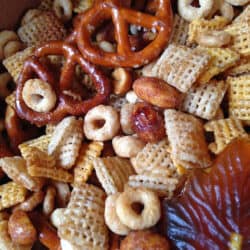 Maple Glazed Snack Mix
Fast, Easy, Sweet with a Hint of Maple
Ingredients
6

cups

corn chex cereal

6

cups

rice chex cereal

6

cups

honey-nut cheerios

3

cups

miniature pretzels

1 1/2

cups

honey roasted peanuts

1

cup

maple syrup

3

tablespoons

butter

2

teaspoons

vanilla extract

1

cup

m & m's

,

optional
Instructions
In a large bowl combine cereals, pretzels, and peanuts.

In a small microwave safe bowl, combine maple syrup and butter. Cover and microwave on high for 45 seconds or until butter is melted. Stir in extract. Pour over cereal mixture and toss to coat. Transfer to two 15 x 10 x 1 inch baking pans, coated with cooking spray.

Bake at 250º for 45 minutes, stirring every 15 minutes. Remove from oven; cool.

Stir in m & m candies.

Store mixture in a air-tight container.
*Add More deliciousness to this recipe by adding one of the new m & m flavors to take this snack mix to even greater taste sensations. Try candy corn flavor, pecan pie flavor or maple flavor.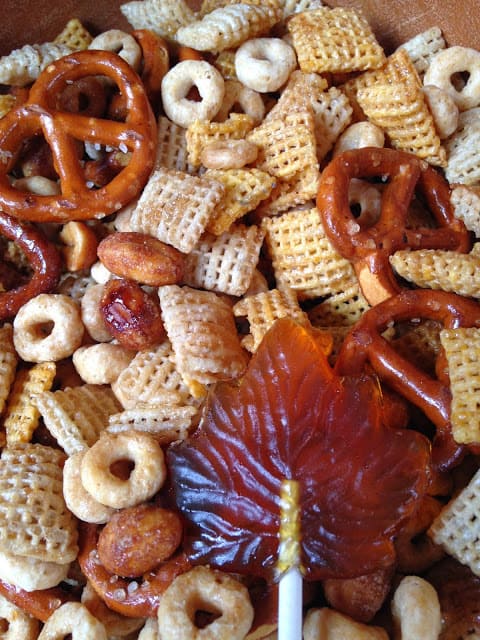 *Time-Saving Tip: Cut down on prep time by using frozen chopped onions.