Maple Glazed Ham with Raisin Sauce
We may earn money or products from the companies mentioned in this post.
Maple Glazed Ham with Raisin Sauce
Ham is typically served for special or festive occasions. Often times served with a "Special Company's Coming Sauce." Maple Glazed Ham with Raisin Sauce offers both. A delicious sweet maple glaze and a yummy raisin sauce to serve alongside the ham. When the making raisin sauce, look for golden raisins which cook up plumper than dark raisins, at lest in my humble culinary opinion. Sun Maid Golden Raisins, work great in the sauce recipe.
Rotisserie
We prefer to make a ham using our Ronco Rotisserie that we have had for nearly 15 years. Years back, the Ronco Rotisserie was everywhere. You couldn't turn on the TV without seeing a commercial or info-commercial featuring the wonders of the Ronco Rotisserie…maybe you remember the slogan, "Set it and Forget it."  I don't think there is a better method to cook a ham, than using a Ronco Rotisserie.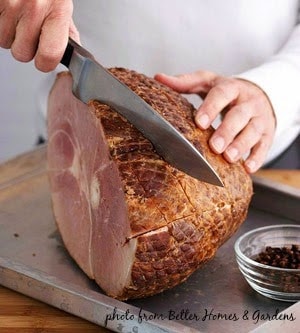 ‍How to Score a Ham
Often times in a recipe, you'll be told to "score the ham." What does that actually mean? Here is a simple explanation on "How to Score a Ham." Use a small sharp knife to diagonally cut 1/4-inch-deep parallel lines in the top of the ham about 1 inch apart. Make another series of cuts at right angles to form diamonds Optional: Using your finger, insert a whole clove in the middle of each of the diamonds.
You may find it easier to pierce the meat first with the point of a skewer and then insert the clove. Scoring Ham adds an old-fashioned, decorative touch to baked ham by scoring the top, then sometimes studding it with cloves. Another decorative way to serve ham is to score the ham first with a diamond pattern, cover the ham with pineapple slices and cherries.  Scoring also allows any glaze to penetrate the meat.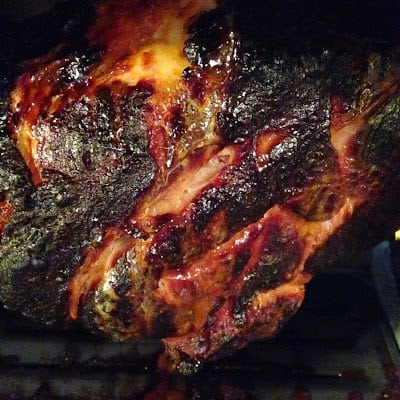 Recipe Notes:
Maple Glaze is made with pure maple syrup, butter, corn syrup, orange juice and allspice. A glaze is basted on the ham at intervals, which allows the sauce to penetrate the meat, therefore adding flavor. Raisin Sauce is a yummy sauce served with ham. It combines light brown sugar, cornstarch, apple sauce, raisins, orange juice, orange zest, vinegar and nutmeg. Adding a splash of rum to the sauce is also popular.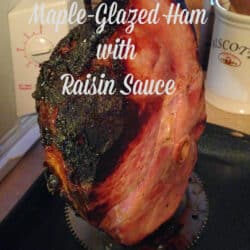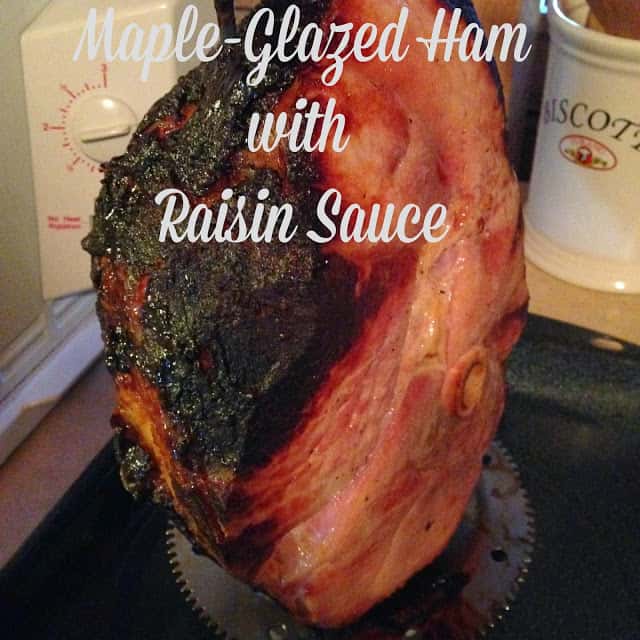 Maple Glazed Ham with Raisin Sauce
A delicious and old fashioned recipe for ham.
Ingredients
1

4 to 4 1/2 pounds

cooked ham, shank portion

Maple Glaze:

1/4

cup

pure maple syrup

1

tablespoon

butter

1

tablespoon

light corn syrup

1

tablespoon

orange juice

1/8

teaspoon

ground allspice

Raisin Sauce:

1/4

cup

firmly packed light brown sugar

2

tablespoons

cornstarch

1 1/2

cups

apple juice

1

cup

raisins

3

tablespoons

orange juice

1

tablespoon

vinegar

1

teaspoon

grated orange rind

1/8

teaspoon

ground allspice
Instructions
Rotisserie Directions:

Score the top of the ham into diamonds.

Place ham on the rotisserie. Set and cook for 1 1/4 hours.

Prepare the Maple Glaze:

In a small saucepan, combine the maple syrup, butter, corn syrup, 1 tablespoon orange juice, and 1/8 teaspoon allspice.

Bring to a boil; remove the pan from the heat.

Brush ham with some of the maple glaze.

Cook for 15 minutes more, brushing once or twice more with the remaining glaze.

Remove the ham from the rotisserie.

Place on a large plate and cover with foil.

Let stand for 15 minutes before craving.

Prepare the Raisin Sauce:

In a medium-size saucepan, combine the brown sugar, and cornstarch.

Stir in apple juice, raisins, the 3 tablespoons orange juice, vinegar, orange rind, and 1/8 teaspoon allspice.

Cook over moderate heat, stirring constantly, until the mixture starts to thicken.

Combine and stir for 1 to 2 minutes more or until thickened.

Serve sauce with the ham.
Bacon and Cheese Quiche Quiche is a super way to use up leftovers. Use left-over ham in place of the bacon in this super delicious recipe.