Maple Chip Blondies
We may earn money or products from the companies mentioned in this post.
Maple Chip Blondies #Choctoberfest
Welcome Back Everyone to #Choctoberfest! I hope you're enjoying all of the fantastic recipes that are being shared this week during #Choctoberfest. I have been busy myself visiting all of the other bloggers and there are so many yummy, chocolaty recipes! Choctoberfest is a great time to get you geared up for the holiday baking season that is already upon us. Here in Northern Wisconsin, our fall was filled with rain, rain and more rain, which has now turned into that dreaded dirty word, SNOW! (Just a light dusting, but snow is snow!)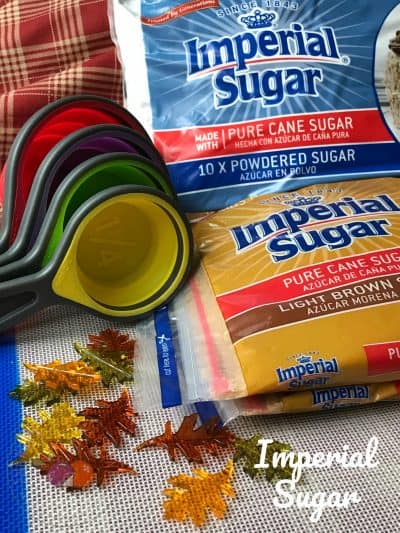 Imperial Sugar
This year Imperial Sugar, our Gold sponsor, was kind enough to supply us with their fantastic sugar. I received twelve 2 lb. bags of brown sugar and twelve 2 lb. bags of powdered sugar. How great is that! Even though this is #Choctoberfest and the likely ingredient to use this week would be of course chocolate, I thought what better way to use brown sugar than to make a pan of blondies. After all blondies are the cousin to their famous and chocolaty cousin, the brownie.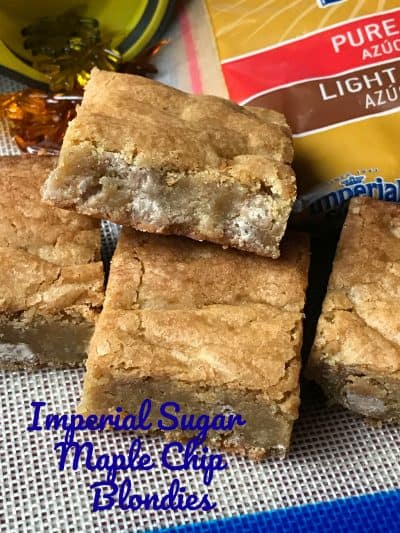 Maple Chips
Besides using Imperial Sugar for this recipe, I also used Nestle's 'Seasonal Batch' Maple Flavored Chips , a new seasonal flavor baking chips. Maple chips added a warm mapley flavor to  these already buttery blondies. Blondies get their great flavor from the butter and brown sugar used in all blondie recipes, turning them into a delicious pan of butterscotch, maple goodness. The best tasting blondies, in my humble culinary opinion, comes from using butter (no margarine please) and Imperial Sugar.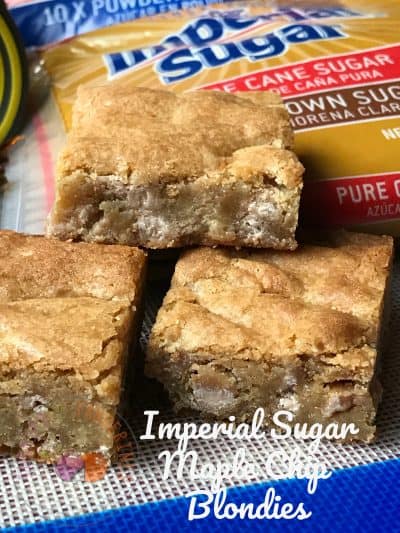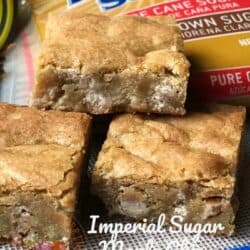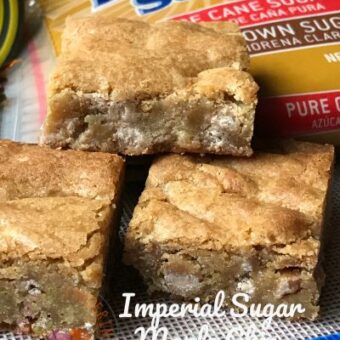 Maple Chip Blondies
Sweet, Buttery Blondie made with Maple Chips
Ingredients
1

stick

unsalted butter, melted

1

cup

lightly packed dark brown sugar

1

large

egg

1

teaspoon

vanilla extract

1/2

teaspoon

maple extract, optional

1/4

teaspoon

salt

1

cup

flour

1

cup

maple chips

1/2

cup

toasted, chopped pecans
Instructions
Heat oven to 350 degrees. Line an 8-inch by 8-inch metal baking pan with aluminum foil or parchment paper.

In a medium bowl, stir melted butter and brown sugar until blended. Add the egg, vanilla extract, maple extract and salt Stir vigorously until smooth.

When the batter looks well blended, add the flour and stir, then beat with a wooden spoon for 40 to 50 strokes. (The batter will be thick).

Fold in the maple chips and pecans. Spread the batter evenly into lined pan and bake 20 to 25 minutes and the edges look browned, but the middle looks slightly underdone (the middle will continue to cook while it cools). Place the pan on a wire rack and let the blondies cool in the pan. Cut into 16 squares.
Notes
*I have made this recipe many times, and the blondies have turned out every time*
I want to Thank Imperial Sugar for Sponsoring #Choctoberfest 2018.
For more Maple goodness; Canadian Maple Syrup Pie and Maple Facts, Maple Syrup Cinnamon Rolls and Maple Nut Fudge.
Side Note: This recipe is a *Repost* Due to several comments made. I have replaced the Maple Chip Blondie recipe I posted in 10/2018 with this "new"recipe for Maple Chip Blondies. I apologize for any inconvenience. 03/19/2019