Maple and Peanut Butter Blondies
We may earn money or products from the companies mentioned in this post.
Maple and Peanut Butter Blondies
This recipe for Maple and Peanut Butter Blondies comes to you via Canadian Living Test Kitchen. Boy oh Boy, is this recipe good! I have definitely been converted to a blondie lover. Two sweets that I can't resist are; cookies and brownies and now blondies. I'll go to great lengths to devour any of them. In case you aren't familiar with blondies, they're basically the buttery, butterscotch version of a chocolate brownie. Canadian Living has a ton of delicious, lip-smacking recipes. Check it out to find recipes such as; Strawberry and Lavender Cream Cups, Classic Scalloped Potatoes and a Canadian classic, Butter Tarts.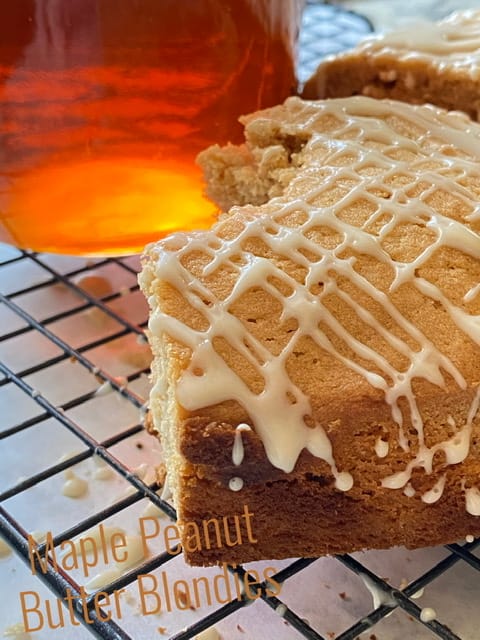 Maple Syrup
Originally, I was looking for a blondie recipe made with maple syrup. That's when I came across this recipe that calls for maple syrup and peanut butter. Maple syrup and peanut butter together in one blondie? Sensational! So many people associate maple flavor with the fall season and with good reason. When we think of maple syrup, we think of a warm, cozy flavor. Much like the warm sweaters we reach for in the fall, when temperatures turn colder. Another reason? Maple syrup pairs beautifully with winter squash, especially pumpkin. Even though we associate maple syrup with the fall season, maple syrup is of course produced in the spring. Read all about it here: It's Maple Syrup Time at Bear Paw Camp and Bear Paw Scout Camp Maple Syrup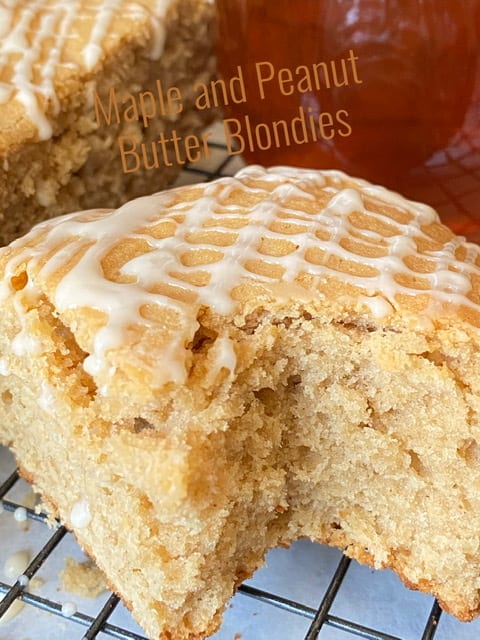 Peanut Butter
If you have been reading Turnips 2 Tangerines for any length of time, you are well aware of my love for peanut butter. I just can't live without the peanutty stuff. Creamy, chunky, organic or natural, it doesn't matter to me:) They're all good! Curious as to my favorite way to indulge in peanut butter is, besides cookies? Peanut butter smeared thickly on graham crackers, then dipped into an icy cold glass of milk. Yum! Favorite Peanut Butter Recipes: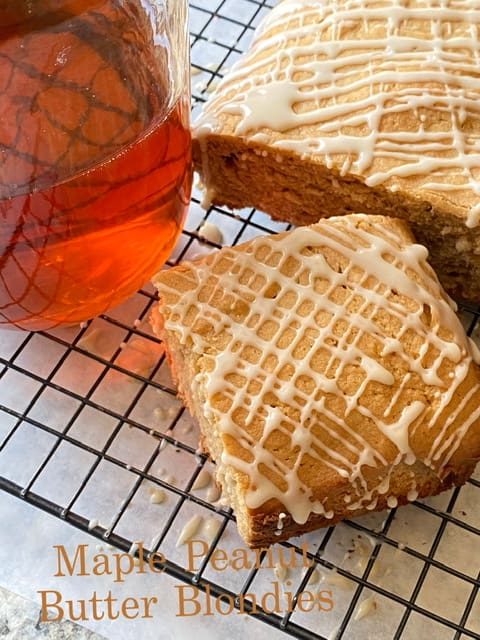 Canadian Living
As I stated, this recipe was found on Canadian Living. The texture of this particular recipe reminded me more of a snack cake vs a blondie, not that that is a bad thing mind you. However, even though this recipe had great flavor from the combination of maple & peanut butter and smelled heavenly while baking… It just didn't have that buttery taste and brownie-like texture that I love in a blondie. Don't get me wrong, this recipe was delicious. Would I make it again? Heck yeah! Would I call it a blondie or brownie? Neither but it makes a damn good snack cake!! The maple icing is pretty darn good too.
UP NEXT: Banana Sour Cream Mini Bundt Cakes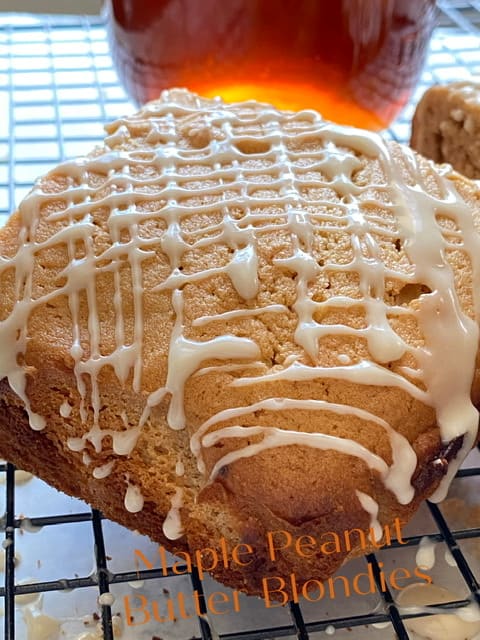 More Blondie Recipes: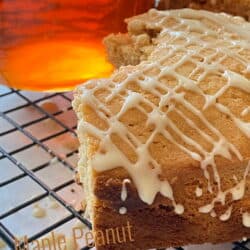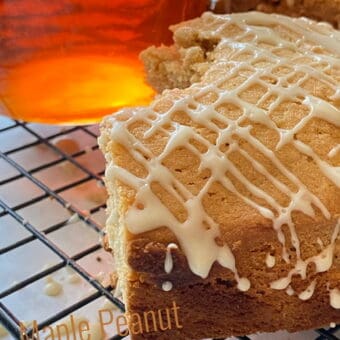 Peanut Butter and Maple Blondies
Ingredients
1/2

cup

unsalted butter, melted

2

eggs

2

teaspoons

vanilla

1

cup

maple syrup

3/4

cups

natural peanut butter

1 1/4

cup

all-purpose flour

3/4

teaspoons

baking powder

1/2

teaspoon

salt

Maple Icing:

1

tablespoon

maple syrup

2

tablespoons

icing sugar
Instructions
Preheat the oven to 350° Arrange rack in the middle of the oven. Line an 8x8-inch baking dish with parchment paper, leaving a 2-inch overhang on two opposite sides.

Place the butter, maple syrup, eggs, peanut butter and vanilla in a large bowl. Beat with hand mixer until well-combined, about 1 minute. Add the flour, baking powder, and salt. Use a large spatula to mix until just combined.

Transfer batter to the prepared pan and smooth into an even layer. Bake until the edges are browned and pulling away from the pan or a tester inserted in the center comes out clean. 25 to 30 minutes.

Cool blondies in the pan on a wire rack for 10 minutes. Grasp the excess parchment paper and lift the blondie slab out of the pan and onto a cutting board. Cut into 16 squares.