Mallo Cups and Non-Pareils with Ambrosia
We may earn money or products from the companies mentioned in this post.
Mallo Cups and Non-Pareils with Ambrosia 
This recipe is two-fold. Mallo Cups and Non-Pareils are my hubby's favorite candy. Whenever he sees a package of mallo cups, he buys a package, or two. Same thing goes with non-pareils, only they are much harder to find. I found this out while visiting my friend Cindy in Canada. We looked high and lo for non-pareil candies to no avail. Cindy, in her wise wisdom said to me one day,"Lynn they can't be that hard to make, can they?" eh Cindy?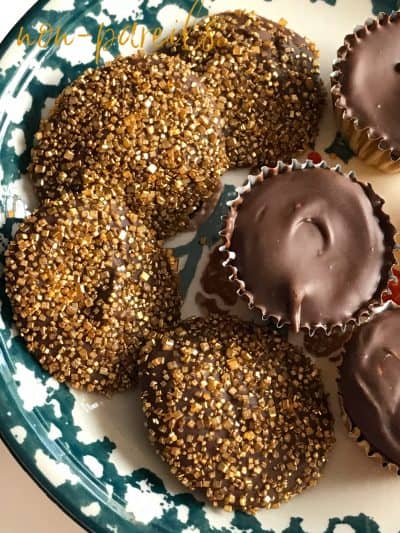 Make Your Own
After Cindy made that suggestion I thought, "No by God, making non-pareils isn't going to be that difficult." After all, non-pareils are a round disc of melted chocolate with sprinkles on the top. How hard is that! Now on to the mallo cups. One day my hubby was eating yet another mallo cup. He said to me, "I wonder how hard it would be to make a mallo cup?" I said, "Not very." He said, "Can you try and make some?" and I said, "Done."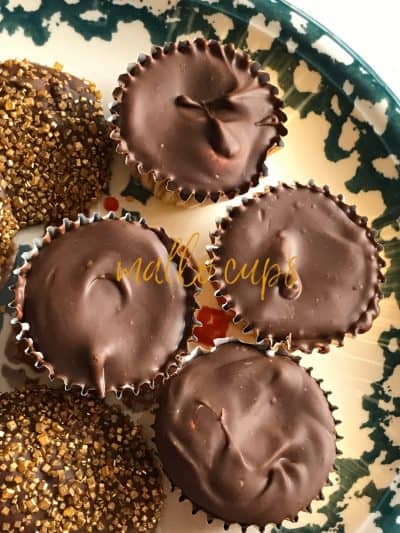 Easier Than I Thought
Making homemade mallo cups and non-pareil candy is much easier that I thought. The non-pareils were the easiest to make. Melt chocolate, drop tablespoons of melted chocolate onto tin foil. Let the chocolate set up a bit, maybe 15 minutes, heavily sprinkle the top with sprinkles of your choice and you're done. Now the mallo cups on the other hand are a little more putzy. Not hard or difficult, just putzy.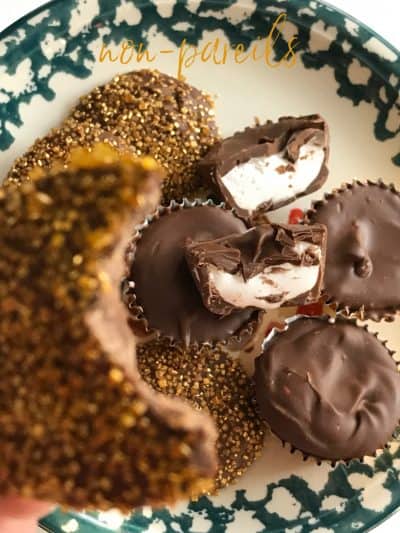 Putzy But Worth It!
Putzy as in each muffin tin needed a liner, preferably an aluminum foil cupcake liner for mini muffin tin. Each cupcake liner needs to be "lined" with melted chocolate and allowed to set up. Marshmallow Fluff is spooned onto the chocolate lined muffin cups and once again allowed to set up. Lastly, more melted chocolate is spooned over the marshmallow layer and allowed to set up. The end result is a delicious chocolate, marshmallow sensation. Putzy yes, Worth It? Definitely!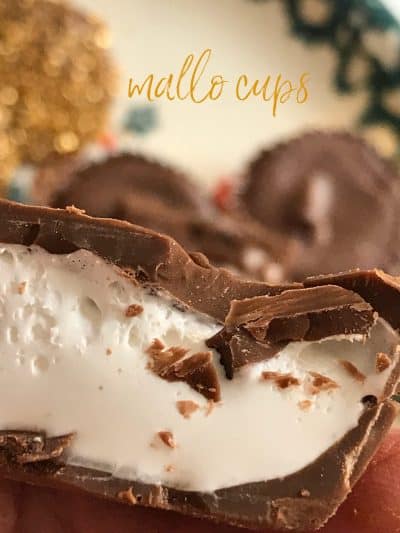 Chocolate
When making both recipes, or any recipe that calls for chocolate for that matter, remember to use only a good, high quality chocolate. For over 40 years, I have been using Ambrosia chocolate to make my holiday chocolate candy. For generations Ambrosia chocolate has long been a staple for candy making. Ambrosia Chocolate is sold every year throughout Wisconsin and the Upper Midwest during the months of November and December.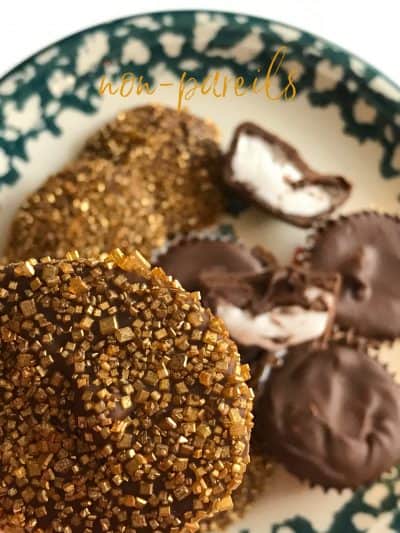 Ambrosia History
With a large factory located in downtown Milwaukee, the sweet smell of Ambrosia chocolate hung in the air for decades. The company was founded in 1894 by Otto J. Schoenleber and named Ambrosia for chocolate's reputation as the "food of the Gods." Schoenleber ran the company for over 30 years. Over the years the company started to focus on large volume products such as powdered cocoa and bulk chocolate for commercial use.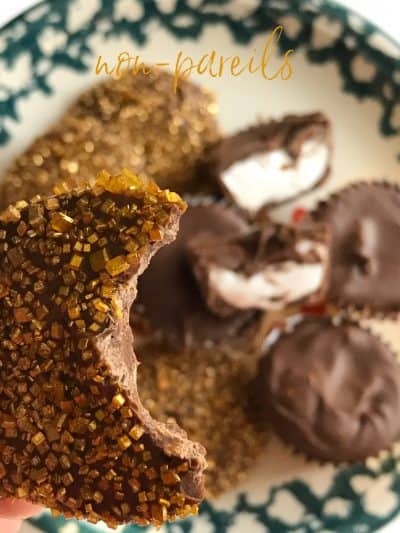 Ambrosia Chocolate produced a candy bar called the "Trixie." A mix of milk and bittersweet chocolate with cashews, almonds and pecans. Sold exclusively at Ambrosia's downtown retail shop and a factory outlet in Kenosha WI. For decades Ambrosia chocolate was a staple in both Chips Ahoy! and Keebler brand cookies. In 1992, Ambrosia closed their downtown plant for a new facility on the city's northwest side.
Chocolate Mold
In 2015, a Minneapolis based company, Cargill Cocoa & Chocolate acquired the Milwaukee plant and the Ambrosia name. Below is an image of a mold that dates back to around 1940. Molds were used to "brand" bulk slabs of milk chocolate with the Ambrosia name. I remember when I was in high school a guy I was dating, his family always bought two huge slabs of Ambrosia chocolate. The slabs had the logo below embedded on the top of the chocolate.
*The industrial mold below was used to imprint the Ambrosia name into their bulk chocolate products.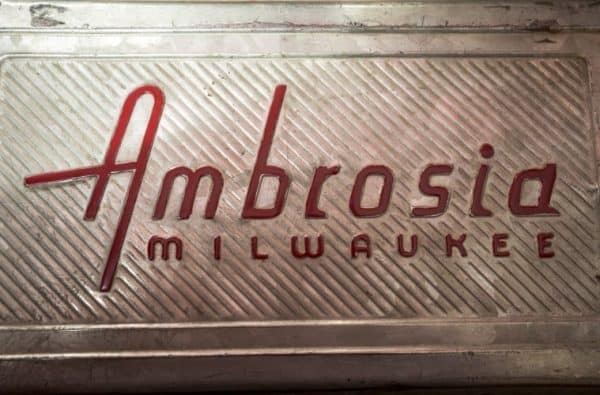 *Above photo credit: Tyler Yomantas
Homemade Candy
Both of the recipes below are basically a no brainer! Making homemade candy never got so easy. With a few ingredients and a little bit of time, you'll be licking the chocolate off your fingers. Here are a few more recipes you'll want to try for holiday candy. Peanut Butter Balls and More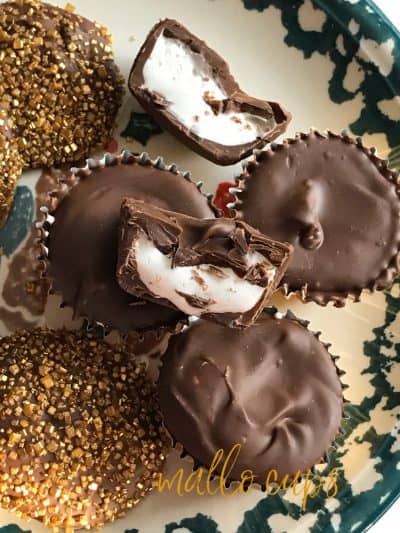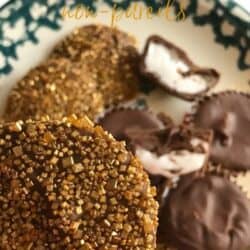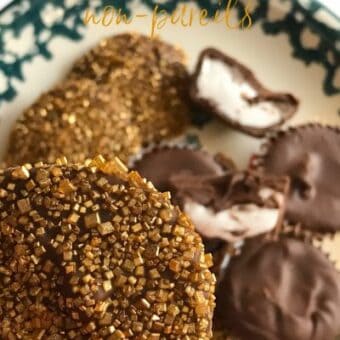 Homemade Mallo Cups
Just like the real thing.
Ingredients
16

ounces

good milk chocolate

7

oz

marshmallow fluff
Instructions
Line a standard size muffin tin with foil muffin liners.

Melt roughly half of the chocolate in the microwave in 30 second increments. Stir to prevent burning. With a small spoon* add enough chocolate into the bottom of the muffin liners. use a spoon or pastry brush to bring the chocolate up over the sides. Stick the chocolate in the fridge for 20 minutes, just so it sets up and becomes firm.

Spoon about 1 1/2 tablespoons of the marshmallow fluff into the chocolate cups. Put the muffin tin back in the fridge so the marshmallow firms up, another 20 minutes or so.

Melt remaining chocolate in the microwave in 30 second increments. Spoon melted chocolate over top of the cups. Place the tin back in the fridge for another 20 minutes before serving. Store mallo cups in the refrigerator.
Notes
*For this recipe we used a small, long handled spoon or an ice cream sundae spoon.
*Use good quality chocolate such as Ambrosia.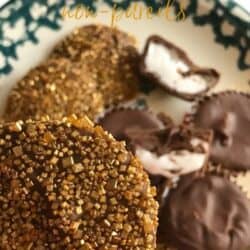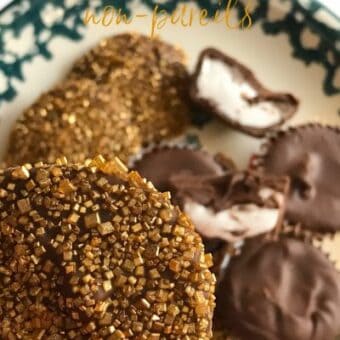 Non-Pareil Candies
Fast, Easy and Delicious!
Ingredients
12

oz

chocolate

,

dark, milk, white or semi-sweet

1

cup

nonpareils
Instructions
Melt chocolate over in microwave at 30 second intervals.

Stirring until chocolate is melted.

Drop melted chocolate by tablespoons onto wax paper or foil.

Let sit 5 to 10 minutes.

Sprinkle chocolate mounds with sprinkles

Refrigerate until chocolate is firm.
Notes
*Use good quality chocolate such as Ambrosia
We purchased Ambrosia Chocolate at Piggly Wiggly.
Recent Recipe: Asian Style Sticky Chicken Drumsticks