Macaroni n' Cheese
We may earn money or products from the companies mentioned in this post.
Macaroni n' Cheese
You can never have to many Macaroni n' Cheese recipes and this one is delicious. Everyone has made and or eaten boxed macaroni and cheese. You know the kind, it comes in a blue box and has sustained many a college student and small children for generations. When my kids were young, I could buy four boxes of Kraft Mac n' Cheese for $1.00.
Add In Ingredients
With all that being said, over the years I have added browned ground beef, boiled hot dogs, crispy bacon, left-over cooked ham and my personal favorite, drained oil-packed tuna to a box of cooked mac n cheese. To this day I still like a big bowl of mac n' cheese (the blue box kind) with tuna. Even though mac'n cheese is still a staple in many homes, nothing compares to homemade mac n' cheese. In fact, they really shouldn't be compared at all.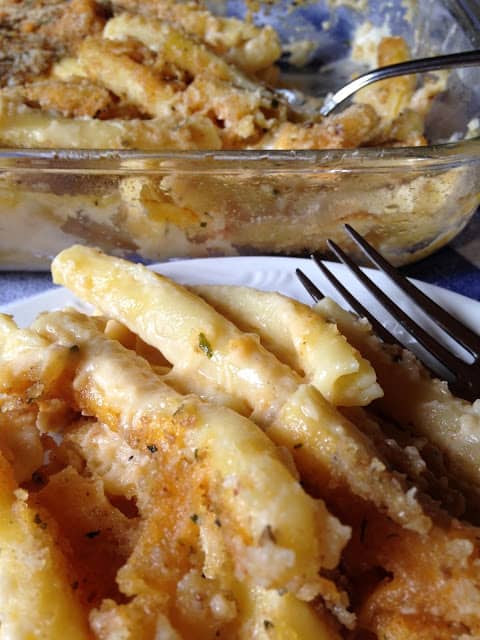 Comfort Food
Thick pasta noodles, cooked until al dente', shredded sharp white cheddar cheese, butter, milk and a panko-bread topping doesn't compare to boxed and nor should it. To me homemade mac n' cheese is a "special" casserole. It gets a gold star in the comfort food category. Boxed on the other hand is fast, easy and convenient. Perfect when you need something that is hearty, filling and delicious.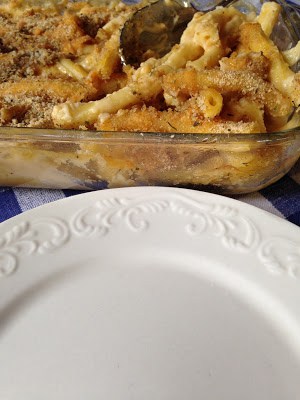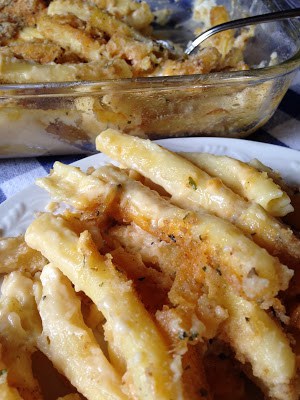 Buttery Cracker Topping
Buttery cracker crumb topping is one of my all time favorites. Literally, anything benefits from a cracker crumb topping. Ritz Crackers and Townhouse Crackers are the buttery type crackers we use the most here on T2T. Buttery cracker crumb toppings are super simple to make. Simply open up a sleeve of crackers, dump the crackers in a large size plastic baggie and using a rolling pin, crush the crackers.
Sprinkle the crushed cracker crumbs on the top of the dish your preparing. Dot the crumbs with small pieces of butter or pour melted butter over the cracker crumbs. Bake according to the recipe directions. A good rule of thumb to follow is: per one sleeve of crushed buttery crackers, use four tablespoons butter or melted butter. This ratio seems to work the best in my house anyway:)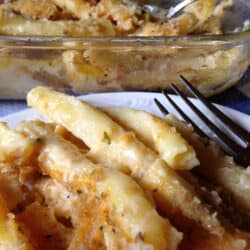 Macaroni n' Cheese
All macaroni and cheese recipes are super in my book. This recipe uses sharp white cheddar cheese.
Ingredients
8

ounces

elbow or bucatini pasta

3/4

pound

sharp white cheddar cheese, shredded

2

tablespoons

butter

2

tablespoons

flour

2

cups

whole milk

1/2

teaspoon

dry mustard

salt and pepper, to taste

Crumb Topping:

1/2

cup

buttery cracker crumbs

1

tablespoon

butter, melted
Instructions
Crumb Topping:

Mix the melted butter and the buttery cracker crumbs until crumbs are moistened.

Preheat oven to 375º F.

Lightly spray a 13 x 9 inch baking dish with non-stick cooking spray.

Cook pasta according to package directions.

Drain and set aside.

While pasta is cooking, melt butter in a medium saucepan on low heat. Add flour, stirring constantly for about 3 minutes. Do not let the flour brown. Add milk and seasonings. Continue stirring until thickened. Remove from heat.

Add 1/2 of the shredded cheese and stir until incorporated, melted and smooth.

Mix melted cheese mixture with the cooked pasta.

Add half of the pasta to the prepared cooking pan.

Add remaining shredded cheese, keeping just a bit for the top.

Cover with remaining pasta mixture. Top with bread crumbs and cheese.

Bake for 45 minutes or until the cheese is bubbling and the crumb mixture is beginning to brown.