Lingonberry Cheesecake
We may earn money or products from the companies mentioned in this post.
Lingonberry Cheesecake
Today I'm going to share with you not only a fantastic recipe for a lemony, Lingonberry Cheesecake topped with super tasty, lingonberry preserves but I'm going to share my recent road trip adventure to IKEA.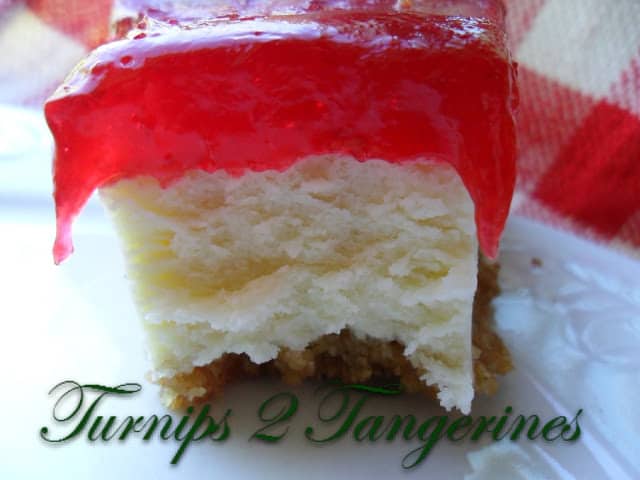 IKEA
Recently I had the pleasure of going to Ikea for the first time. I went with my son Bob and his beautiful wife Kim. We went to the IKEA in the Chicago area. Wow… What a place. Three floors of wall to wall stuff. It was a little overwhelming at first. There were so many things to look at but I managed to get through all three floors. After all, I had Lingonberry Cheesecake on my mind.
Food
On the 3rd floor there was a cafeteria-style restaurant. We decided to order and sat down to a delicious lunch. Bobby had Swedish meatballs and
Kim and I had the chicken tenders. We all shared a piece of apple cake and a piece of chocolate cake. The food was excellent and the chocolate cake was to die for. Bob and Kim had wanted to buy a cabinet, which they did, along with some other items but me, I just bought a jar of lingonberry preserves. I am a huge fan of jams, jelly, preserves, and fruit spreads. I always buy a "jar of jam" wherever I go.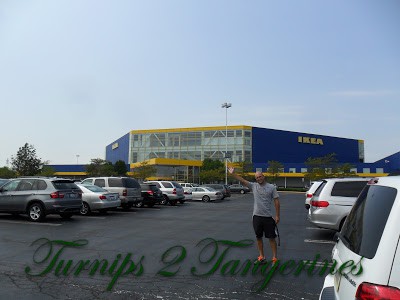 Next Stop, Trader Joe's
On our way home we stopped at Trader Joe's in Milwaukee. I didn't even know there was a Trader Joe's in Milwaukee. Stopping at Trader Joe's was like putting a cherry on top of the sundae. The first time I went to Trader Joe's I was visiting my grandkids in Athens GA. It was love at first sight. I flew home from GA with a suitcase full of my Trader Joe's favorites.
Trader Joe's Favorites
Every time I go to Trader Joe's, I always pick up my "favorites," Trader Joe's Brand Flakes, Kona Coffee Shortbread Cookies, Coffee and Pumpernickel Pretzels, (that are wonderful with Reuben Dip.) I also like to pick up a "New" item to try. Today I picked up: Trader Joe's Carolina Gold BBQ sauce. According to the label: "It's a golden-hued, mustard based sauce, that's sweet, smoky with a hint of molasses and just the right blend of spices. We can't wait to try this sauce on some boneless ribs. Check out: Ikea Trader Joe's
Great Day Had By All
I had a great time going to "the city" with my son and his beautiful wife. They're both teachers and are now back in school. I can't wait until the next school break, so we can head back to Ikea. There are a still a few things I need to pick up:) The only thing that I thought could do this jar of wonderful Lingonberry preserves justice was a cheesecake. A light, lemony cheesecake. If you don't have any Lingonberry preserves on hand, you can substitute lemon curd or raspberry preserves.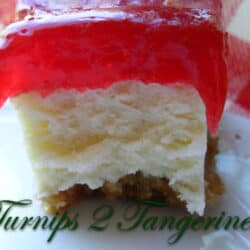 Lingonberry Cheesecake  
A lemony cheesecake topped with a sweet and tart lingonberry preserves.
Ingredients
2 1/2

cups

graham cracker crumbs

1/4

cup

sugar

2/3

cup

butter, melted

3

8 oz package

cream cheese, room temperature

1 1/4

cups

sugar

3

eggs, lightly beaten

,

l

3

tablespoons

lemon juice

1

tablespoon

lemon zest

1

teaspoon

vanilla extract

1

cup

Lingonberry Preserves

1

teaspoon

lemon juice
Instructions
Combine cracker crumbs, sugar and butter. Press onto the bottom and 2 inches up the sides of a greased 9-inch springform pan. Place on a baking sheet. Bake at 350º for 10 minutes or until set. Place pan on a wire rack to cool.

In a large bowl, beat cream cheese and sugar until smooth. Add eggs; beat on low speed until combined. Stir in the lemon juice, lemon peel and vanilla extract just until blended. Pour into crust. Return pan to baking sheet.

Bake for 45 to 55 minutes or until center is almost set. Cool on a wire rack for 10 minutes.

Meanwhile, place preserves in a small saucepan, add lemon juice. Stir and cook on low heat, until preserves are melted. Remove from heat and set aside to cool.

After 10 minutes, carefully run a knife around the edge of pan to loosen. Cool 30 minutes. Carefully spoon melted preserves over cheesecake. Cool 30 minutes longer. Refrigerate overnight.
Nutrition
Serving:
1
g
,
Calories:
311
kcal
,
Carbohydrates:
47
g
,
Protein:
3
g
,
Fat:
13
g
,
Saturated Fat:
7
g
,
Cholesterol:
68
mg
,
Sodium:
226
mg
,
Potassium:
62
mg
,
Fiber:
1
g
,
Sugar:
34
g
,
Vitamin A:
375
IU
,
Vitamin C:
2.2
mg
,
Calcium:
25
mg
,
Iron:
1
mg
Another favorite cheesecake recipe; Mini Minty Cheesecake Brownie Cups