Lemon Meringue Krispie Treats
We may earn money or products from the companies mentioned in this post.
Lemon Meringue Krispie Treats
Lemon Meringue Krispie Treats are made with Campfire Brand Lemon Meringue Mallow Bursts. The name literally says it all. These yummy marshmallows are bursting with lemon flavor. If you are a fan of lemon, you will love these. Sweet, Sticky, Lemony and Crunchy. What more can you ask for? How does a meringue topping sound? Lemon meringue krispie treats can't be called 'lemon meringue' without a meringue, right?
No more than you can call a rice krispie treat a 'rice krispie treat' unless its's make with rice krispie or rice cereal and marshmallows. Right? Grab a box of cereal and a bag of marshmallows and let's get cooking. After all, in under 30 minutes you could be biting into one of these sweet, marshmallow rice krispie treats. A classic recipe that everyone loves.
Update
Since we posted this recipe in March of 2013, we have added another layer to these already delicious marshmallow krispie treats. Lemon Meringue Pie just isn't Lemon Meringue Pie without the meringue part, right? It would just be a lemon pie. Well we decided the Lemon Meringue Krispie Treats can't or shouldn't be called "meringue" if there isn't a meringue somewhere in the recipe. Soo we topped the krispie treats with a meringue!! Genius!!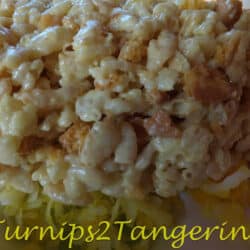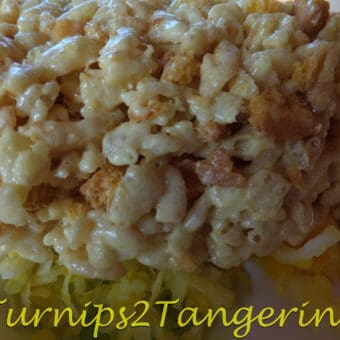 Lemon Meringue Krispie Treats
Ingredients
4

tablespoons

butter

2

8 oz packages

lemon meringue mallow bursts (Campfire brand)

6

cups

rice krispie cereal

8

Lil' Maid lemon bar cookies, crushed

2

egg whites

pinch

of salt

1/4

teaspoon

cream of tartar

1/4

teaspoon

vanilla extract

2

teaspoons

sugar
Instructions
Melt butter in a large saucepan over low heat. Add marshmallows and stir constantly until completely melted. Remove from heat. Add rice krispie cereal and crushed cookies, stir until well coated. Using a buttered spatula or waxed paper, press mixture evenly into a buttered 13 x 9 pan.

In a large mixing bowl, beat egg whites with an electric mixer on medium-low until foamy, 1 to 2 minutes. Add pinch of salt, cream of tartar, and vanilla extract on high for 2 to 3 minutes. With mixer on high gradually add sugar, one teaspoon at a time. Continue to beat on high until egg whites form stiff peaks.

Carefully spread egg whites to edges of baking dish over marshmallow treats. Place baking dish 3 inches below broiler element until egg whites are golden brown, watching carefully.