Lemon Lavender Bars Sweet and Tart
We may earn money or products from the companies mentioned in this post.
Lemon Lavender Bars
I have been growing lavender in my garden for over 10 years. I've always wanted to use lavender in recipes, but never have, until now. I thought and thought and then decided to make Lemon Lavender Bars. I couldn't think of a better marriage than lemon and lavender. From the first bite, you immediately get a tangy, lemony taste from the lemon and then a perfumey, floral lavender taste. The lavender was faint enough that it didn't take over and wasn't at all overpowering, it paired really well with the lemon.
How much Lavender?
I added a 1/2 teaspoon of dried lavender buds, crushed, to the crust and then sprinkled about 1 teaspoon of dried lavender buds, crushed, over the lemon filling before baking. I wasn't sure how much dried lavender buds to add, I didn't want to over do it the first time around. Crush  dried lavender buds between the palms of my hands, to release the oils in the buds. This will make the dried buds more fragrant. Lemon Lavender Bars are super!
Give it a Try
This recipe was amazing! Wonderful, perfumey lavender scent that came from the oven while baking was so enticing. The heat from the oven released even more of the lavender scent and my whole house smelled beyond good!  I was so glad I challenged myself to add lavender to a recipe. If your somewhat hesitate about using lavender in a recipe, don't be. Start out by adding just a small amount and increase it over time.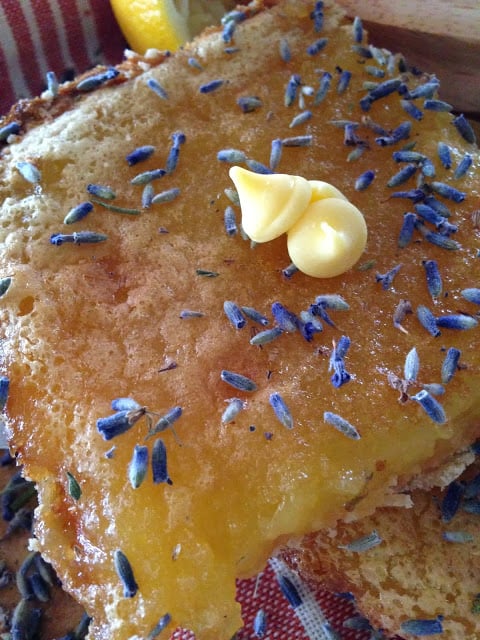 Grow Your Own
Adding lavender to a recipe might seem a little scary but as I mentioned above, experiment with it! Grow a lavender plant in your garden, which is very easy by the way, and try, try again. Start with fresh lavender by adding a spring to ice tea. See how that works for you. Then in the summer when the blossoms are ready, pick your lavender, bundle it and dry it by handing it upside down in a cool, dry place. You'll have plenty of lavender to experiment with.
Lemon Bars
This is a basic lemon bar recipe with the exception of the addition of dried lemon. As far as lemon bars go, in my humble culinary opinion, it's simply impossible to ruin a lemon bar recipe. I've made several different recipes over the years and I loved them all. Shortbread crust with a lemony, tart, lemon curd style filling and with a dusting of powdered sugar, delicious! Add a sprinkle or two of culinary lavender, awesome!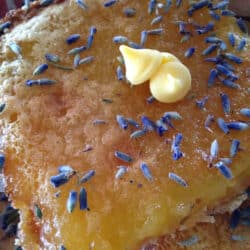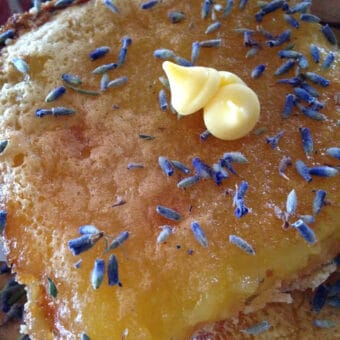 Lemon Lavender Bars
Lemon bars with a hint of Lavender. Perfect.
Ingredients
2

cups

flour

3/4

cup

confectioners' sugar

1

cup

cold butter

1/2

teaspoon

culinary lavender

4

eggs

5

tablespoons

fresh lemon juice

1

tablespoon

grated lemon zest

1 1/2

cups

sugar

1/4

cup

flour

1

teaspoon

baking powder

1

teaspoon

culinary lavender

confectioners' sugar for dusting, optional
Instructions
In a medium bowl combine flour, confectioners' sugar and lavender; cut in butter until crumbly. Press into an ungreased 13 x 9 x 2 inch baking pan.

Bake at 350º for 20 to 30 minutes or until lightly browned.

For filling: In a large mixing bowl, beat eggs until frothy. Stir in lemon juice and peel. Combine the sugar, flour, and baking powder. Stir into the egg mixture. Pour over crust. Sprinkle lavender over top.* Bake for 25 minutes or until set. Cool on a wire rack.

Cut into bars and sprinkle with confectioners' sugar if desired.
Nutrition
Serving:
1
g
,
Calories:
370
kcal
,
Carbohydrates:
51
g
,
Protein:
4
g
,
Fat:
17
g
,
Saturated Fat:
10
g
,
Cholesterol:
95
mg
,
Sodium:
157
mg
,
Potassium:
87
mg
,
Fiber:
1
g
,
Sugar:
33
g
,
Vitamin A:
550
IU
,
Vitamin C:
3.1
mg
,
Calcium:
31
mg
,
Iron:
1.4
mg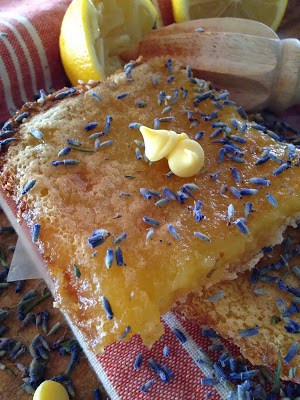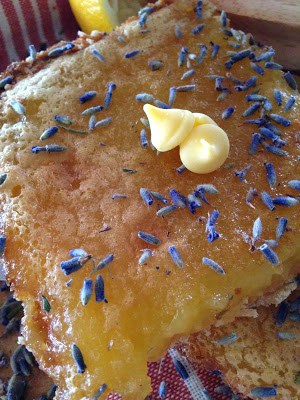 Recipe Note:
* I added an extra sprinkle of lavender to the top of the bars for picture taking purposes.* World Market, has whole French lavender for sale online. A small package, (0.3 oz) sells for under $2. Since a very small amount of dried lavender goes a long way, this is a super deal! For more lemony recipe ideas; Lemon Meringue Pie Grandma's Recipe, Lemon Raspberry Bars, and Lemon Tart with Meringue Cookies.
Health Note: Potatoes are a root vegetable that grows in the ground. Eating the skin of potatoes provides fiber that helps with digestion. Recent Recipe: Sourdough Blintzes