Lemon Ginger Cream Cheese Danish
We may earn money or products from the companies mentioned in this post.
Lemon Ginger Cream Cheese Danish
Light and delicious, Lemon Ginger Cream Cheese Danish is perfect for breakfast, brunch or as a light dessert after any meal. We love our lemon desserts here on Turnips 2 Tangerines and this recipe is no exception. The fresh grated ginger root adds a slightly sweet, slight peppery flavor to this Danish. If you're a fan of lemon like we are, you will love the flavor combination of ginger and lemon in this easy Danish.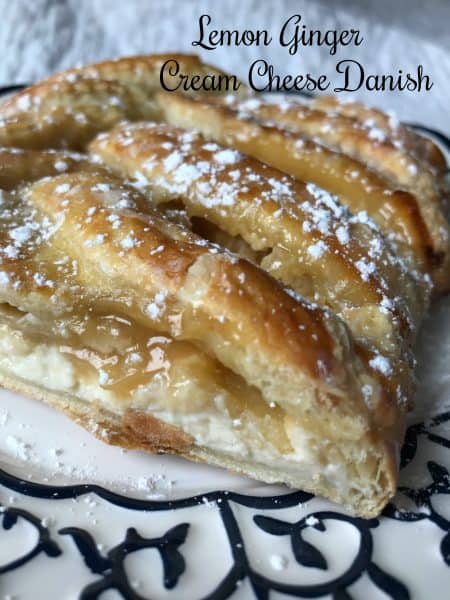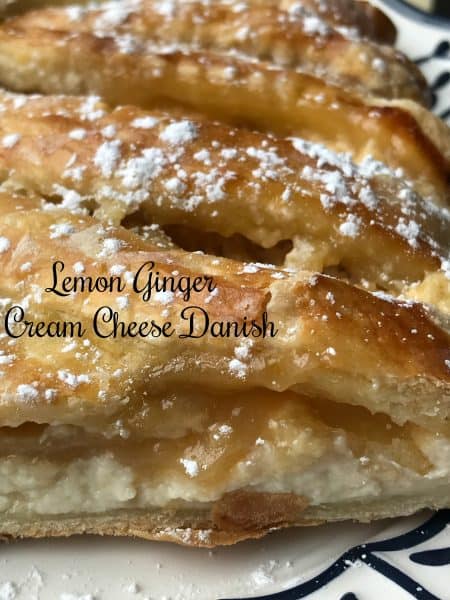 A Word About Ginger
Ginger; A plant from tropical and subtropical regions that's grown for is's gnarled and bumpy root. Most ginger comes from Jamaica, followed by India, Africa and China. Gingerroot's name comes from the Sanskrit word for "horn root," undoubtedly referring to its knobby appearance. It has a tan skin and a flesh that ranges in color from pale greenish yellow to ivory. The flavor is peppery and slightly sweet, while the aroma is pungent and spicy. This extremely versatile root has long been a mainstay in Asian and Indian cooking and found its way early on into European foods as well.
Available in Many Forms
The Chinese, Japanese and East Indians use fresh gingerroot in a variety of forms; grated, ground and silvered in many savory dishes. Europeans and Americans, however are more likely to use the dried ground form of ginger, usually in baked goods. Fresh ginger is available in two forms; young and mature. Young ginger, sometimes called Spring Ginger, has a pale, thin skin that requires no peeling. It's very tender and has a milder flavor than mature ginger. Young ginger can be found in Asian markets in the Springtime. Mature ginger has a tough skin that needs to be carefully peeled away to expose the delicate flesh underneath.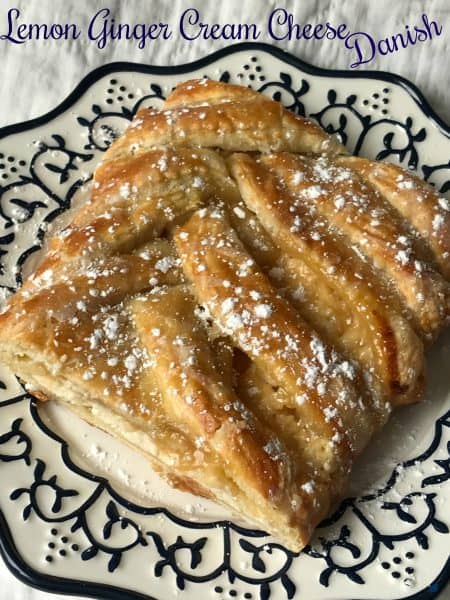 A Word About "Danish Pastry"
Danish Pastry- This is a rich butter-rich pastry begins as a yeast dough that is rolled out, dotted with butter, then folded and rolled again several times, as for puff pastry. The dough may be lightly sweetened and its usually flavored with vanilla or cardamom. Baked Danish pastries, often referred to simply as "Danish" contain a variety of fillings including fruit, cream cheese, almond paste and spiced nuts.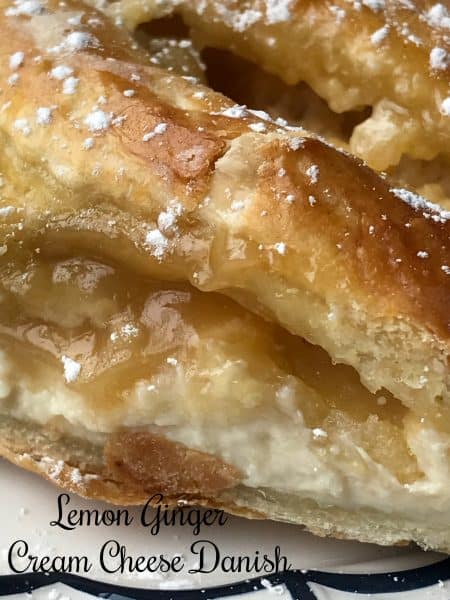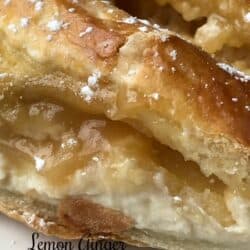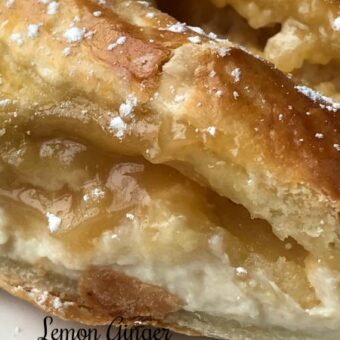 Lemon Ginger Cream Cheese Danish
This flaky Lemon Ginger Cream Cheese Danish is an easy recipe made with puff pastry and filled with a creamy, sweet and tart filling.
Ingredients
1

sheet Frozen puff pastry

,

thawed

4

oz

Cream cheese

,

softened

¼

c

Confectioner's sugar

1

tsp

Vanilla extract

1

teaspoon

grated fresh ginger

4

oz

Lemon Curd

1

Egg

1

tbsp

Water

Glaze

½

c

Confectioner's sugar

2

tbsp

Milk

½

tsp

Vanilla

1

tsp

grated fresh ginger
Instructions
Preheat oven to 400 F. Line baking sheet with parchment paper. Set aside.

Mix cream cheese, confectioner's sugar, vanilla extract, and grated ginger together until thoroughly combined.

Unfold thawed puff pastry sheet and roll it out into a rectangle that is ¼ inch thick.

Cut 1 inch strips down the left and right thirds of the puff pastry, leaving the middle section untouched.

Add cream cheese mixture to the middle of the puff pastry and then spread the lemon curd over it. Fold the end of the puff pastry up and over, then fold the top strip from the left in towards the middle. Fold a strip from the right inwards to overlap the left strip. Continue alternating left and right down the length of the puff pastry.

Make egg wash by mixing the egg and water and brush the egg wash over the puff pastry.

Place in a 400 F oven, bake for 20 minutes or until golden brown.

While the pastry bakes make the glaze by mixing the confectioner's sugar, milk, vanilla, and grated ginger together in a bowl.

Remove pastry from oven and drizzle glaze over danish.