Lemon Cream Pomegranate Scones
We may earn money or products from the companies mentioned in this post.
Lemon Cream Pomegranate Scones with Lemon Glaze
Lemon Cream Pomegranate Scones with Lemon Glaze are super delicious. Light and lemony, with pomegranate ails dotted throughout. Like all scone recipes, this one is fast, easy and affordable. Another plus when making scones, they freeze well so you can double the recipe, bake the scones, cool and freeze half. This way you'll always have scones available. Just remember, if you freeze some scones, glaze them after you thaw them out.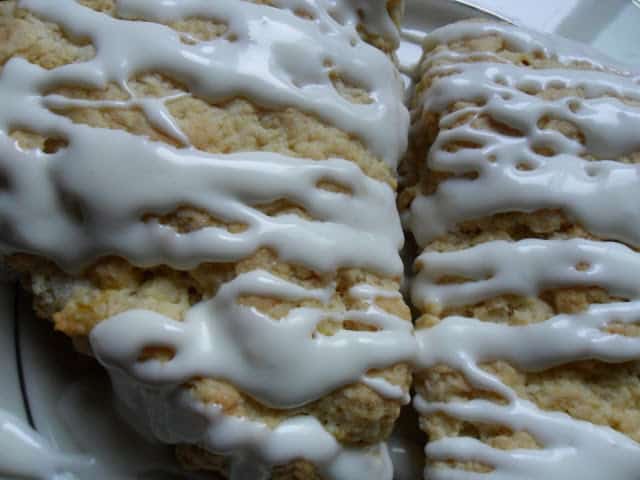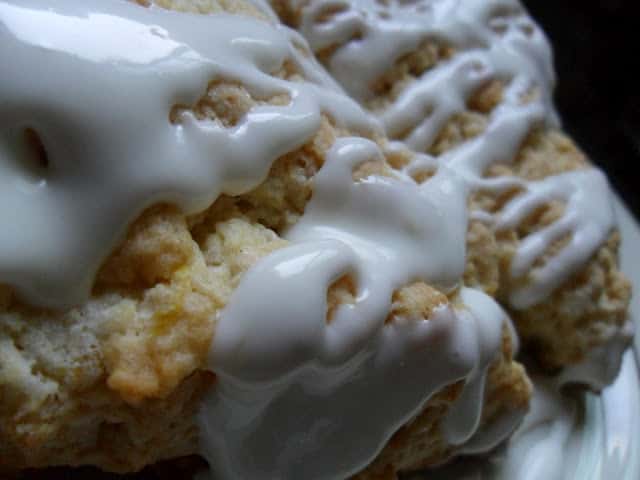 Brief History
Scone [SKOHN; SKON] This Scottish quick bread is said to have taken its name fro the Stone of Destiny (or Scone), the place where Scottish kings were once crowned. The original triangular-shaped scone was made with oats and griddle-baked. Today's versions are more often flour-based and baked in the oven. They come in various shapes including triangles, rounds, squares and diamonds. Scones can be sweet or savory.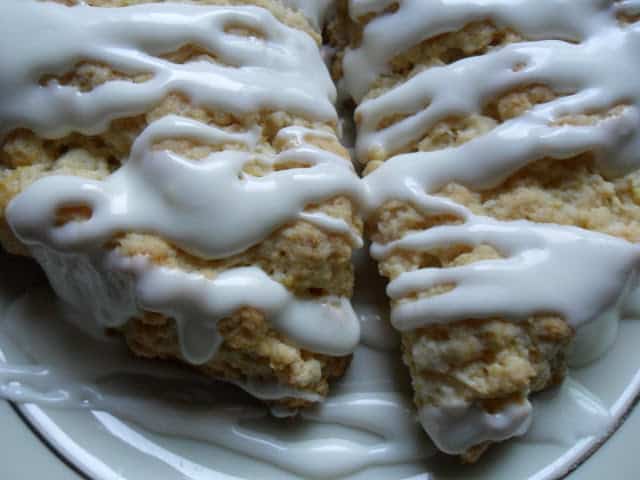 Pomegranate Info
Pomegranate is nature's most labor-intensive fruit. It's about the size of a large orange and has thin, leathery skin that can range in color from red to pink-blushed yellow. Inside are hundreds of seeds packed in compartments that are separated by bitter, cream-colored membranes. Each tiny, edible seed is surrounded by a translucent, brilliant-red pulp that has a sparkling sweet-tart flavor. Pomegranates are grown throughout Asia, Africa, India and in California. In the United States they're available from August through December.
UP NEXT: Dill Pickle Chaffles made in Mini Waffle Maker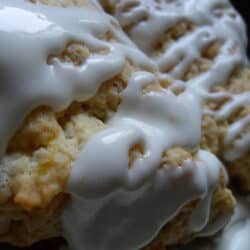 Lemon Cream Pomegranate Scones with Lemon Glaze
Light and Lemony with a hint of pomegranate. Lemon glaze adds that right amount of sweetness.
Ingredients
2 1/2

cups

all-purpose flour

1/3

cup

sugar

1

tablespoon

plus 1 teaspoon baking powder

1/2

teaspoon

baking soda

1/2

teaspoon

salt

1/3

cup

butter, cold and cubed

2

teaspoons

lemon zest

1

egg, slightly beaten

2

tablespoons

fresh squeezed lemon juice

1/2

cup

half and half or heavy cream

1/3

cup

pomegranate seeds, available in the produce section

1

cup

powdered sugar

2

tablespoons

lemon juice
Instructions
Preheat oven to 425 degrees. Line baking sheet with parchment paper.

In medium bowl stir together flour, sugar, baking powder, baking soda, and salt.

Cut in butter until mixture resembles course crumbs. Stir in lemon zest.

Combine egg, lemon juice, and cream. Add to flour mixture and stir just until combined. Lightly fold in pomegranate seeds.

Turn out onto a floured surface, knead 5 to 10 times. Pat into a 10 inch circle. Cut into 10 wedges. Place wedges on parchment lined baking sheet.

Bake 12 to 15 minutes or until golden brown.

Transfer to wire rack to cool

Make lemon glaze, in small bowl combine all glaze ingredients until smooth.

Drizzle over scones.
Recipes to Try
Still hungry? Make this for dinner tonight. Baja Fish Tacos, Penne with Artichokes and Cranberry Lemon Shortbread Cookies. Raspberry Coconut Scones are super delicious served for breakfast or with your afternoon cup of tea. You can buy pomegranate ails in the produce section in most grocery store. Pom Poms