Layered Hamburger Bake
We may earn money or products from the companies mentioned in this post.
Layered Hamburger Bake
Tired of Turkey? Can't possibly eat another turkey sandwich?  Are you racking your brain trying in come up with a "new" and "inventive" way to fix left-over holiday turkey? Stop! Leave that turkey in the refrigerator for a day and make Layered Hamburger Bake. It's easy, cheesy and made with ground beef. It even has chopped spinach thrown in for good measure. Take a break from turkey tonight and make a casserole, your family will thank-you for it!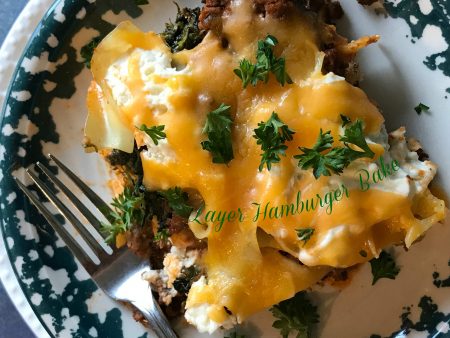 Casseroles
I am a huge fan of casseroles. I grew up eating casseroles and made them often when I was a young bride. Casseroles are a great way to stretch your food budget too. Sometimes there is nothing better than a cheesy, creamy, noodle pack casserole to chase the blues away. Comfort food at it's best. My hubby on the other hand didn't grow up eating casseroles. Lucky for me! When I tell him supper is ready and I made a casserole, he literally runs to the table!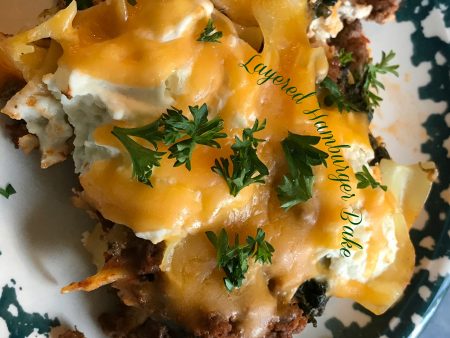 Since 1983
In 1983, I found this recipe in the Better Homes and Gardens, Treasury of Country Crafts and Foods book. I have been making it ever since! There are a few recipes for Layered Hamburger Bake floating around recipe sites, but I still make the same recipe I found so many years ago. I make the recipe as written in the book with one exception. The recipe calls for one 8-ounce package cream cheese, softened. Over the years, I have reduced this amount to a 6 or 4-ounce package cream cheese.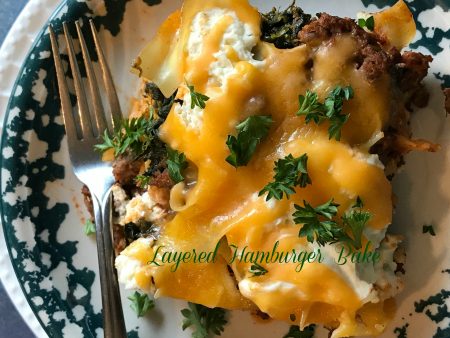 Delicious and Easy  
This recipe has a few steps to follow, but they're easy. Boil the noodles, brown the ground beef, add the tomato sauce and seasonings to the drained  ground beef mixture. Set aside. Combine the cream cheese, sour cream, milk and onion. In a 2-quart casserole, layer ground beef mixture, cream cheese mixture and spinach. Repeat. Top with shredded cheese and bake! How easy is that:) Take a break from turkey leftovers today and make a comforting casserole.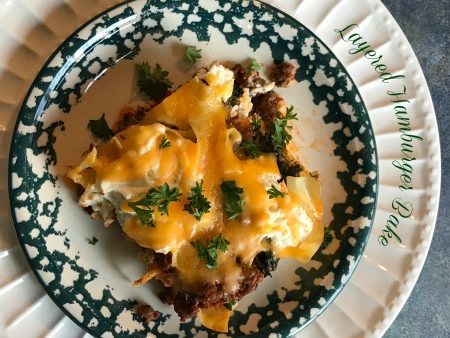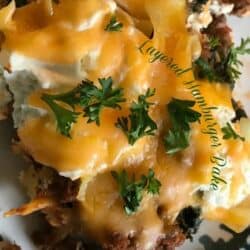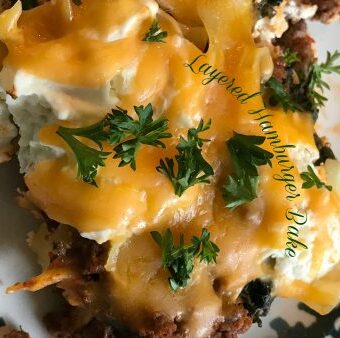 Layered Hamburger Bake
I've been making this dish for years and it's still a favorite.
Ingredients
4

ounces

medium noodles

1

pound

ground beef

1

15-oz can

tomato sauce

1

teaspoon

sugar

1/2

teaspoon

salt

1/4

teaspoon

garlic salt

1/8

teaspoon

black pepper

1

8 oz package

cream cheese, softened

1/2

cup

sour cream

3

tablespoons

milk

2

tablespoons

finely chopped onion

1

10 oz package

frozen chopped spinach, cooked and drained

1/2

cup

shredded cheddar cheese
Instructions
Cook noodles in large amount of boiling salted water for about 10 minutes or until tender; drain.

Meanwhile, brown ground beef in a skillet; drain off fat. Add tomatoes sauce, sugar, salt, garlic salt, pepper and the cooked noodles. Set aside.

Combine cream cheese, sour cream, milk, and onion.

In 2-quart casserole layer half of the ground beef-noodle mixture, half of the cream cheese mixture, all of the spinach, and the remaining ground beef and noodle mixture. Cover and bake in a 350° oven about 40 minutes or until bubbly, Uncover and spread remaining cream cheese mixture over the top; sprinkle with cheddar cheese.

Bake about 10 minutes more or til cheese melts.
Looking for more leftover ideas? Five these a try; Turkey Lasagna Roll Ups  Turkey Broccoli Shells and Turkey Frame Soup