Lasagna Spinach Roll Ups
We may earn money or products from the companies mentioned in this post.
Lasagna Spinach Roll Ups
Make it an Italian Dinner Night with these super easy Lasagna Spinach Roll Ups. Serve delicious lasagna spinach rolls with a side salad and garlic bread. For dessert, have a cup of gelato. This will add an extra special touch to an already exceptional Italian Dinner Night.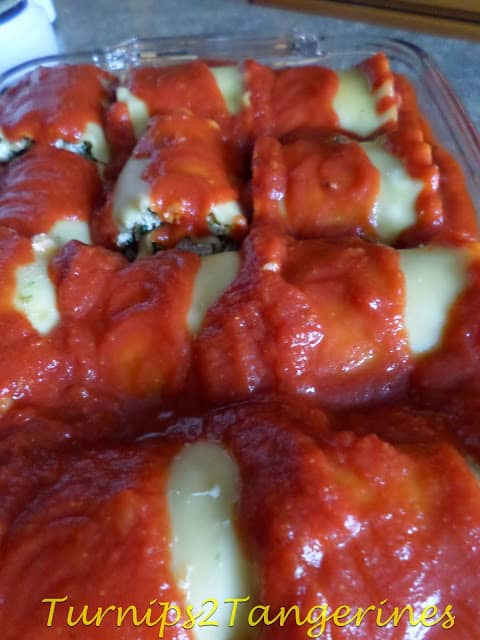 Versatile and Delicious
Lasagna roll ups can be made with ground beef, turkey, pork, or ground game meat. Substitute bulk sweet Italian sausage for a more traditional Italian flavor. Use frozen chopped spinach, thawed and squeezed dry. To make this recipe fast, easy and affordable, use a favorite jarred spaghetti sauce or marinara sauce. Homemade pasta sauce Works great in this recipe too. This recipe is made with Newman's Own Marinara Sauce
Italian Food
Some say the trend toward Italian food started in the late nineteenth century when Italian immigrants began to make their homes in America. The waves of immigrants from Italy continued to grow and with them they brought their love of food. Chicken tetrazzini was created in the early 1900's in honor of Luisa Tetrazzini, the acclaimed Italian soprano.
Famous Sandwiches
The famous muffuletta sandwich of New Orleans, named after the muffuliette rolls baked in Sicily, was created in 1906 for Sicilian workers. The popular Philly cheese steak was invented by an Italian. Soldiers returning home from Italy after World War II were hungry for the Italian food they had grown to love. They wanted to share with their families spaghetti and meatballs, sausage and peppers, ravioli, lasagna, manicotti and of course, pizza! One of our favorite recipes is Al Capone Roast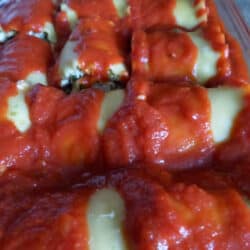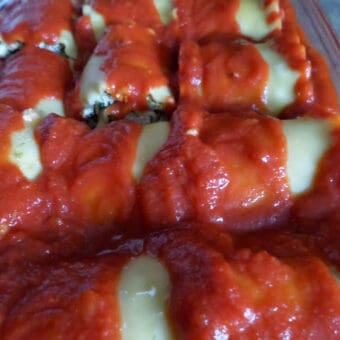 Lasagna Roll-Ups
A delicious recipe for lasagna roll ups.
Ingredients
1

16 oz

package lasagna noodles

1

pound

ground beef, turkey or pork

2

tablespoons

olive oil

1/2

cup

diced onion

2

cloves

garlic

,

minced

1

9 oz

frozen chopped spinach

,

thawed and squeezed dry

2

teaspoons

garlic and herb seasoning blend

1/3

cup

jarred pesto

1/4

cup

sour cream

1

16 oz

container ricotta cheese

1/3

cup

fresh grated Parmesan cheese, save 2 tablespoons for the top

1 1/2

cups

mozzarella cheese, save 1/2 cup for filling

1

26-28 oz jar

tomato pasta sauce of your choice
Instructions
Heat oven to 375º Spray 13 x 9 (3 quart glass baking dish with non-stick cooking spray, set aside. Cook lasagna noodles as directed on package, drain and rinse with cold water, set aside.

Heat oil in large skillet until hot, saute onion and garlic for 5 minutes. Add ground beef, turkey, or pork; cook until beef, turkey or pork is browned, drain. Season with 2 teaspoons garlic and herb seasoning. Add chopped spinach, mix well. Remove for heat, set aside to cool.

In a large bowl mix together pesto, sour cream, ricotta cheese, Parmesan cheese and 1/2 cup mozzarella cheese. Fold in meat/spinach mixture. Pour 1/2 cup tomato pasta sauce in prepared dish. Spoon 1/4 cup to 1/3 cup filling down the center of each lasagna noodle. Gently roll up, place in prepared pan until all noodles and meat mixture is used. Pour remaining pasta sauce over lasagna roll ups. Sprinkle with rest of the mozzarella cheese and Parmesan cheese.

Cover with foil and bake for 1 hour or until heated through and bubbly.
Health Note: Lean cuts of beef (round steak, beef loin, and sirloin) are lower in fat and saturated fat than fattier cuts such as rib eye. Less fat and saturated fat is better for heart health.
Recent Recipe: Beef Broccoli Stir Fry