Krispie Treats with Mallo Cups
We may earn money or products from the companies mentioned in this post.
Krispie Treats with Mallo Cups
Krispie Treats with Mallo Cups are made with marshmallows, cocoa pebbles and my husbands favorite candy, mallo cups. Mallo cups have been around for a long time. They are basically a chocolate and marshmallow cup, with coconut added to the top layer of chocolate. Still not sure what they are? Think of a peanut butter cup, that's made with an all chocolate/coconut cup that has a marshmallow cream filling.
Mallo Cups by Boyer Co.
When we were kids, we bought mallo cups for several reasons. #1. The package contained not one but two mallo cups, a real bargain at a quarter and #2. Inside the wrapper, printed on the top of the bottom cardboard square, an amount of .05 cents up to .25 cents was stamped in red. If you collected x amount of these stamped squares, you could send them into the Boyer Co. and 6 weeks later, you'd receive a free package of mallo cups.
A Christmas Story
Now a days, that might not seem like such a big deal but back in the early 70's it was. My generation grew up in an era where you saved wrappers, box tops and the like and then sent them in for a "free" something or another. I always think of the movie "A Christmas Story" when Ralphie sent in his ovaltine wrappers and received a secret message and a secret message decoder that read, "Drink More Ovaltine"  I love that movie:)
Mallo Cups and Smoothies
Boyer Candies Co. made two of my favorites, Mallo Cups and my personal favorite "Smoothies" peanut butter cups. In my humble opinion, Smoothies  were the first peanut butter cups. By the late 70's into the 80's, you couldn't find either one anywhere. Nostalgic or "your mom's" candy was being replaced by the new and improved candy bars of that time. Mallo Cups and Smoothie's sort of disappeared for a few years. Fast forward a few years…

Recent Years
In recent years, I have seen somewhat of a comeback in Mallo Cups. You can now find them everywhere and not just in the "nostalgic" section at candy stores. If you're a fan of chocolate and marshmallow, you are sure to like Mallo Cups. Mallo Cups still come with their trademark, coin stamped, cardboard square and I'm so glad to see them back on store shelves again. Now, where are the Smoothies!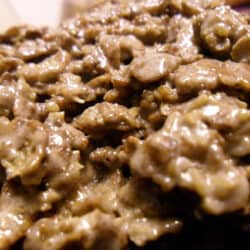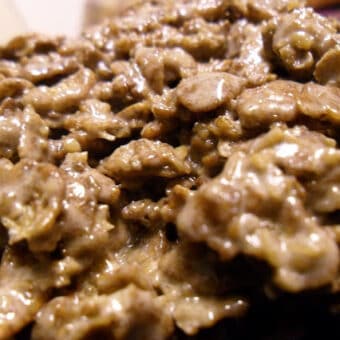 Krispie Treats with Mallo Cups
A new twist on an old classic!
Ingredients
3

tablespoons

butter

10

ounce package

marshmallows

6 to 8

cups

cocoa pebbles

2

packages

mallo cups candy, 2 per package size, 4 total
Instructions
Chill mallo cups in freezer for 30 minutes, remove from freezer and coarsely chop. Set aside.

In large saucepan melt butter over low heat, add marshmallows. Stir until completely melted,

Remove from heat, add cocoa pebbles and stir until well coated, stir in chopped mallo cups, just until combined.

Using a buttered spatula or wax paper, press mixture into 13 x 9 x 2 buttered dish.