Jeweled Almond Thumbprint Cookies
We may earn money or products from the companies mentioned in this post.
Jeweled Almond Thumbprint Cookies
Jeweled Almond Butter Thumbprint Cookies are not only delicious, they're really easy to make. Made with almond butter, almond extract, and coarsely chopped almonds. If that wasn't enough, each cookie gets a thumb "print" stamp of approval. Thumbprints can be filled with anything that you fancy. The obvious choice is jams and jellies but marmalade and lemon curd works super too.
Chocolate Thumbprint
If fruity isn't your thing, that's ok! There are many different options you can go too. Nutella is always a welcomed treat in thumbprint cookies. Almond butter and Nutella pair super together. Peanut butter based thumbprint cookies with a Nutella thumbprint are a favorite in my house. Another favorite in my house is to fill the thumbprint with Philadelphia Cheesecake Filling. If you have never tried this product, what are you waiting for??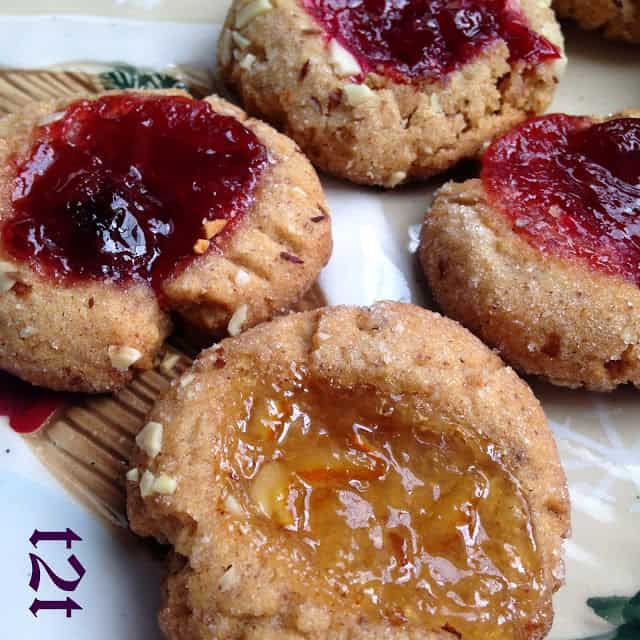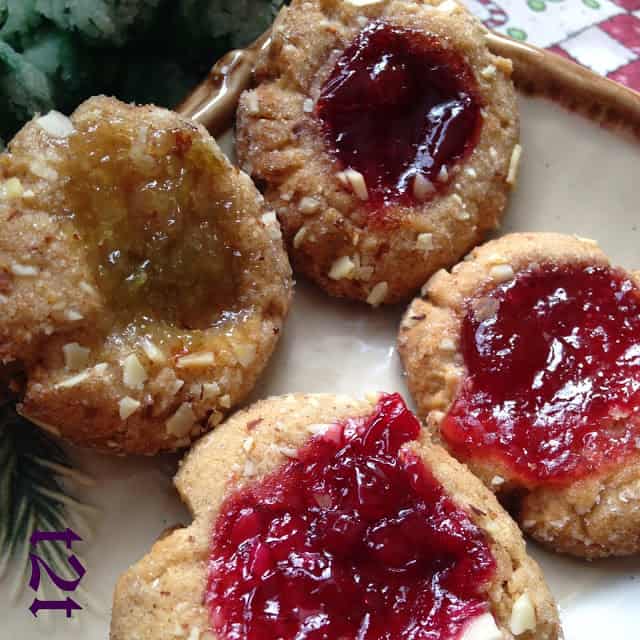 Thumbprints Filled
For this recipe, fill the thumbprint indentation with any flavor of jam, jelly, marmalade or curd. We used three different kinds of preserves and one marmalade giving the cookies a jeweled appearance when lined up on a plate. Thumbprint cookies are filled with Cherry Preserves from Trader Joe's,
Gooseberry Preserves, Lingonberry Preserves and Orange Elderflower Marmalade from IKEA. Almond butter is also from Trader Joe's.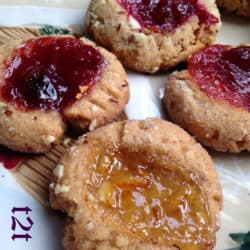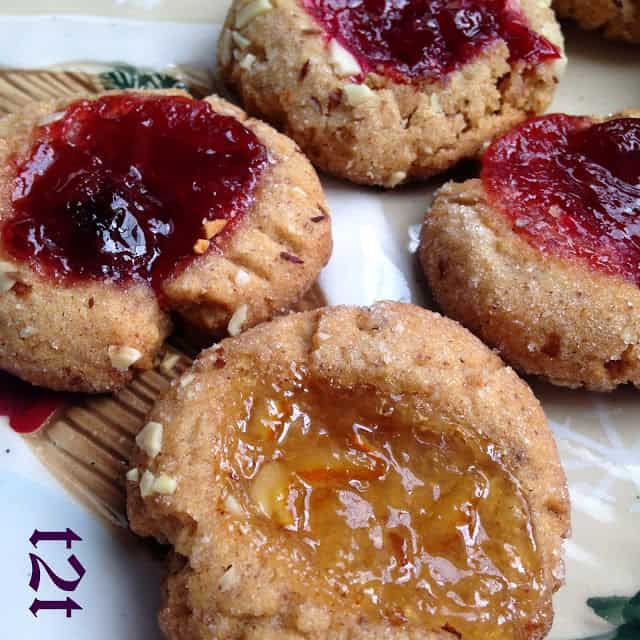 Jeweled Almond Thumbprint Cookies
Ingredients
1 1/2

cups

flour

1

teaspoon

baking powder

1/2

teaspoon

salt

1

stick

unsalted butter, room temperature

1/2

cup

smooth unsweetened almond butter

1/2

cup

packed brown sugar

1/3

cup

plus 3 tablespoons sugar

1

large

egg

2

teaspoons

almond extract

1/3

cup

sliced skin on almonds, coarsely chopped

Preserves Used:

cherry, gooseberry, lingonberry, orange-elderflower marmalade
Instructions
Preheat oven to 375º F Line 2 baking sheets with parchment paper.

Whisk together the flour, baking powder and salt in a medium bowl, set side.

Combine the butter and almond butter in a large bowl, beat on medium high until smooth. Add brown sugar, 1/3 cup of sugar and continue to beat until light and fluffy, about 3 minutes. Add the egg and extract and beat until combined. Adjust the speed to med-low and add the flour in 2 batches; mixing until just incorporated. Combine the chopped almonds and remaining 3 tablespoons sugar in small bowl. Scoop out 1 tablespoon of cookie dough and roll into balls. Roll balls in almond-sugar mixture. Space balls 2 inches apart on prepared sheets. Make an indentation in center of each cookie with your thumb or the rounded side of a spoon.

Fill each indentation with 1/2 teaspoon jam of your choice. Bake until cookies are golden brown, 10 to 12 minutes. Cool on wire racks.
This recipe is made with Almond Butter and Cherry Preserves from Trader Joe's. Gooseberry and Lingonberry Preserves plus Orange Elderflower Marmalade from IKEA. Recent Recipe: Peppers Pepperoni Mushroom Stromboli