Italian Wedding Soup
We may earn money or products from the companies mentioned in this post.
Italian Wedding Soup
Italian Wedding Soup is absolutely fantastic! Make a big batch of this soup on a very cold and snowy Saturday, turn on your favorite movie, relax and enjoy. Serve Italian Wedding Soup with loads of fresh grated Parmesan cheese and big chunks of buttered Italian bread. I can't think of a better way to enjoy a "snow day" here in Wisconsin. (Some warm chocolate chip cookies might help!)
Facts About Wedding Soup
The term "wedding soup" comes from the Italian phrase "minestra maritata" which simply means "married soup." Which is a reference to the flavor produced by the combination or marriage of greens and the meat. The minestra maritata is a pheasant recipe that came about like most soup recipes. Out of necessity and with ingredients on hand. Italian Wedding Soup is served usually served at Christmas and Easter but is not served at weddings.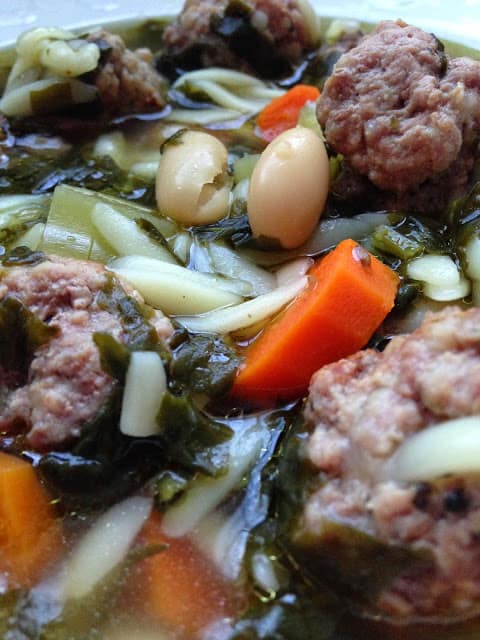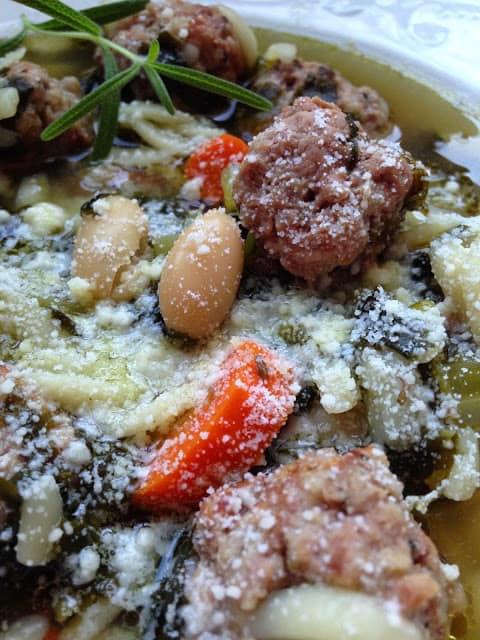 Recipe Tip
In order to make the meatballs for this soup uniform, or in other words, "all the same size" here is a recipe tip you will want to try. Making all of the meatballs the same size basically means they will all cook at the same rate. This is a good thing because you don't want to bite into a meatball that hasn't cooked all the way through. Here's the tip: use a small melon baller or cookie scoop. We like to use Onieda Cookie Scoop.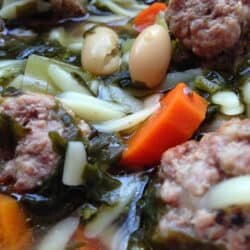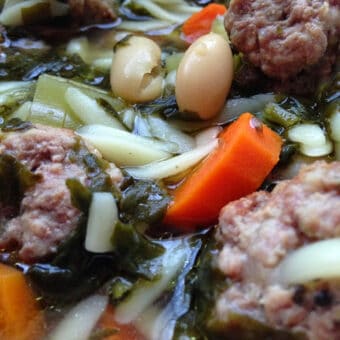 Italian Wedding Soup
Delicious served with garlic bread.
Ingredients
For Meatballs:

1/2

pound

ground beef

1/2

pound

ground pork

12 to 16

buttery crackers, crushed

1

teaspoon

garlic powder

1/2

teaspoon

salt

1/4

teaspoon

pepper

1/4

cup

Parmesan cheese

2

tablespoons

dried parsley

For Soup:

8

cups

chicken broth

1/2

cup

chopped onion

3

carrots, peeled and sliced

3

stalks celery, sliced

1

10 oz package

frozen spinach, thawed and squeezed dry

1/2

cup

orzo pasta

1

15 oz can

cannellini beans, drained

Parmesan cheese, for garnish
Instructions
Directions for Meatballs:

Combine all meatball ingredients.

Form mixture into small meatballs anywhere from 1/4 to 1/2 inches in diameter*

Fry meatballs in a large skillet, until no longer pink inside. Remove from heat. Drain.

Directions for Soup

Combine all soup ingredients except spinach and orzo pasta.

Bring to a boil, reduce heat to simmer, add spinach, pasta and meatballs.

Cook until pasta is tender and soup is heated through. About 1 hour.