Italian Tiramisu Dessert Dip
We may earn money or products from the companies mentioned in this post.
Italian Tiramisu Dessert Dip
Italian Tiramisu Dessert Dip is a great change of pace from the usual dips that appear this time of year. This delicious dip is made with cream cheese, mascarpone cheese, espresso powder and espresso swirl baking chips. Espresso swirl baking chips are a blend of chocolate and coffee swirled little morsels that are delicately flavored. I found these wonderful baking chips at Aldi and have used them in cookies, brownies and now in this dip.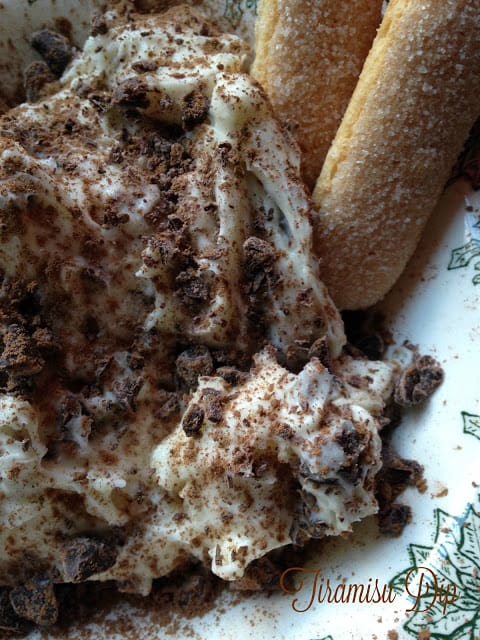 What is Tiramisu?
Tiramisu is an airy mix of ladyfingers that are dipped in a coffee/Marsala wine mixture. Then layered with mascarpone cheese and grated chocolate. Although tiramisu is sometimes referred to as an Italian trifle, its texture is much lighter than that of a trifle. Tiramisu is also a dark brown Italian liqueur with a pronounced coffee-almond flavor. Bottled at 48 proof, the Tiramisu Liqueur is a creation of G.M. Sommacampagna from Verona, Italy.
Up Next: Cheese Curd Grilled Cheese Sandwich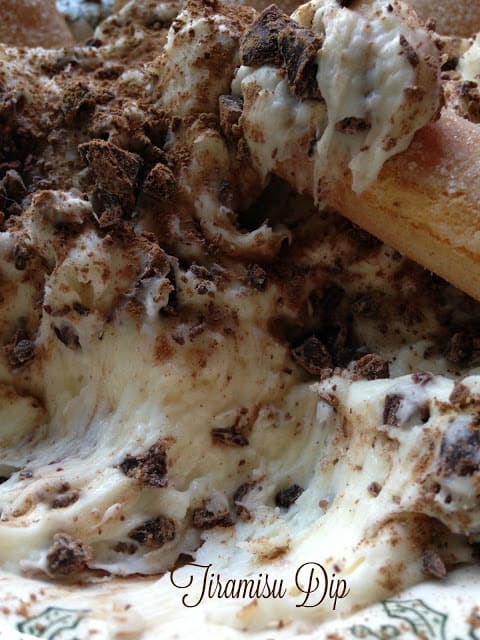 After Dinner Dessert Tiramisu
Tiramisu quite literally means, "a pick me up" in Italian. Most likely referring to the two caffeinated ingredients that are present in the dish, espresso and cocoa. One of Italy's most popular dessert, Tiramisu is a rich treat blending the bold flavors of cocoa and espresso with mild mascarpone cheese.  Fresh fruit is usually served rather than dessert. Italian desserts are unforgettable flavor combinations.
Rich Flavors of Tiramisu
Tiramisu is an elegant and rich layered dessert made with delicate ladyfinger cookies, espresso,  mascarpone cheese, eggs, sugar, Marsala wine, rum and cocoa powder. The delicate flavors of mascarpone cheese and Italian custard are a contrast with the robust flavors of espresso and cocoa powder. There are many variations of this delicious dessert but espresso, cocoa, mascarpone and ladyfingers remain a constant.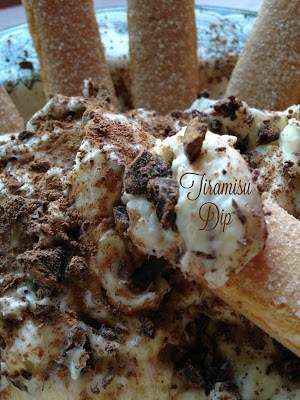 No Time For
The holidays are busy enough without having to worry about making a fancy dessert. So instead, serve Italian tiramisu dessert dip. Make a double batch of tiramisu dessert dip and set out a big bowl of ladyfingers. Your guests will love the fact they can help themselves to as much or little dip as they like. Remember to serve glasses of Marsala wine with Italian Tiramisu Dessert Dip.
Recipe Note:  When time allows, make the "real" deal. Nothing compares to Italian Tiramisu. Its truly a decadent and delicious dessert and should be indulge in often:)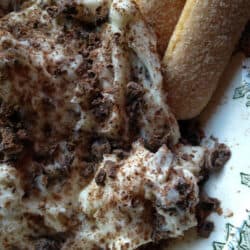 Italian Tiramisu Dessert Dip
Ingredients
1

8 oz package

cream cheese, room temperature

3/4

cup

mascarpone cheese

1/2

teaspoon

vanilla extract

1/2

cup

powdered sugar, sifted

1/2 to 1

teaspoon

espresso powder or to taste

1/2

cup

espresso morsels

cocoa powder for garnish

chopped espresso morsels for garnish

Lady fingers for serving
Instructions
In a large mixing bowl, beat cream cheese for 30 seconds or until smooth and creamy.

Add mascarpone cheese and vanilla extract, beat well.

Beat in powdered sugar for 1 minute.

Add espresso powder and beat well. Stir in chopped espresso morsels. Chill for 1 hour.

Spoon dip into a serving bowl; garnish with cocoa powder and chopped espresso morsels.

Serve with Lady Fingers.
Recipe On Tap
Yogurt Dill Dip with Guinness Beer Bread , Garlic Vampire Dip and Green and Gold Corn Dip.