Impossibly Easy French Apple Dessert Squares
We may earn money or products from the companies mentioned in this post.
Impossibly Easy French Apple Dessert Squares
What do you make when your daughter gives you an over abundance of apples? You make an impossibly easy dessert! using Bisquick, that's what! Impossible Pies have been around since the 70's. There are literally hundreds of recipes for this easy pie, both sweet and savory. I'm not that familiar with impossible pies, having only made the Impossible Coconut Pie before making this recipe for Impossibly Easy French Apple Dessert Squares.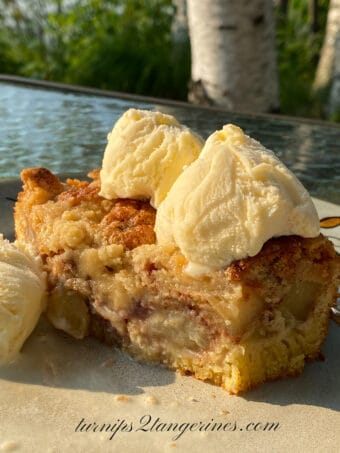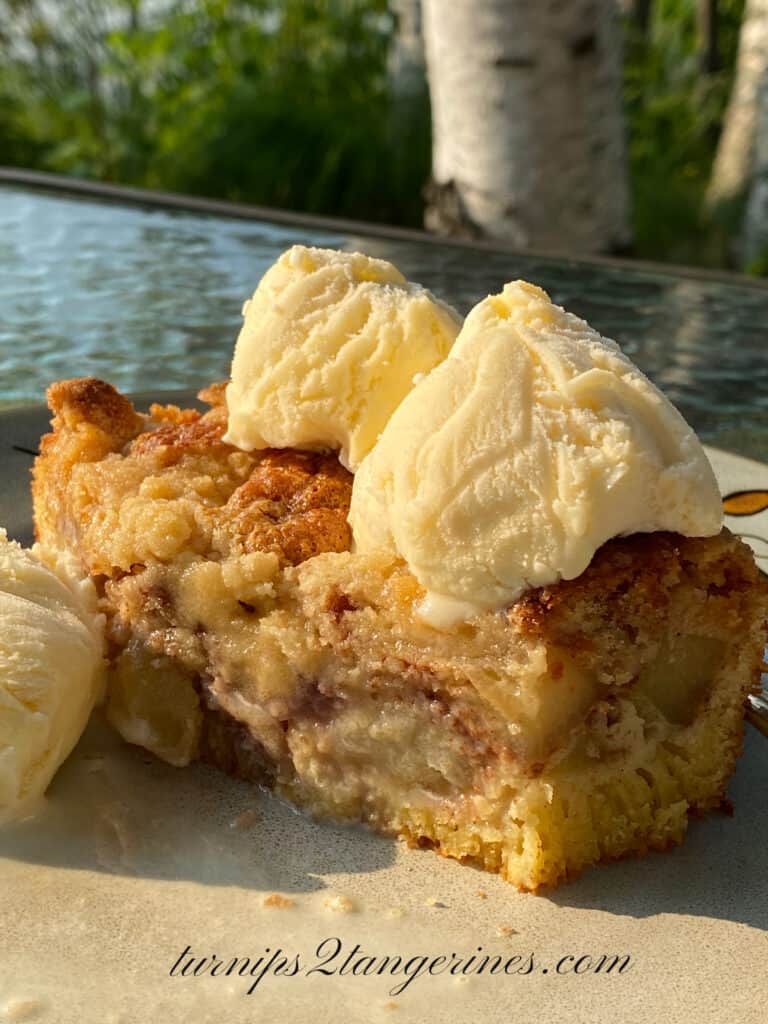 Bisquick
Impossible Pie first became widely known in the 1970s when it was printed on the backs of Bisquick boxes. The Bisquick mix  was reportedly invented in 1930 by a General Mills executive who, while on a journey by train, complimented the chef in the dining car on his fresh biscuits. The chef showed him how he pre-mixed shortening with the dry ingredients of flour, salt and baking powder and kept the mixture on ice in the train kitchen so he could prepare the biscuits very quickly.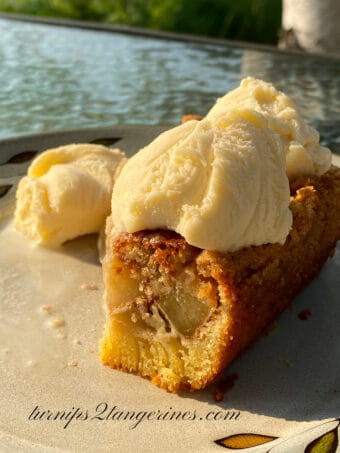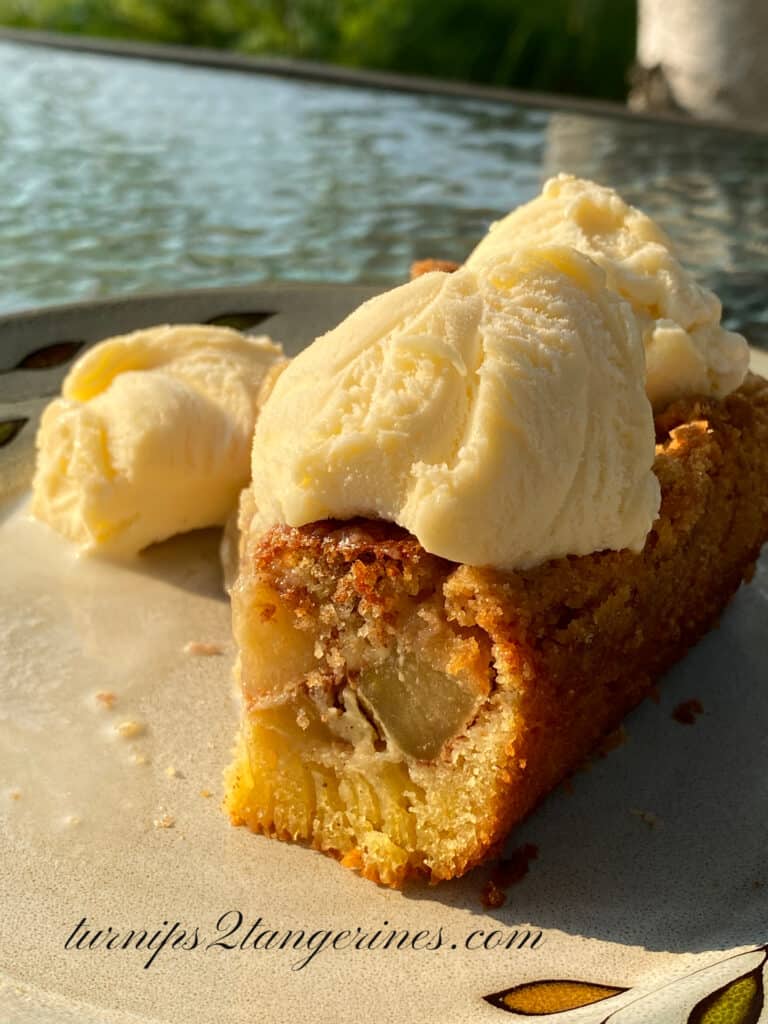 When they mass-marketed the idea, General Mills replaced the shortening with hydrogenated oil so that the product wouldn't need to be refrigerated. At first they marketed it solely as a fast way to make biscuits, but soon, in an effort to increase sales, they started suggesting that consumers use it to make a variety of other foods, including pizza dough, pancakes, dumplings, cookies and, yes, you guessed it, even pie.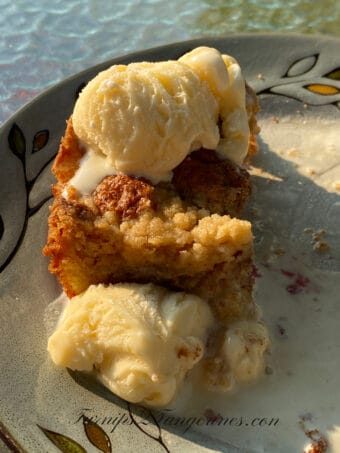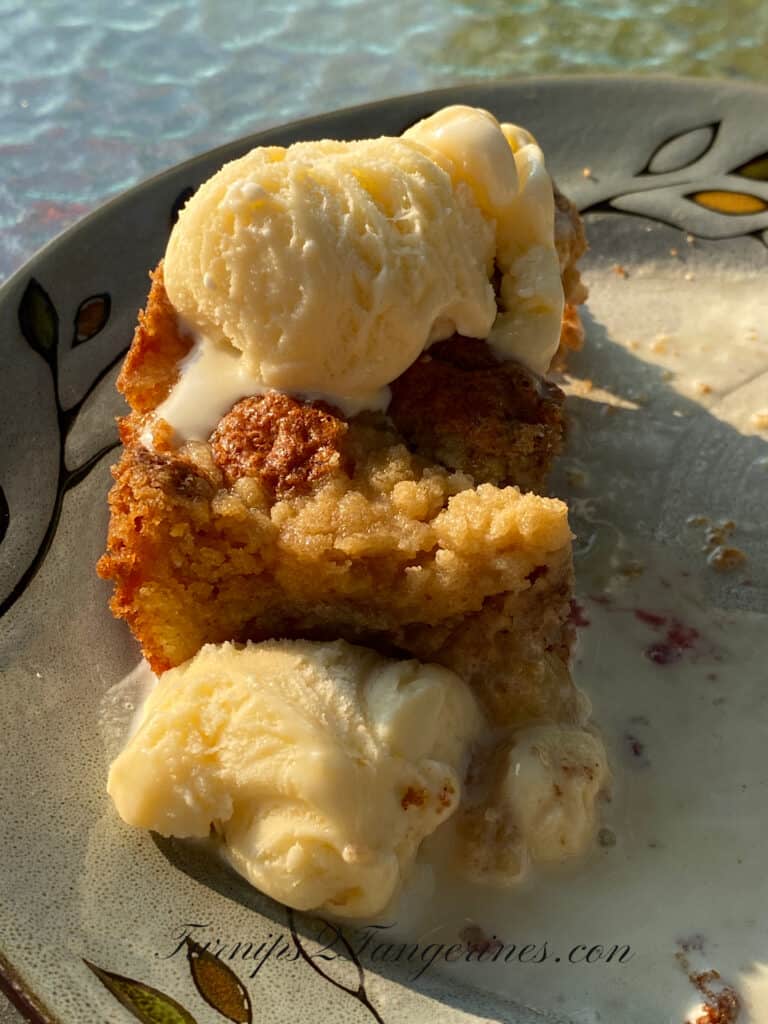 Impossibly Coconut Pies
The origins of Impossible Pies are shrouded in mystery. The first Impossible Pie recipe introduced by Bisquick was for a coconut pie. This would indicate that the recipe might have originated in the South where coconut pies have long been popular. In a 1993 excerpted on the site, Marcia Copeland, then the "director of Betty Crocker foods and publications," essentially confirms this, saying "we first saw the recipe for crustless coconut custard pies in Southern community cookbooks."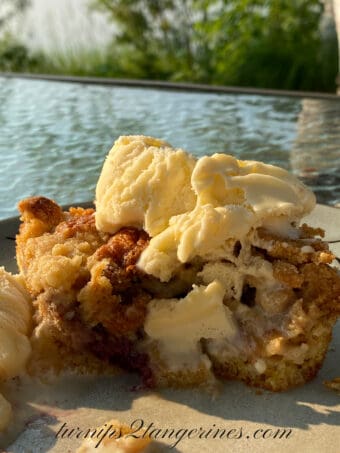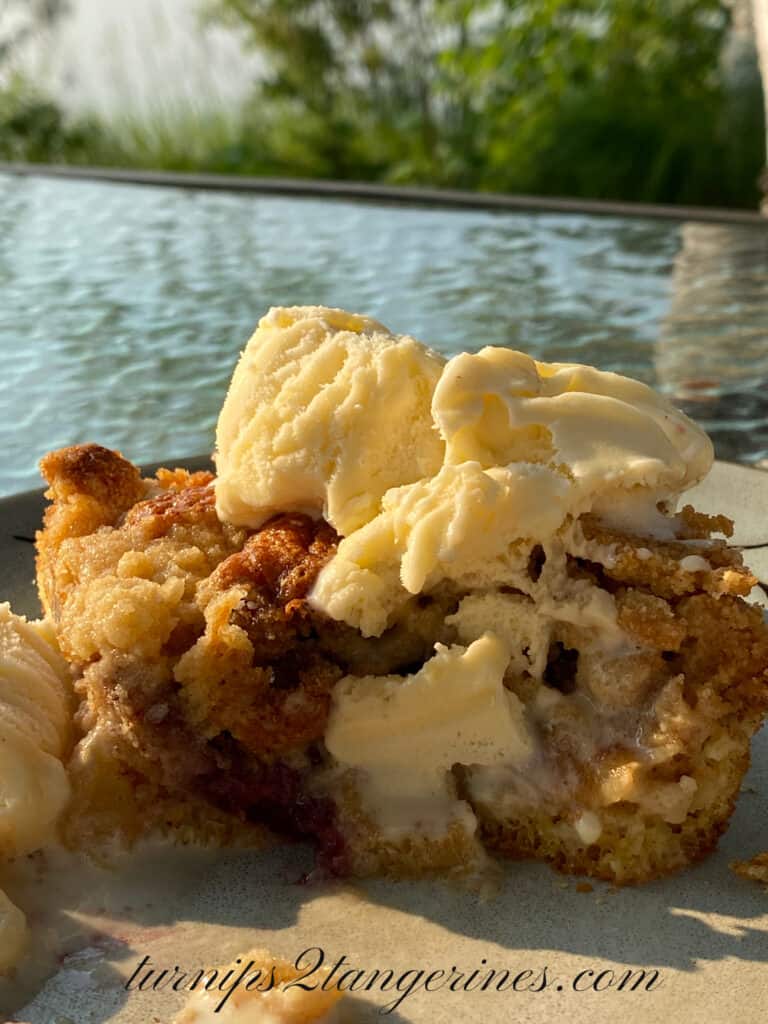 The coconut version must have gone over very well because soon Bisquick was suggesting all sorts of variations, both savoury and sweet. Including but certainly not limited to: Impossible Peach Pie, Impossible Chicken Pot Pie, Impossible Pumpkin Pecan Pie, and Impossible Cheeseburger Pie. It is said that there are over 1,200 recipes for Impossible Pies. My then husband worked for a publication distribution center and brought home a cook booklet for Bisquick Impossible Pies.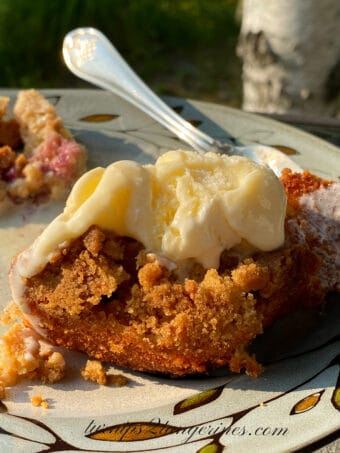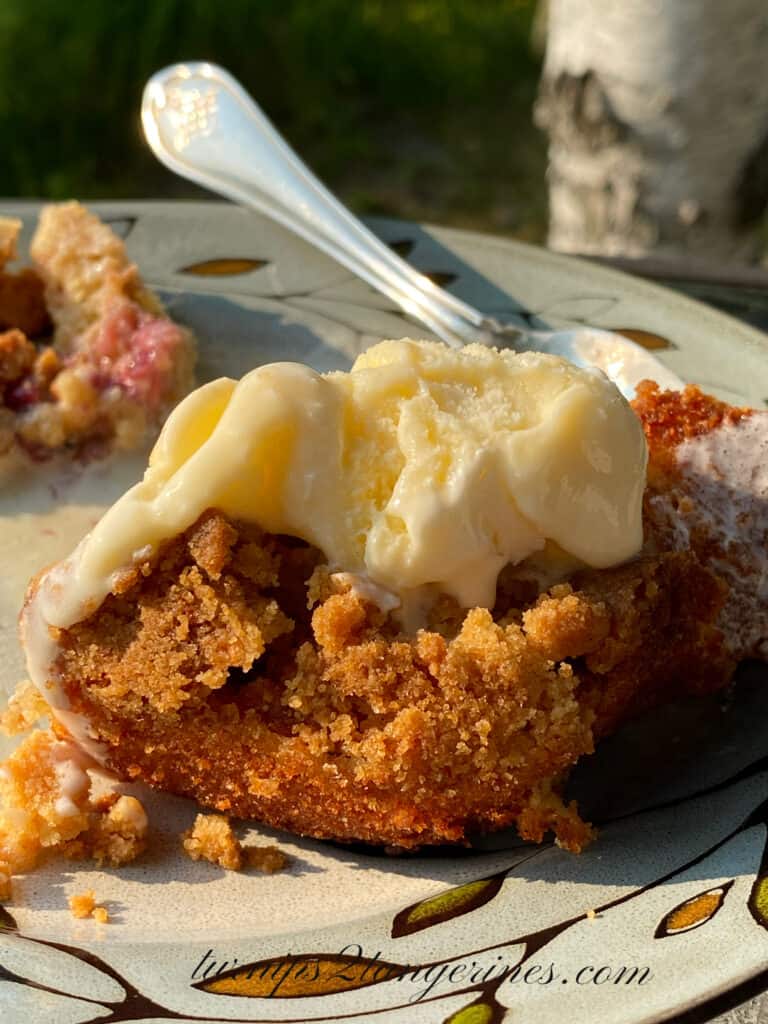 Easy Pie Recipes
Anyone visiting the Betty Crocker website will find a section of Impossible Easy Pie recipes. Home cooks were more than willing to try the impossible pie craze of the 1970's. Anything that was easy to throw together plus tasted good was a working moms dream come true. More and more women were heading into the work force or becoming at home consultants. T.V. Dinners and casseroles, which consisted of convenient products were popular. I'm positive that a Tupperware consultant would be able to produce the perfect size container for leftovers.
First Recipe
My first encounter with Impossible Pies was many years ago. My sister Barb first mentioned Impossible Pie when I was a young new bride. By this time she'd been married for roughly 10 years or so and had a family of 5 to feed. I remember her telling me about Bisquick and the Impossible Pie craze. The next time I went grocery shopping, I picked up a box of Bisquick.
I was amazed at how inexpensive it was and thought,  "I might be on to something here."  Back then we were on a very tight food budget. I went grocery shopping every two weeks and wrote out a meal plan and grocery list. (Something I still do. I can't grocery shop without a list!) My plan was to make the Impossible Cheeseburger Pie. Well, per usual, my then hubby didn't like the impossible pie, at all. Since he was Impossible to please, I didn't think much of it. I gave the cook booklet to my sister and never made another impossible pie, until now.

Recipes Made With Bisquick
Impossible Coconut Pie
Bisquick, A Kitchen Staple
Mini Cheddar Cheese Loaves
Round Cheese Bread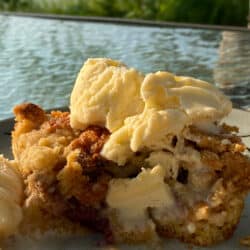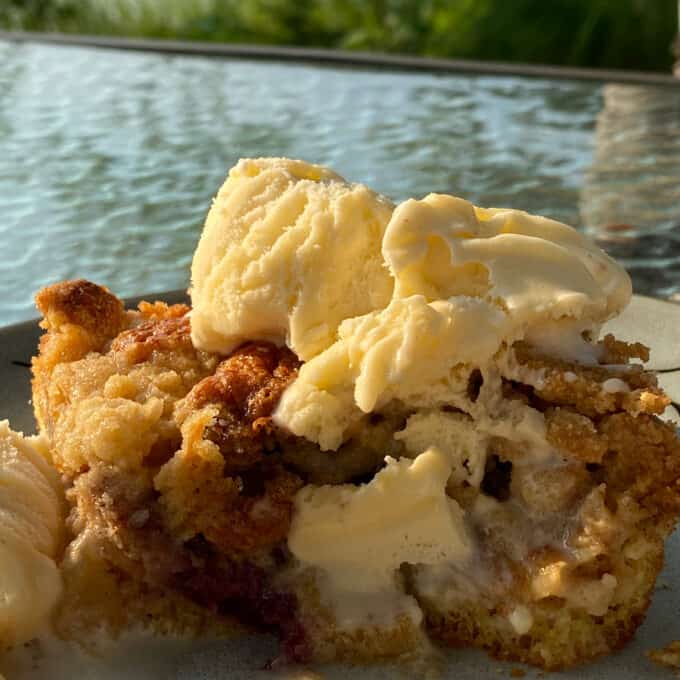 Impossibly Easy French Apple Dessert Squares
Keep this recipe handy when Apple season begins!
Ingredients
Streusel

1

cup

Original Bisquick™ mix

½

cup

packed brown sugar

¼

cup

butter or margarine

¾

cup

chopped nuts

Fruit Mixture

6

cups

sliced peeled tart apples, (6 medium)

2

teaspoons

ground cinnamon

½

teaspoon

ground nutmeg

1

cup

Original Bisquick™ mix

1

cup

granulated sugar

1

cup

milk

2

tablespoons

butter or margarine, melted

4

eggs beaten
Instructions
Heat oven to 350°F. Lightly grease 13x9-inch pan with crisco. In medium bowl, mix 1 cup Bisquick mix and the brown sugar. Cut in 1/4 cup butter, using pastry blender until crumbly. Stir in nuts; set aside.

In large bowl, mix apples, cinnamon and nutmeg; spoon into pan. In medium bowl, stir remaining ingredients until well blended. Pour mixture over apples. Sprinkle with streusel.

Bake 45 to 55 minutes or until knife inserted in center comes out clean and top is golden brown. Cool 30 minutes or until set before cutting into squares. Serve with vanilla, caramel or cinnamon ice cream. Store in refrigerator.