How to Plan a Laid-Back Dinner Party
We may earn money or products from the companies mentioned in this post.
How to Plan a Laid-Back Dinner Party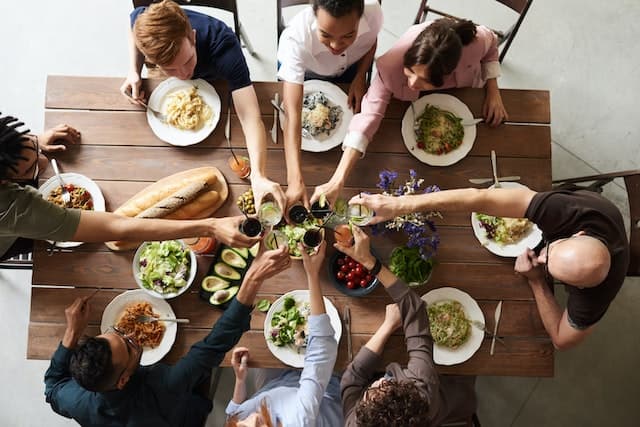 Image Pexels CC0 License
Spending time in the company of your family and friends is always a lot of fun. Getting everyone together to enjoy some delicious food makes the occasion even better. But, if you are the one hosting, you may feel under a lot of pressure to create the perfect evening for your loved ones. 
There is no doubt that planning a dinner party can be a stressful task. Trying to decide what to cook, where everyone should sit, and making all the other preparations can be a lot of work. But, while dinner parties often have a reputation for being very formal, they do not need to be this way. Instead, planning a dinner party that is a laid-back, relaxed occasion is the perfect solution. 
If you like the sound of planning a dinner party that is just as much fun for you as it is for your guests, you have come to the right place. Here are some tips to help you plan a laid-back dinner party:
Pick the Perfect Menu
Planning a chilled-out dinner party significantly eases the pressure on you when it comes to preparing the menu. Instead of spending hours planning complicated dishes and sourcing all of the ingredients, you will be able to cut down on prep work and reduce the stress of cooking. Choosing to cook simple, comforting foods that taste great is an easy way to ensure that everyone enjoys their meal. 
A warming soup is an excellent starter, especially when paired with this easy biscuit recipe. For added convenience, you can make both earlier in the day and then warm them up when your guests arrive. Simplicity is always the best choice when trying to keep your dinner party a stress-free event, and it also means that you get to spend more time in the room with your guests and less time stuck in the kitchen.
Include Refreshing Drinks 
For an enjoyable dinner party experience, don't overlook the importance of offering refreshing drinks. While wine and beer may be staples at such gatherings, adding fun or distinctive beverages can make an event truly memorable. Paloma in a can is an easy and casual addition to your menu for any dinner gathering, offering grapefruit soda, tequila and lime in one handy package. As well as being tasty and refreshing, sparkling water adds a unique element to your beverage selection. Your guests may be unfamiliar with it; but they'll appreciate its novelty. Add some lime wedges for extra zest, and take pleasure in experiencing its bubbly charm at your dinner party!
Plan Some Fun …
Plan Some Fun
Do you want to add some extra fun to your dinner party? If so, planning games that everyone can play together is a great idea. As you won't be spending as much time in the kitchen, you will have the opportunity to join in, and you won't miss out on the fun. There are lots of fantastic games out there perfect for dinner parties. From card games to murder mystery games, you will find plenty to choose between. If you want to stay traditional, you could even enjoy a good old-fashioned game of charades to keep everyone entertained at the table.
Ditch the Formalities
If you want your dinner party to be as hassle-free as possible, ignoring the usual formalities is a great idea. Instead of worrying about a seating plan for the table, let your guests choose where they want to sit. Going without a seating plan is a great way to encourage everyone to relax and be themselves. You should find that sitting wherever they choose helps the conversation to keep flowing more naturally and ensures that everyone has a great time.