How to Get the Whole Family to Enjoy Meals
We may earn money or products from the companies mentioned in this post.
How to Get the Whole Family to Enjoy Meals Together

Getting the whole family to just sit down and enjoy a meal together feels as if it's something that only happens for special occasions, right? While every household is different, it's always nice to just try and get the entire family to just sit down together and enjoy a meal, the same meal. Sure, this can be a bit tough, especially if everyone has different schedules or taste preferences. But here are some helpful tips for achieving that perfect family bonding over food. Read this article for tips on how to get your whole family to enjoy meals together.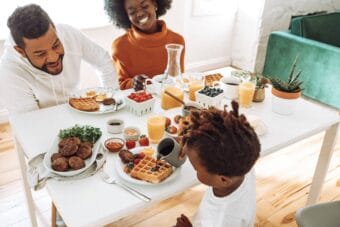 Step 1: Create a Shopping List – What's In Store For Dinner
It all starts with what you buy at the grocery store. So, you'll want to make sure that you're getting everything that's needed for the recipes, but also what you're buying fits under everyone's diet restrictions as well. One tip would be to buy your food in bulk. You're saving a lot of money doing this, you're cutting out the middle man, plus bulk buying is much more eco-friendly.
Step 2: Meal Prep – Making it Easier Than Ever
Have a busy schedule? Struggling to get around to making food for the whole family? Meal prep just may be the answer you were looking for. Some handy tips for getting started can include:
Plan ahead: Meal prep can be time-consuming and stressful if you're not prepared. Planning your meals in advance will save you time and money, and reduce your anxiety levels. You'll also have more control over what you're eating if you plan ahead.

Pack snacks: If you have healthy snacks on hand, it's much easier to avoid unhealthy temptations when hunger strikes. Keep some fruit or veggies handy for an emergency snack attack!

Create a grocery list: Having a grocery list will help ensure that you don't forget anything important when shopping for
Overall, meal planning can be a great shortcut to cutting costs, cutting downtime, and just enjoying some great meals with loved ones.
Step 3: Get Kids Involved – Let Them Help Prepare Dinnertime
If you have little ones running around then this tip is for you! When children are involved in preparing dinner, it will help them learn about food and cooking. It also helps them develop a healthy relationship with food. There are plenty of kid-friendly recipes to get your children started on. A great idea would be the kid friendly spinach muffins recipe
Here are some ways to get kids involved in preparing dinner:
Let them help you chop vegetables or cook rice

Give them the job of setting the table or washing dishes

Let them lick the bowl or spoon when mixing desserts
These are all very small, but they are some of the best ways to spend time with your little one and it gives them the chance to have some fun making the food.
Step 4. Innovative Ways to Spice Up Your Meals
You may not be thinking about your meals as a form of entertainment, but there are many ways to make your food more exciting. When going to restaurants or even checking out food on social media, some of them are like an experience, right? Some ideas to add a little extra "oomph" to your family meals can include:
Add a little spice – Adding spices like cayenne pepper or curry powder can make it taste better, but it can also help you feel fuller faster.

Add some color – Experiment with different colors and textures of foods like adding beet puree to a salad or adding red bell peppers to pasta dishes, maybe even

edible flowers

. There are plenty of options for adding color and variety that don't involve complicated cooking techniques or ingredients.

Get creative with flavor combinations – You can use ingredients like lemon juice, garlic, and ginger in combination with other herbs and spices
While making that perfectly family-bonding meal can seem a tad difficult. In the end, it's all worth it for the loved ones and that quality time you get at the dinner table. 
Looking for More Featured Articles?