How to Roast Garlic
We may earn money or products from the companies mentioned in this post.
How to Roast Garlic
Learning to roast garlic is something everyone should learn to do. It's super fast & easy and the end result is delicious. Use roasted garlic in many of the same recipes you would use fresh minced garlic. Once you start roasting garlic you will wonder what has taken you so long to do so. Garlic mellows when roasted and brings out it's natural sweetness and creaminess. Spread it on bread or vegetables, add it to pizza dough or bread dough. Everything benefits from some roasted garlic.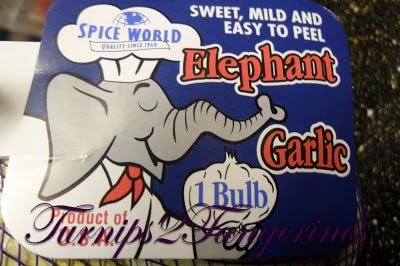 Elephant Garlic
White skinned elephant garlic, which isn't a true garlic but a relative of the leek, is the most mildly flavored of all garlic. Elephant garlic is grown mainly in California and can have bulbs the size of a small grapefruit, with huge cloves averaging one ounce each. Elephant garlic can be found in the produce section of most grocery stores, located next to or near the regular garlic. Spice World is one brand of elephant garlic.
How to Roast Garlic
Ingredients
1 bulb




garlic

1 sheet




aluminum foil

2 tablespoons




olive oil

pinch of




sea salt
Cooking Directions
With a sharp knife, cut off top of garlic bulb.
Place on a small piece of aluminum foil.
Drizzle with olive oil.
Sprinkle with sea salt.
Loosely wrap foil around garlic bulb.
Roast in oven at 425º for 45 minutes. Roasting times may vary, due to garlic bulb size.
Remove from oven, cool.
When cool, mash garlic and use in your favorite recipes.
Mince Garlic Easily  and Garlic Dip are two great Kitchen Tips, along with a super recipe for garlic dip.