Hot Beef Sandwiches
We may earn money or products from the companies mentioned in this post.
Hot Beef Sandwiches
Hot Beef Sandwiches have been a mainstay in my family for many years. Over the years though my hubby and I prefer to eat our hot beef on garlic bread as an open-faced sandwich, instead of on buns on form of a sandwich. Make homemade garlic bread using one of these recipes Garlic Bread or Cheese Mushroom Garlic Bread. You can purchase frozen garlic bread, which is a great and easy option. Coles Garlic Bread.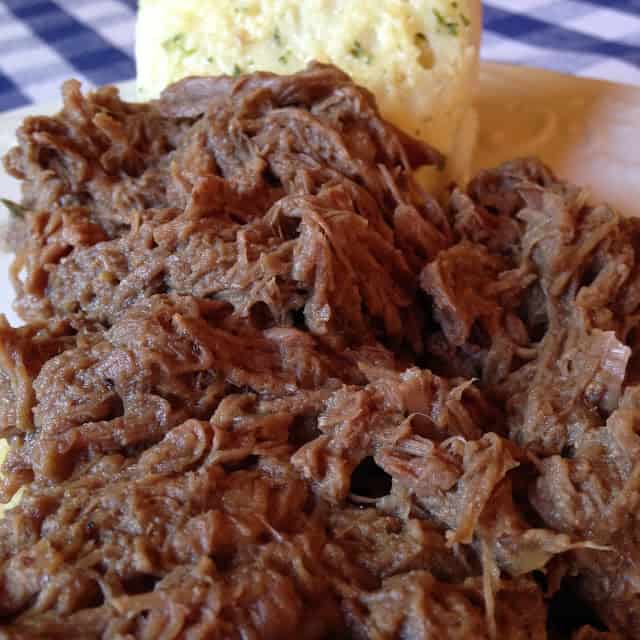 Mary's Recipe
My sister Mary gave me this recipe for "Hot Beef" over 30 years ago. The only thing I've added to this recipe over the years is a package of Lipton's onion soup mix. Hot Beef has appeared at, Graduation Parties, Christmas Eve Celebrations and of course, Football and Super Bowl Parties! It's easy to make and makes enough to feed a small crowd. Next time you need a recipe for Hot Beef Sandwiches, give this recipe a try, you'll be so glad you did.
Beef Facts
Beef comes from cows (females that have borne at least one calf), steers (males castrated when very young), heifers (females that have never borne a calf) and bulls under 2 years old. Ideally, beef is at its best, both in flavor and texture, at 18 to 24 months. The meat at this age is an even rosy-red color. If the animal is over 2 1/2 years old it is usually classified as "well-matured beef." Though more full-flavored, the meat begins to toughen. Slow, moist-heat cooking, however will make it perfectly delicious.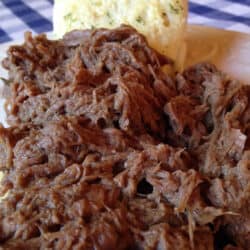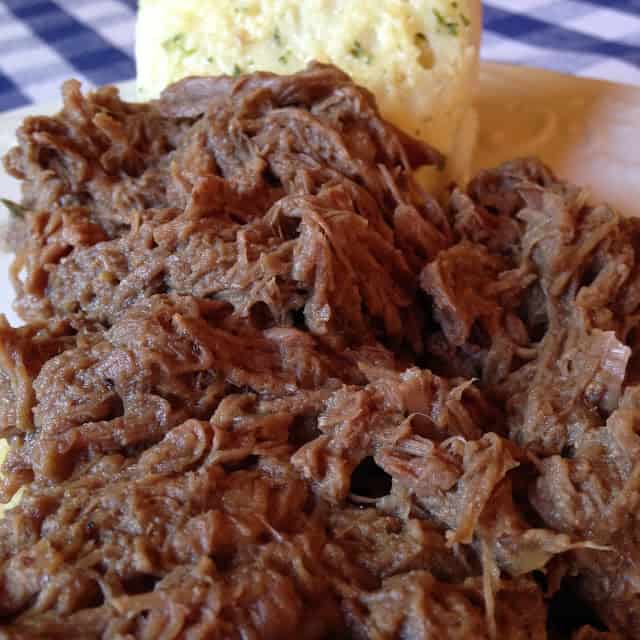 Hot Beef Sandwiches  
A recipe that I've been making for many years, do you know it has to be good.
Ingredients
2 to 4

pound

beef pot roast, cut into medium size chunks

1

large

onion, chopped

1

envelope

dry onion soup mix or beefy onion soup mix

fresh cracked pepper, to taste

1

stick

butter

water to cover meat mixture
Instructions
In a roasting pan or dutch oven, add beef pieces, chopped onion, envelope dry onion soup mix, pepper, and butter. Add enough water to cover meat mixture, about an inch over top of meat. Cover roaster tightly with aluminum foil. Bake at 325º for 2 1/2 to 3 hours. Remove pan form oven. With a slotted spoon, remove meat to a bowl. Set pan aside. Do not drain water/juices from pan. Shred meat with two forks when cool enough to handle or shred with clean fingers. (I prefer to shred my beef with my clean fingers)

Return meat back to pan and pan juices. Place pan on stove top and heat on medium to medium-high heat. Let mixture boil gently until liquid is reduced by half, stirring constantly.

Allow to cool. Refrigerate overnight. Before re-heating, skim off fat that has settled on top.

You can re-heat beef in a saucepan on the stove top or place beef in a crock-pot and cook on low until hot. Serve with Garlic Bread or Crusty Rolls.
Nutrition
Serving:
1
g
,
Calories:
491
kcal
,
Carbohydrates:
3
g
,
Protein:
44
g
,
Fat:
34
g
,
Saturated Fat:
16
g
,
Cholesterol:
177
mg
,
Sodium:
519
mg
,
Potassium:
795
mg
,
Fiber:
1
g
,
Sugar:
1
g
,
Vitamin A:
265
IU
,
Vitamin C:
1.1
mg
,
Calcium:
48
mg
,
Iron:
4.8
mg
Banana Mulberry Sourdough Pancakes